Introduction to cross platform development and the tools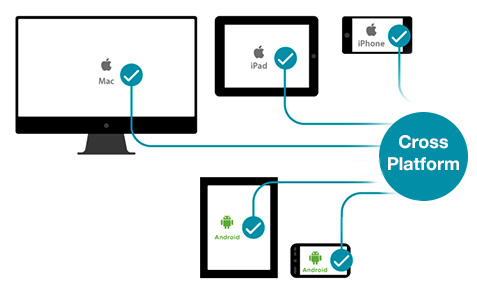 The gaming industry is very different from what it used to be when it started out approximately 30 years ago. From a simple game of bricks or a racing game on a monochromatic monitor to 3D game right on the desktop and on your mobile devices, the gaming industry has changed in leaps and bounds. It continues to make waves with new devices and new game control tools.  As a gamer, the experience of playing a game has changed completely. The Internet has also played a very big role in bringing games together on multiple platforms like the special game boxes, personal computer and even the mobile device.
Thus with the availability of more number of devices to play games on the game developers are faced with the challenge of developing games for multiple platforms. To start with this meant developing games for the personal computer as well as well as the special game boxes like Xbox, Play Station, etc. However, the list of devices has now grown further to include several mobile device to increase the list of platforms for cross development.
Cross Platform Development
The are several factors that have contributed to the cross platform development some of which have already been discussed.
An increasing demand for games to be able to be played on multiple platforms.

The increasing cost for the development of games on a greater number of platforms.

Practicing cross platform game development helps reduce the development cost of a game drastically.

All the next generation platforms as well as PC gaming are well established gaming platforms and are here to stay for a while. Hence it is still necessary for game developers to make sure they cater for every platform to remain competitive.

Porting games to different platforms was something that was quite common 10 – 15 years ago. However, this is no longer practiced or seen as an option and it is also extremely expensive to do so.
Cross platform game development tools
Unity is a cross platform game engine that is offered by Unity Technologies. This software tool can be used to develop games for the PC platform as well as gaming consoles and mobile devices. It has the ability to develop games for over 15 different platforms. From one of the original gaming platforms, the pc to the more recent platforms including Oculus Rift not to mention the gaming consoles, the Unity cross platform gaming tool is one of the leading multiplatform software.
Unity 3D development with Alakmalak
Alakmalak have been helping businesses and other organizations establish their online presence since very long time now. It is quite an achievement for them to successfully complete more than 2000 projects for clients worldwide. Alakmalak is more than just a Web Development firm, they have also developed some stunning apps and are actively involve iOS and Android projects.
Besides which they also involved in game development and have all the necessary resources for the same. Alakmalak has a team of skilled Unity 3D developers. One of the added advantage of selecting Alakmalak is that they are involved in providing services of several technologies. Hence there are plenty of resources for every project taken up and at any point of time, to make sure of timely delivery of project.
Thus Alakmalak is capable of handling almost any kind of project, from dedicated iPhone developers to large iPhone projects that may require additional resources. In fact, Alakmalak has begun to expand their infrastructure and resources. They have also started offering a wider range of service when it comes to the mobile gaming platform.
Reach out to us today and let's start building your cross-platform app to unlock limitless possibilities across multiple devices and platforms!
Save
Save
Save
Save
dedicated iPhone developers
hire iphone application developer
iphone development company

What's Next ?
I know after reading such an interesting article you will be waiting for more. Here are the best opportunities waiting for you.
For Such Interesting articles

Uncover our captivating services

Supercharge your business with us