Get a Free Quote
You will receive quote within 24 Hrs
Top 10 WooCommerce Extensions and Add-ons
In a digital marketplace, no one should go without being able to buy the ideal product or service. With the help of the appropriate extensions and add-ons, you can make the entire buying process easier. Striking the right balance between customization, quality, and the cost is not an easy task. If you are about to start your own eCommerce store, then you need to have a few WooCommerce extensions that come with solutions for all these problems.
You will be pleased to hear that we have listed the most reliable and popular WooCommerce extensions and add-ons for you. These applications help you enhance your website with additional features, creating an efficient and effective e-commerce model. The benefits of these applications are widely recognized among WooCommerce users across the world. Now that you have been briefed on their worth, take a look at the list to see if there is anything that tickles your fancy.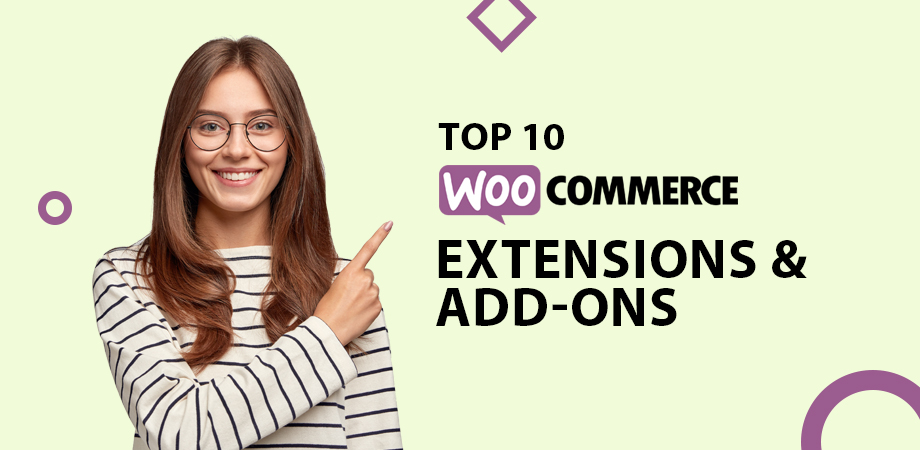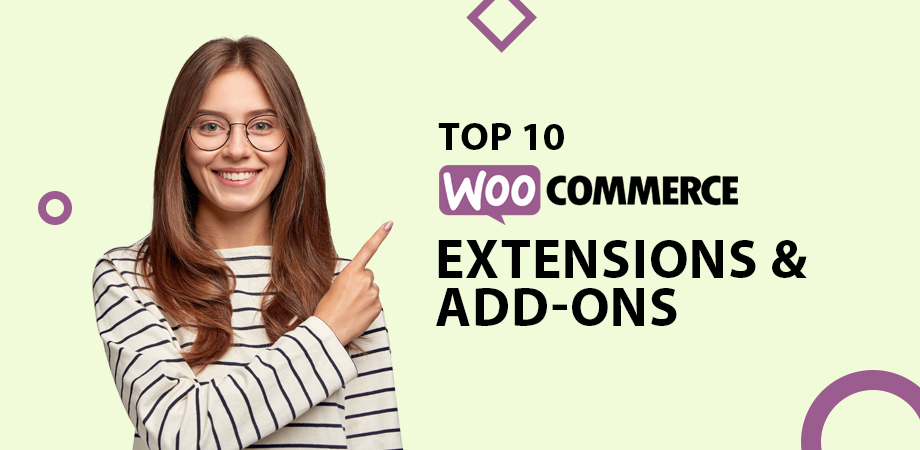 Here is the list of WooCommerce Extensions and Add-ons:-
1. MonsterInsights
Monsterinsights is an excellent plugin for WooCommerce. With this plugin, you will be able to track WooCommerce sales in Google analytics and get detailed insights into traffic patterns, customer behavior, etc. It's easy to set up and learn how to use. The documentation is really helpful and the support team is very quick to respond to any questions or issues. They also offer free training videos to help you get to grips with using the plugin. Our recommendation is definitely worth checking out!
2. All in One SEO
All in One SEO is the very best SEO plugin for Woo Commerce. Used by over 2 million users, it is a complete SEO toolkit that helps your search ranking without having to learn SEO. There's also a free version of this plugin that you can use along with the paid version when you're starting out. You can set it up to automatically generate SEO titles and descriptions for all your products. Also, you can easily add SEO titles and descriptions for individual products while adding or editing those products. It also generates an XML sitemap for both product and category pages. It comes with support for the rich snippets.
3. OptinMonster
Optin Monster is a powerful tool that can help you convert abandoning website visitors to customers. You can use it to reduce cart abandonment, grow your email list and show targeted messages. With this plugin, you can easily customize your eCommerce store and do a lot of things to improve your business. It comes with highly efficient features including its signature feature — Exit-intent technology. This tool helps you monitor the movement of your site visitor and prompt them with a targeted campaign right when they're about to leave your site.
4. WPForms
WPForms is a very powerful drag-n-drop form builder. WPForms Free provides basic features for building simple contact forms. WPFormS Pro allows you to create complex forms using advanced features like a form landing page, conversational forms, and smart conditional logic. With WPForms, you'll be able to easily build a beautiful contact form for your WooCommerce store. Your customers will be able to contact you via your contact form. You can also create quizzes to improve user engagement, or set up conversational surveys to gather user feedback about your products!
5. AffiliateWP
AffiliateWP is a WordPress Plugin that helps you create your affiliate program so you can help your customers and others promote your products. When someone signs up to be an affiliate, he'll get a special link and make a small commission on each product purchased through that link. It's a cost-effective solution that lets you control everything about your affiliate program. It also comes with detailed reports, so you can monitor link clicks, sales, payments, and more. It's highly customizable too. You can limit your affiliate program to hand-picked members or let anyone sign up. AffiliateWP also features comprehensive reporting tools, allowing you to monitor the performance of your program.
6. WP Mail SMTP
WP Mail SMTP is the best WordPress SMTP Plugin on the market. It helps ensure that all your WooCommerce emails are delivered to customers' inboxes. WooCommerce store sends email notifications for various actions to the store owner as well as customers. It utilizes the PHP mail function to do that. WP Mail SMTP fixes this problem by allowing you to use an SMTP service provider to send emails. This ensures that your WooCommerce emails are delivered to users' inboxes and don't end up in spam. Million's WordPress websites use WP Mail SMTP to improve their email deliverability. There is a free version of WP Mail SMTP available which should work for most online stores.
7. WooCommerce Multilingual
WooCommerce Multilingual is an easy-to-use translation plugin for WooCommerce. Non-English WooCommerce websites outpaced the English ones in 2014. Now WooCommerce Multilingual supports translation in multiple languages. Customers can now choose to view your store in their native language. This plugin allows you to use multiple languages on WooCommerce. You can add different languages to your site by using this plugin. It lets you translate your product names, descriptions, prices, images, etc. into any language. You can even customize your translations using pre-made snippets or create your own snippets.
8. Advanced Coupons
Advanced Coupons is the best plugin to help you increase your sales. It extends the limited woocommerce coupon functionality and allows you to create better coupon offers. It integrates tightly with Woo Commerce and offers features like BOGO (buy one get one) offers, coupon URLs, scheduled coupons, auto-apply coupons, shipping coupons, etc. It is easy to use and helps you boost sales. Plus, Advanced Coupons is an easy-to-use coupon management system that helps you increase sales by saving time and money.
9. SeedProd
SeedProd is an amazing drag and drops page builder for WordPress. It comes with over 100 professionally designed templates to help you start building your website. You can create pages for WooCommerce, eCommerce, or any other type of site. It is an easy-to-use platform that allows you to easily design and deploy landing pages, sales pages, and product pages. SeedProd easily integrates into different email marketing tools. So, you can gather email addresses from your customers, and grow your revenue. It also offers custom WooCommerce blocks such as add-to-cart buttons, shopping carts, check out, and product grids.
10. SearchWP
SearchWP is a powerful WordPress plugin that allows users to easily search their eCommerce store. It features a very intuitive interface and works well with any type of content. Users can customize the search results according to their needs. It includes advanced features such as auto-complete suggestions, contextual searches, image previews, and many other useful tools. With this plugin, users can customize the search engine to suit their needs and improve their conversion rate. It also lets you index custom fields, text files, etc. Users can then perform searches on this indexed information.
Conclusion
WooCommerce is a great e-commerce platform that allows you to sell your products online. We've compiled a list of the top 10 woocommerce extensions and add-ons that you can use to make your life easier. There are many to choose from, but we've handpicked some of the best ones that we think you'll love. These extensions help you to manage your eCommerce website.
Alakmalak Technologies has expert & skilled designers and developers who are well equipped to develop customized applications & websites to fulfill your needs. Get in touch with our experts now!
OVER
600 Small, Medium

and

Large

Enterprise business clients have chosen us from

35 COUNTRIES
Federico Bilches

www.latmeco.com

I want to thank all Alakmalak team for take my project and help me to improve my website! Thank you for your responsibility and seriousness at the time to do corrections and improvements on my website and for always be in touch with me. Highly recommended! Great team! Great company! I'm very thankful Alakmalak!

A few kinds words to say about Alakmalak programming and design. Working with these guys is always such a great relief. You know you are getting your stuff done right and usually always in a timely fashion. I'm a middle man for the most part And my clients are always happy with the end result.