Why does your site need a monthly maintenance service?
Maintaining your website means keeping it updated regularly. This ensures that your visitors get the latest version of your site (which helps Google to index it better). In addition, it also keeps your site secure from hackers and other threats. If you want to improve your SEO ranking, then you need to keep your site updated, preferably by a maintenance company.
In order to prevent downtime, your website requires continuous maintenance. For example, if you update your logo, you should re-upload it to your server too. This way, your visitors won't see an error message saying that your website has moved. In this article, we will learn why your website needs monthly maintenance service.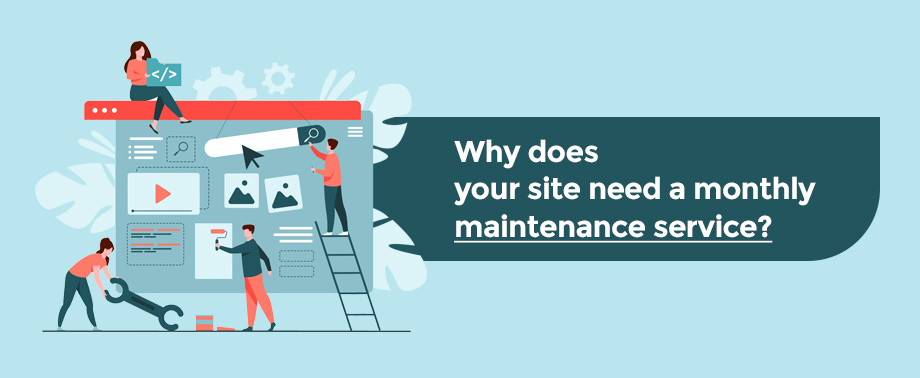 So, here is the list of reasons why you should consider carrying out maintenance services for your website every month:-
1. To make your site more secure
Maintaining your website on a monthly basis is one of the best ways to keep it secure. By regularly updating your information, you are ensuring that any vulnerabilities or exploits that may have been fixed on other websites do not resurface on yours. You can also use this time to fix security issues and improve overall website performance.
Additionally, by routinely testing your site for broken links and outdated content, you can prevent potential data breaches from happening in the first place. Lastly, keeping up with search engine optimization (SEO) will help you rank higher in Google search rankings and attract potential customers who are looking for quality information online.
2. To improve the performance of your website
Maintaining your website on a regular basis can help to improve the performance of your website in a few different ways. First, by cleaning up and formatting your content regularly, you will reduce the amount of time that is needed for search engines to index your pages. This means that users visiting your site will be able to find what they are looking for more quickly and easily.
Additionally, by keeping all of your images updated and using relevant keywords throughout each page, you will ensure that people searching for information about your product or service are directed towards the right place. Finally, making sure that you are running frequent security scans on both your server and mobile devices can help protect against any potential online attacks or malware infections.
3. To offer a good user experience
By keeping your website up-to-date, you can ensure that your users are getting the best possible experience. This is especially important when it comes to fixing errors and adding new and additional features. When you update your information, be sure to use a standard protocol so that everyone follows the same set of guidelines.
Additionally, make sure that all of your content is accurate and error-free. Checking for typos before publishing may seem like a small task, but incorrect information can lead to frustrating user experiences and low ratings on search engines. By taking care of these basics, you will help keep people coming back month after month!
4. To improve SEO results
One of the best ways to improve your website's SEO results is to make sure that it is updated every month. By regularly updating your website, you are ensuring that all content is current and compliant with trends in search engine optimization (SEO). This also allows you to ensure that your website looks good and ranks higher in search engines.
Additionally, keeping track of Google Penguin updates can help reduce the prevalence of unnatural links on your site. Unnatural links are links from websites that have been built using manipulated or dubious methods, which can damage your ranking in search engines.
By Keeping a close watch on these changes and taking action if necessary, you can keep your site safe from penalties and maintain better SEO rankings over time.
5. To boost your sales
Maintaining your website every month can help you boost your sales in a number of ways. Firstly, it is important to have up-to-date content that is well-written and informative. This will help you attract new customers and keep current ones happy. In addition, regularly updating your images and videos will build your online presence and will show off the latest changes or additions to your business and make them more likely to buy from you.
And finally, making sure that your contact information is easily accessible on all pages can help people get in touch with you even if they're offline. By keeping everything updated and professionally designed, you are providing trustworthy information that helps people make informed decisions about their purchases.
Conclusion
The article above has covered all aspects related to regular maintenance for your site including the importance of keeping a check on the technology used. Additionally, there are other factors such as improved SEO results that can lead you to boost organic traffic, and boost online sales with informative content. To conclude, you need to make sure that you carry out the required maintenance services to keep your website up-to-date and running smoothly.
In case, if you need any help, our team of experts offers you industry-specific advice on how to improve your business using state-of-the-art technologies. Contact us today at Alakmalak Technologies for expert services at no additional cost.

What's Next ?
I know after reading such an interesting article you will be waiting for more. Here are the best opportunities waiting for you.
For Such Interesting articles

Uncover our captivating services

Supercharge your business with us