Get a Free Quote
You will receive quote within 24 Hrs
Top 9 Mistakes in developing an eCommerce Store
In the world of eCommerce, there are some factors that one must pay attention to for a smooth online experience. As e-commerce stores become a part of our everyday lives, their importance is also rising. The marketing potential of these stores is unparalleled in the conventional retail market, especially when it comes to small businesses. The business has flourished to a new height because of this. A huge number of people from all over the world have come up with their own shops online. In order to reach out to the buyer's wishes and make them the ultimate target audience, it is important to focus on details like site structure, user experience, and so on.
While e-commerce is regarded as the most popular hybrid business among online biz enthusiasts, very few e-commerce owners understand how to make it work effectively. One of the biggest mistakes a budding e-commerce store owner can make is not having a handy guidebook to work with. To avoid this, this article has laid out 9 important mistakes that entrepreneurs need to keep in mind when developing an eCommerce store.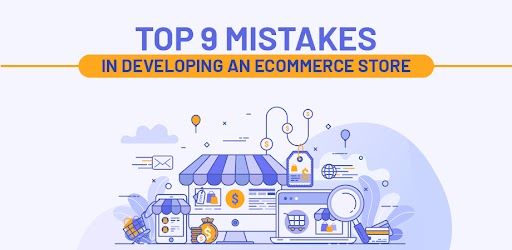 Here are of mistakes that are made while developing an eCommerce Store:-
1. Trying to build an online store on your own
There are a few reasons why it is considered a mistake to build an online store on your own. The first reason is that you will not have the same level of customer service that you would receive if you hire a professional website design and development company to build your eCommerce store. This is because the development company will have experience in building and managing an online store, which will result in a better user experience.
Another reason to consider hiring an eCommerce website development company is that they will be able to design and build your website exactly how you want it. This means that you won't have to spend time tweaking the design yourself or hiring someone else to do it for you.
Finally, hiring an eCommerce website development company will also save you time and money in the long run. They will be able to manage all of the aspects of your online store, from marketing and advertising to shipping and customer support. Hence, trying to build an online store for your business can turn out to be a huge mistake.
2. Poor navigation
Poor navigation can lead to lost sales and frustrated customers. The most common problem with poor navigation is that it makes it difficult for customers to find what they are looking for. This can be especially frustrating if the customer is looking for a specific product or category. It can also cause customers to become lost within your site. This can make it difficult for them to find the information they need, which could lead to them leaving your site without buying anything. Finally, poor navigation can also lead to customers feeling overwhelmed and confused. This can make them less likely to buy anything from your store, no matter how good the products may be.
To avoid these problems, make sure to create a site that is easy to navigate and includes all the necessary information about your company and its products. Also, make sure to regularly update your website with new information so that customers always have the latest information available.
3. Choosing the wrong platform
Choosing the wrong platform can have a lot of negative consequences for your online store. When you choose a platform, make sure that it is compatible with your business goals and objectives. You also need to consider the features offered by the platform and whether they are appropriate for your needs. It is also important to find a platform that has a good reputation in the market. This will ensure that you get support if you encounter any problems while using the platform.
The most common mistake that small business owners make is choosing an unproven or untested platform. This can lead to problems such as limited reach, limited features, lack of customer support, etc. Instead of making a decision based on which platform looks best, consider whether the platform is suitable for your business and what features are important to you. Then research which platforms offer those features and decide which one is best for you.
4. Ignoring mobile users
Ignoring mobile users can have a negative impact on your online store because they are the most likely to make purchases from an online store. If you don't have a mobile-friendly website, then you may not be able to take advantage of all the opportunities that mobile devices offer. For example, if you sell products that can be used on the go, then you need to make sure your website is easy to use on a mobile device.
You should also make sure that your website looks good and works well on all types of devices. If you neglect mobile users, then they may go to competitors who do have a mobile-friendly website. If your business depends on generating revenue from online sales, then it is important to consider how neglecting mobile users will affect your bottom line.
5. Overlooking security
If you're not careful, overlooking security issues could have serious consequences for your online store. Security breaches can lead to theft of data, loss of revenue, and even identity theft. In fact, a recent study by eCommerce giant Shopify found that 43% of small businesses have been hacked in the past year, and 40% of those businesses lost money as a result.
There are a few things that you can do to protect your store from security breaches:-
Use a secure server: Your server should be protected by a firewall and antivirus software.

Keep up-to-date with the latest industry trends and developments in cybersecurity.

Install security updates: Make sure you install all available security updates for your software and hardware.

Establish strong security policies and procedures.

Regularly test your website's security measures to make sure they're working as intended.
6. Long checkout steps
Long checkout steps can affect your online store in a few ways. It can slow down the process of buying items and can frustrate customers, it can lead to lost sales because customers may not feel like they have enough time to complete the purchase and it can lead to the abandonment of your site by customers who are not able to complete the purchase process.
There are a few things you can do to reduce the negative effects of long checkout steps on your store:-
Make sure that all of your checkout pages are designed well and easy to use.

Make sure that all of your forms are error-free and easy to fill out.

Provide clear instructions on how to complete the purchase process.
7. Not Collecting Customer Data
If you don't have customer data, then you won't be able to improve your online store. Not collecting customer data may affect your online store in many ways. It can make it difficult to identify and target your audience, it can limit your ability to improve your website's design or marketing efforts and it can also make it difficult to create effective customer service plans.
Not collecting customer data can also lead to lost sales and a lower ranking in search engines. In addition, not having customer data can make it difficult to resolve issues that customers may have. If you want to keep your business running smoothly, it is important to collect customer data as soon as possible. There are many tools and services available that can help you collect this information easily and efficiently.
8. Poor Shipping Options
Poor shipping options can be a mistake for many reasons, as it can lead to lost sales because customers may not want to buy something if they don't know when or how it will be delivered. It can also cost you a lot of money in shipping fees and it can even damage your reputation because customers may think your store is not reliable.
If you are considering starting an e-commerce store, make sure you choose a shipping company that offers reliable and affordable shipping options. Also, make sure your website is easy to use and has clear instructions on how to order products and track the status of their shipment.
9. Lack of social proof
Lack of social proof is considered a mistake for creating an e-commerce store because it can lead to lower conversion rates. When potential customers visit your store, they may not feel confident about making a purchase because they don't know what other people have bought from your store or how good the quality of your products is. This can cause them to hesitate and eventually leave your store without making a purchase.
To increase the chances of converting visitors into buyers, you should create content that showcases the quality of your products and features customer reviews. You can also use social media platforms like Facebook and Twitter to generate buzz around your store and attract more customers. Customer testimonials and videos can also be added to your website in order to increase the trust of the customers.
Conclusion
There are many things that you can do wrong when developing an eCommerce store. The tips in this blog post will help you avoid some of the most common mistakes, and ensure that your store will be a success. So if you're planning on starting your own eCommerce store, make sure you check out our blog post! The article will guide you through the most common mistakes that are made while building their eCommerce stores.
Contact our experts to discuss the services that could add value to your business.
OVER
600 Small, Medium

and

Large

Enterprise business clients have chosen us from

35 COUNTRIES
Federico Bilches

www.latmeco.com

I want to thank all Alakmalak team for take my project and help me to improve my website! Thank you for your responsibility and seriousness at the time to do corrections and improvements on my website and for always be in touch with me. Highly recommended! Great team! Great company! I'm very thankful Alakmalak!

A few kinds words to say about Alakmalak programming and design. Working with these guys is always such a great relief. You know you are getting your stuff done right and usually always in a timely fashion. I'm a middle man for the most part And my clients are always happy with the end result.