Website Redesign Process
Here are a few steps that may go a long way as proving as a comprehensive guide to the process of a website redesign.
Have your goals laid out:
To start out you need to have a clear picture of what you will gain from the new website. The next step would be to ask yourself; do you really need to redesign in the first place? There could be many reasons for a redesign, like to remain competitive, or if the current website is outdated in terms of technology and usability. All though it is important to list your goals which could be something like, increase site traffic, improve sales, send out a better image, promote the brand, etc.
Safeguard your data:
It is necessary that you understand that once you redesign your website you may lose some things that you had on the old site if you are not too careful. For example if you have a website with data of all your students; then once you redesign your website it is not necessary that the same data will be useful. This is because the new data is likely to have a new format of storing data and thus a migration of data would be required. Also if you have data in place for search engine optimization then it is necessary to make sure a similar pattern of design is followed with the new redesigned website. This will ensure you do not lose your website ranking in the process of redesign.
Optimise your homepage: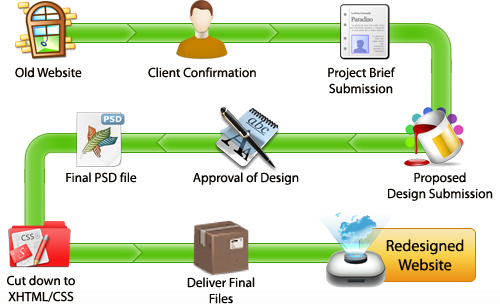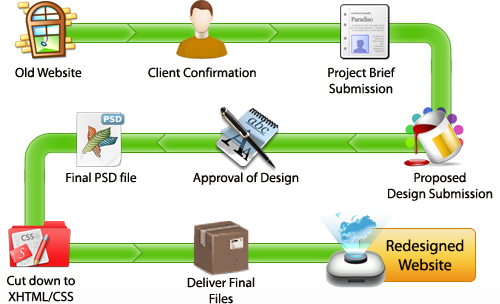 During redesign it is necessary to make sure the homepage remains as charming as ever and if possible even make it better. First impression counts a lot and thus it is necessary to get a lot of information on the first page without cluttering it. It is vital to have a good design which is needless to say although the content should be wrapped neatly in the design, making it stand out for all the right reasons. One thing that visitors are not patient with is the navigation. If the website navigation is slightly complicated there are changes that you will lose visitors. Another must do is to include social media and blog posts on the front page itself.
Content is king:
It is true that a website needs to have a good design but don't get too carried away and spend all your resources on the design. I say this because it is a proven fact that content of a website is also equally important. For one the search engines will love your website if you have new and good content periodically. Besides which the visitors to your website will keep coming back if you maintain it properly with frequent content updates. It is little wonder that blogging can greatly improve your website ranking.
Feel free to contact our india web site design team today.
Why Choose Alakmalak As a Your Growth Partner?


Alakmalak is a web development company in India that offers services for several technologies. There have been around for a very long time and have developed over 2500 projects for clients all around the world. They have highly skilled web developers with a great deal of experience.
efficient and successful website redesign

What's Next ?
I know after reading such an interesting article you will be waiting for more. Here are the best opportunities waiting for you.
For Such Interesting articles

Uncover our captivating services

Supercharge your business with us