Pros and Cons of a WordPress Website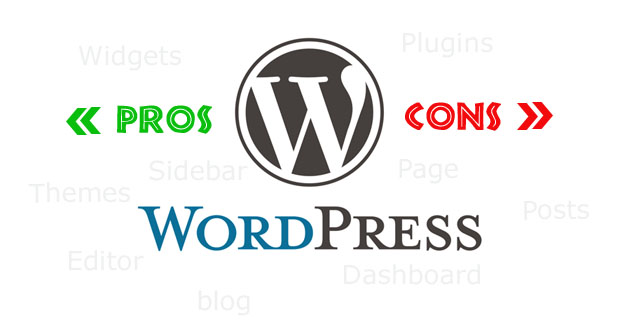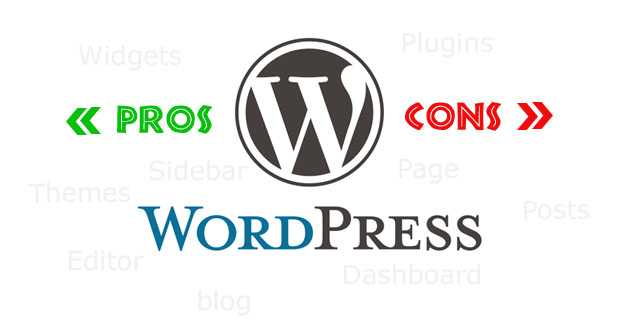 If you have a business it is a good idea to maintain a blog and WordPress is the perfect choice for the Blog. But that's not all, WordPress is also a good option for making the entire website, since it is also a very good content management system.
The Advantages Of Using WordPress (Pros):
Open Source:
WordPress stands as an open-source platform, signifying that numerous users can collaboratively contribute to its development, leveraging pre-existing code to enhance efficiency. Moreover, being a widely embraced and popular website builder platform, WordPress boasts an extensive array of resources and add-ons, attributed in part to its large user base.
Simplicity:
You do not need to be a highly skilled programmer to setup a WordPress website. The makers of WordPress have kept it very simple; the installation being one of the simplest processes. Further setting up the additional information on the website as per personal preferences is also not very hard.
Fast and Easy:
WordPress isn't just user-friendly; it's also impressively swift. With minimal steps required to accomplish tasks, its streamlined approach reduces complexity, even for those with limited technical knowledge. As an open-source software, it's the perfect platform where simplicity and efficiency harmonize seamlessly.
SEO Friendly:
The primary focus during its design was to ensure exceptional compatibility with SEO, contributing positively to Search Engine Rankings. Moreover, the platform supports various plugins crafted to enhance its SEO friendliness. By incorporating an advanced SEO plugin and utilizing an efficient SEO tool, you can further elevate the optimization of your website. This applies not only to standard web pages but also to each individual blog post.

Are You Looking To Develop Your Own WordPress Website?
Elevate your online business with the expertise of our exceptional website developers at Alakmalak Technologies! Experience premium website development tailored to your budget.
Powerful And Well Supported:
While WordPress boasts a popular content management system with a low learning curve for installation, its ease of use does not undermine its inherent power. On the contrary, its capabilities are boundless. It facilitates responsive designs for optimal user experiences and even supports integration of premium themes to elevate aesthetics. The scope of what you can achieve with WordPress knows no bounds. You can harness its potential by leveraging existing plugins to enhance functionality or creating your custom plugins tailored to your exact needs, opening the door to limitless possibilities.
Support for WordPress is robust, catering to a wide user base. If you encounter challenges, the solution is often within reach through various avenues like online courses or vibrant community forums, where you can explore existing posts or present your queries as a business owner or enthusiast.
Many Additional Plugins and Widgets:
The Plugins available for WordPress are very easy to install, which is especially beneficial for WordPress website development in India. Besides, WordPress employs widgets that further simplify website enhancement. Depending on your layout, widgets can be placed anywhere – the header, sidebars, or footer. You can even integrate them within the content section.
WordPress Updates The Software Automatically:
Considering the potential longevity of a constructed website, it's inevitable that changes, including security enhancements and resolution of various issues, will be required over time, not limited to basic software adjustments. WordPress facilitates these essential updates without charge. Moreover, with the integration of security plugins and proper design and installation, your WordPress websites can experience frequent and automatic updates, even to the extent of self-automated updates, relieving you from manual intervention.
The disadvantages of using WordPress (Cons):
Website performance get become an issue if you install too many plugins and are unable to optimise the website in an appropriate manner.

WordPress is a very robust content management system, however the same cannot be said for the ecommerce features. The ecommerce features on WordPress are not very strong and hence it is always better to use a special eCommerce open source package to do the job.

The fact that it is open source has many advantages however it also has several disadvantages. Being open source it is easy for the hackers to figure out how to break your website and find loop holes if your programming code is not up to the mark. There are several ways to counter this, however not everyone is successful in avoiding an attack.
Conclusion:
Thus WordPress is very good open source content management software on the whole which has come a long way from being just a simple blogging platform. In addition to which the number of plugins available for WordPress are quite high and free as well. Hence with WordPress you can have enhanced functionality by simply installing a new plugin.
WordPress is constantly gaining in popularity. With more number of people opting to make their websites in WordPress. Thus it helps if the developer knows how to plug all the loop holes and develop the website to as future proof as possible.
Alakmalak has been developing websites since a while and there have been several trends changes in website design over the years. This makes the designers well prepared to deliver new, creative and innovative designs to our clients. Besides which their development team is more than capable of handling some of the most complex projects and getting them right.
Are you ready to make your CMS website with WordPress. Hire WordPress Developers India with Alakmalak today!
Pros and Cons of a WordPress Website
Pros and Cons of Wordpress
Wordpress Pros and Cons

What's Next ?
I know after reading such an interesting article you will be waiting for more. Here are the best opportunities waiting for you.
For Such Interesting articles

Uncover our captivating services

Supercharge your business with us