Principles of UI/UX Design For eCommerce Magento Website
The souls of your eCommerce business are the User Interface and User Experience, and Magento is the colossal Gorilla in the room of eCommerce platform vendors. There is a lot of rivalry in the industry, and everyone is working hard to deliver the greatest UX and UI possible because Magento UX and UI design are more important than ever for the future of eCommerce.
Create Magento UX designs based on consumers' product discovery journeys
that will be followed in the future. How do you get to the bottom of the stairwell? By ascending one step at a time.
The UI/UX design standards of Magento stores could be improved using the same method. Help from an eCommerce website developer in India will expedite the process and help you meet your sales targets sooner.
The focus of E-Commerce UX Design is to make the user's interaction with the e-Commerce platform Use Friendly, smooth and fast. User Retention is the direct condition of growing profits for your Online Stores. Make no mistakes, a positive user experience is a key thing for user retention. A good e-commerce UX design drives conversion by making it easier for customers to make decisions and complete purchases. As one survey of users says that they will not revisit a site if it has a bad user experience.
What is Ecommerce?
Electronic commerce (e-commerce) is the direction of economic activity in which customers are provided with goods or services using electronic devices and the Internet. Data management, sales channels, advertising, presenting goods and services, and moreover — permitting the whole cycle of commerce activities, including payments, delivery, and refunds — all benefit from this type of communication and finalization of transactions.
E-commerce has grown rapidly during the previous decade. It now allows for
not only e-commerce between firms and buyers but also online auctions and
user-to-user sales platforms.
Steps to Improve the UI/UX Design-
The world of eCommerce is still a meritocracy, where tiny businesses can compete with huge businesses and establish themselves as trustworthy provider with devoted clients. However, in order to do so, such companies must invest in a dependable and consistent customer experience.
While there is no one-size-fits-all approach to creating the ideal eCommerce
UI/UX for your customers, there are a few areas where you may focus on
getting the best results.
1. Easy Navigation


There are numerous eCommerce UX design principles and ideas that are currently regarded as best practices in the industry. According to Hick's Law, the more options a user has, the longer it will take them to perform a task. With this concept in mind, it's a good idea to ensure that your homepage or landing page provides the bare minimum of options.
Don't overwhelm your users with too much data. Pop-ups, forms, and a
a plethora of links may appear to give visitors additional options, but they are
actually slowing them down.
2. Proper Site Search

To give the best eCommerce UX/UI to your customers, proper site search capability is required. Because of their clearer aim, people who use the search box are more likely to become leads.
Having a search bar on the E-commerce websites helps the user to type the product name or model number which is far better than sifting through menu options.
If they can't find the search box or it doesn't work properly, these potential consumers won't be able to get the information they're looking for and will leave your site with a sour taste in their mouth.
3. Customize Fields for Better Engagement
While personalization is an excellent tool for evoking loyalty, customization is a more recent trend that is sweeping the online sector. Thanks to customization, users can make their own choices about what they want to see or set preferences for how your eCommerce website's information is organized and displayed.
Customization is well-exemplified by Reddit and the BBC. When you visit these websites, you'll see that customization improves the UX/UI by allowing consumers to control how they interact with the site.
4. Get Rid of 404 Pages


Your top priority is to keep the store tidy. Customer journeys will be disrupted by 404 errors, which will lead to brand distrust, decreased conversions, and lower search engine results. Another factor to think about is the number of 404 errors on your site.
The more you have, the worse the results will be.
Create correct 301 redirects (permanently moved) for all critical links that are no longer valid but may have the traffic you wish to collect. Create 410 redirects (gone) for non-essential links to help Google "forget" about them and remove them from the index. Also, to eliminate numerous redirects in navigation menus and other places, update both sorts of 404s in your business.
5. Use Nice Visual Elements
Experiment with what users can see and how they can interact with the business. It doesn't mean that adding more colors is a poor choice just because you've never seen bright UI elements before! To add new elements to your design, liven up your menu.
Try to provide visual feedback during the checkout process including a progress bar that helps customers understand where they are in the checkout process and how much they have left to complete.
When some menus have a lot of options and others have relatively few, this method works well. You can use photographs and other visual elements in smaller menu listings to achieve a consistent design. They will appear to be the same size as their larger counterparts in this manner.
6. User-Generated Content
According to Yotpo, a digital marketing firm, 77 percent of customers prefer to see images taken by other customers than photos produced by professional photographers. You should encourage your customers to use social media to share their experiences with your products or services.
You may assist other potential clients in making the right decision by monitoring your brand's mentions and sharing the content on your website.
Customers will feel heard and fulfilled due to this form of engagement, which
is both important parts of the eCommerce user experience.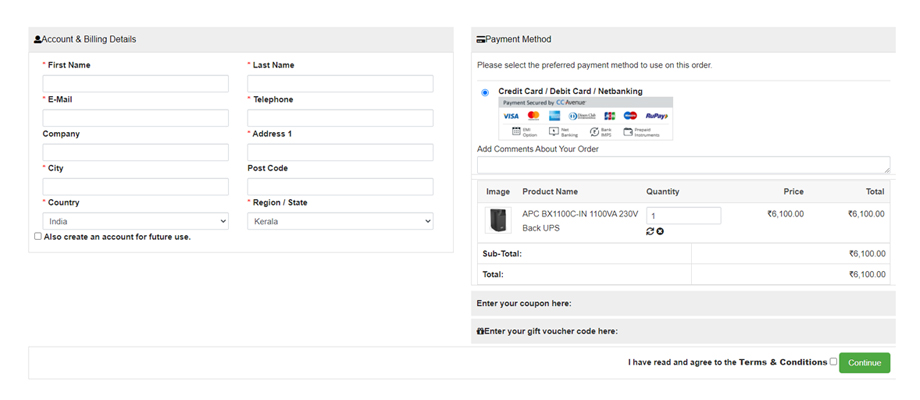 It's simple to create a good Checkout page. Increase the number of payment options while reducing the number of fields. That is all there is to it. Despite this, the vast majority of store owners want to know everything about their customers and don't give them enough checkout options.
Closing a sale is your first and most important goal. As a company, you want to make the payment process as simple and straightforward as possible. Everything else is merely incidental. Another great way to boost conversions is to list all of your payment options on the Cart page. Users will always know what to expect and whether your store accepts their preferred payment
Bottom Line
UX is difficult, but it isn't rocket science. You can actually validate any design decision by asking yourself a few simple questions.
Most of the time, months of A/B testing aren't required to discover that users despise selecting numbers from a long drop-down menu, long checkout forms, and annoying pop-ups.
Two-thirds of bad design decisions can be avoided with common sense and experience. Focus groups and deep analytics should be reserved for problems that truly require them. Fix the simple, obvious ones, and have a bigger impact on your store before moving on to the more difficult UX challenges.
Get instant help from eCommerce website developers in India who are well-versed in the latest technology of website creations.

What's Next ?
I know after reading such an interesting article you will be waiting for more. Here are the best opportunities waiting for you.
For Such Interesting articles

Uncover our captivating services

Supercharge your business with us