Must-Know Mobile ECommerce App Development Trends
Mobile eCommerce has quickly become an indispensable component of our daily lives, from shopping at Amazon and Walmart to booking flights through Expedia; apps, developed by leading eCommerce app development companies in India and across the globe, have become our go-to for getting things done. Consumers today expect the ability to shop anywhere at any time from any device – at home or out shopping; whether browsing, discovering, comparing prices, placing orders, tracking packages, and completing purchases wherever they may be located – meaning merchants need a streamlined eCommerce experience that connects seamlessly across devices for maximum customer engagement and sales opportunities.
Smartphones have quickly become the primary gateway to the web and we now rely on mobile transactions more and more each year. By 2023 it's estimated that more than 50% of all sales online will occur through mobile devices alone – providing exceptional user experiences is imperative if businesses hope to take full advantage of such opportunities; hence you need to plan now on how best to build or design apps or websites that serve customers effectively if this trend holds true in 2023. We explore some trends for 2023 eCommerce app development trends below.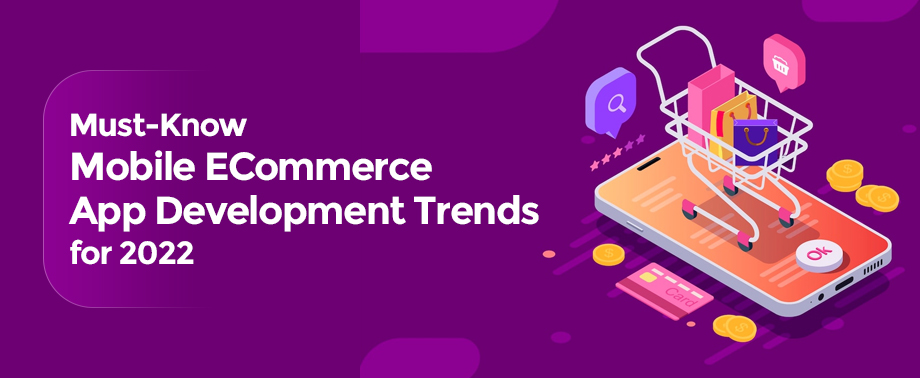 Here is our 2023 mobile eCommerce app development trends to watch out for:-
1. Internet of Things
The Internet of Things (IoT) is an emerging trend set to influence eCommerce app development by 2023. IoT's core tenet involves connecting devices and sensors across vast networks in order to share data and perform functions collectively – this allows developers to build applications which interact with these devices so users can more efficiently manage their environment through smartphones apps.
Other advantages of IoT technologies are increased safety and security as well as increased efficiency when managing or monitoring assets. Also, by linking together millions of small devices developers have access to large troves of data which they can utilize for predictive analytics or machine learning algorithms.
2. Augmented and Virtual Reality (AR/VR) technologies
Augmented and Virtual Reality will remain two of the hottest mobile app development trends of 2023. Augmented reality (AR), in particular, can create three-dimensional images by superimposing digital graphics over live footage or objects to form three dimensional illusions; AR can then be utilized for marketing/product demonstration purposes as well as gaming/navigational needs or training purposes.
Virtual Reality (VR), on the other hand, creates an immersive experience where users are completely submersed in realistic imagery. VR has long been used in entertainment settings like video games and movies but there could also be potential mobile applications such as eCommerce for fashion design or shopping apps using this method of perception. There are multiple advantages associated with using AR or VR when developing mobile apps.
3. Cloud Computing
Cloud computing has quickly become one of the best options available to app developers for app development projects of any size or scale, offering cost-effective services without requiring hardware installations on users' own devices to develop applications without installing additional software programs locally. Furthermore, working remotely makes cloud computing ideal for remote employees or entrepreneurs who require access to their applications at all times – something traditional on-premise solutions cannot match!
Cloud services also provide businesses with secure data storage and retrieval facilities that make managing app content and user information simple and straightforward. Furthermore, cloud apps are frequently updated with new features and bug fixes so they run seamlessly across devices and platforms – something which should definitely be considered before creating mobile applications in 2023! So if you are planning to develop one this year then cloud computing should definitely be at the top of your priority list!
4. Machine Learning & AI
Machine Learning and Artificial Intelligence have rapidly emerged as one of the key eCommerce mobile app development trends of 2023, as this technology automates complex tasks such as product selection, inventory management and order fulfillment – not to mention improving customer experiences by anticipating which items may become popular based on past consumer behavior patterns.
Human staff save both time and effort when engaging in repetitive processes; additionally, this trend provides businesses of various industries an edge against competitors by increasing efficiency and faster response times. Furthermore, as more consumers adopt smartphone lifestyles and eCommerce becomes a mainstream form of commerce for purchase purposes – machine learning will only become even more integral!
5. Digital Payment
Digital payments are seen as the future of mobile eCommerce, offering customers the ease and security of making transactions without leaving home or device. Plus, digital transactions reduce customer account reconciliation or returns costs significantly!
Digital Payments offer users greater convenience than traditional payment gateways, including mobile payments that don't require having cash on hand or waiting in long lines at stores, as well as being accessible no matter your geographical location or time zone restrictions.
6. AI-Driven Chatbots
Chatbots have quickly gained in popularity for several reasons. First and foremost is that they're fast and simple to use – even without technical experience – as well as providing personalized experiences tailored to individual user's specific needs and being relatively cost effective than traditional eCommerce platforms. Furthermore, chatbots can act as customer service bots by answering customers inquiries about products as requested or providing product info when requested by their user base.
Chatbot technology has already made waves within various businesses, so its use should come as no surprise to any eCommerce platform owner or manager looking ahead. As mobile usage among consumers continues to surge forward, make sure Chatbot development trends in 2023 are taken into consideration!
7. Blockchain
Blockchain has emerged as an outstanding technology platform for mobile eCommerce app development. This is due to its capacity of building trust among users by eliminating third-party arbitration or verification and speeding transactions while decreasing cross-border costs. By including blockchain technologies within your eCommerce app, you can ensure customers remain protected against fraud or identity theft.
Utilizing blockchain can also enable you to track inventory levels and automate customer settlements – among many other advantages offered by mobile eCommerce apps and blockchain technology platforms. So if your business online needs improvement, consider adding blockchain platforms as part of your mix!
E-commerce App development has undergone dramatic advancement since its birth. Many of today's trendiest developments were once unthinkable when first established. Digital payments and chatbots, once considered futuristic ideas, have quickly become part of E-commerce App life and transformed online shopping experiences. Their presence has had an incredible effect on this industry by significantly improving user experiences and conversion rates. App stores continue to evolve, playing an instrumental role in shaping user behaviors and offering customized recommendations. These dynamism changes within E-commerce App development aim at optimizing purchases online while propelling your business further forward.
Contact Alakmalak Technologies, which is an established mobile app development firm with highly qualified designers and app developers on hand, who can craft customized websites or mobile apps tailored specifically to meet your requirements.

What's Next ?
I know after reading such an interesting article you will be waiting for more. Here are the best opportunities waiting for you.
For Such Interesting articles

Uncover our captivating services

Supercharge your business with us