5 Mobile App Development Tips For Small Businesses
Mobile applications have become an integral part of modern business strategies, enabling companies to reach out to their customers with ease and engage with them on a deeper level. For small businesses, in particular, mobile app development in India can be a game-changer as they offer an opportunity to level the playing field and compete with larger organizations. However, building a mobile app can be a daunting task, especially for those who have little or no experience in the field of app development. Here best mobile app development tips that can help you grow your business globally.
In this blog, we will explore five essential tips for small businesses to keep in mind when developing a mobile app. These tips will help ensure that the app is effective, user-friendly, and able to meet the needs of the target audience. By following these guidelines, small businesses can successfully build a mobile platform app that enhances their brand awareness, drives customer engagement, and boosts revenue.
Top 5 Mobile App Development Tips For Small Businesses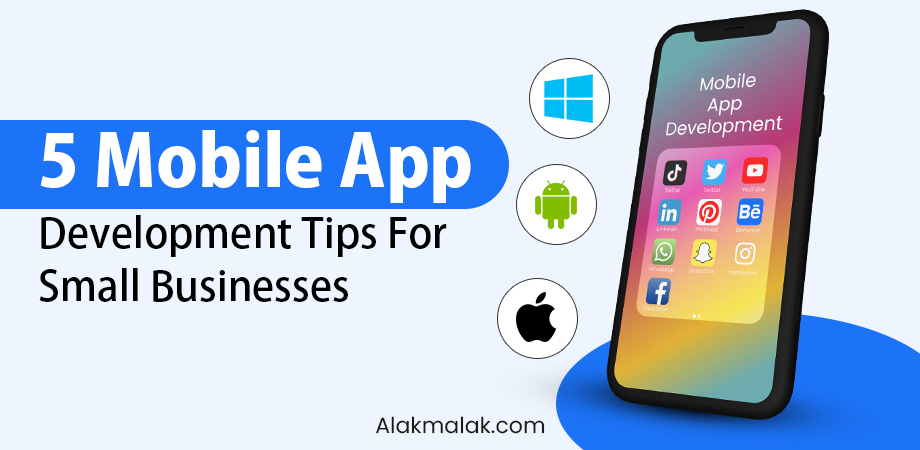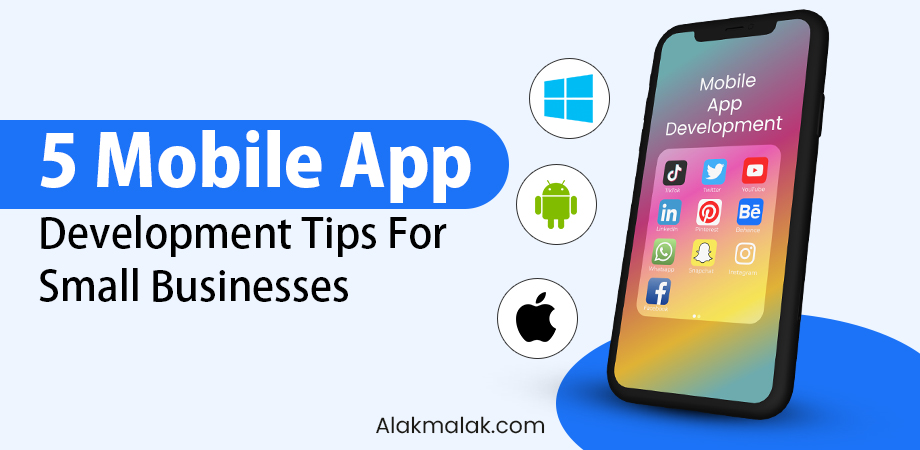 Here are the top 5 Mobile app development tips for small businesses:
1. Specify App Functions in Detail
When it comes to building a mobile app for a small business, one of the most crucial tips for mobile app development is to specify the app's name in detail. This means having a clear understanding of what the app is meant to do, the features it should offer, and how it will benefit the end smartphone users.
To specify the app functions in detail, it is important to start by identifying the problem that the app is meant to solve. What pain points does your target audience experience? What are the common challenges they face in relation to your product or service? Answering these questions will help you identify the core functionality that the app downloads should offer.
Once you have a clear app idea of the app's purpose, it's time to determine the specific features that will support this purpose. For example, if you are building an app for a retail store, you might want to include features such as a product catalog, a shopping cart, and payment processing. Similarly, if you are building an app for a healthcare provider, you might want to include features such as appointment scheduling, prescription refills, and access to medical records.
2. Identify Target Market and Their Needs
Second and very important tips on how to mobile app for your small business. When developing a custom mobile app development for small business needs, it is important to identify the target market and understand its needs. By doing so, you can create an app specifically designed to meet your customers' needs, ultimately increasing engagement and revenue.
To identify your target market, start by analyzing your existing customer base. Who are your most loyal customers? What demographic information do you have about them, such as age, gender, income level, and location? This information can help you develop a profile of your ideal customer service, which will inform your app development team.
Once you have identified your target market, it is important to understand their needs. What problems are they trying to solve? What do they value most when it comes to your product or service? This information will help you determine the features and functionality that should be included in your app.
For example, if your target market is busy professionals who value convenience, your app might include features such as easy ordering, quick checkouts, and real-time order tracking. If your target market is parents with young children, your app might include features such as product recommendations based on age and preferences, and the ability to schedule pickups or deliveries at specific times.
3. Develop A Great App design/UI/UX For Ease Of Use
Developing a great app design, UI and UX Design is a critical step in mobile app development company for small businesses. A well-designed app not only looks visually appealing but also makes it easy for users to navigate and interact with the app.
Here we will discuss some tips for developing a great app design, UI, and UX.
1. Keep it simple: Simplicity is key when it comes to app design. Avoid cluttered screens or complex navigation that can overwhelm mobile users. Focus on creating a clean, intuitive design that guides users through the app seamlessly.
2. Consistency: Consistency is essential for creating a seamless user experience. Use consistent color schemes, fonts, and layouts throughout the app to make it easy for users to navigate.
3. Clear Navigation: Navigation is a critical component of app design. Make sure that it is a clear view of the business and easy to use, with intuitive buttons and menus that guide users through the app. Incorporate visual cues to make it easier for users to understand where they are in the app and how to get to where they want to go.
4. Consider the user's journey: When designing your app, consider their journey and how they will interact with the app. For instance, if your app requires users to create an account, make sure that the registration process is simple and straightforward.
4. Regularly Update The App To Fix Bugs
Regularly updating your app is an essential tip for mobile app development for small businesses. In fact, it's one of the most important things you can do to ensure that your app continues to meet the needs of your app users and stays competitive in a constantly evolving app market.
Why regular app updates are important and how to approach them.
1. Fixing bugs: One of the most important reasons for a mobile app developer to regularly update their app is to fix bugs. Even the most thoroughly tested apps can have bugs, and it's important for the developer to address them as soon as possible to ensure that users have a smooth experience with the app.
2. Adding new features: Regular updates also provide an opportunity to add new features and functionality to your app. This can help keep your app fresh and exciting for users, and may even attract new users who are interested in the new features.
When updating your app, it's important to approach it strategically. Here are some tips to help you do so:
1. Set a schedule: Establish a regular schedule for app updates, such as monthly or quarterly, so that users know when to expect new features and bug fixes.
2. Prioritize updates: When planning updates, prioritize bug fixes and other critical issues first thing, followed by new features and functionality.
3. Communicate with users: Let users know what changes to expect in each update, and solicit feedback to help guide your software development priorities.
4. Test thoroughly: Before releasing any updates, thoroughly test the app to ensure that it works as expected and that there are no new bugs or issues.
5. Beta Testing User Feedback
This mobile app development tip, along with utilizing mobile app testing tools, is very important. Beta testing, supplemented by the use of specialized mobile app testing tools, is a crucial step in the mobile app development process for small businesses. It involves releasing your app to a small group of users, known as beta testers, who provide feedback on the app's performance, user interface, features, and overall user experience, aided by these testing tools. This valuable feedback can then be carefully analyzed and used to make informed improvements and refinements to the business app development project before its official release, ensuring a higher quality end product.
Why beta testing is important and how to approach it.
1. Identify potential beta testers: You can identify potential beta testers by reaching out to your existing user base, social media followers, or other online presence communities that are interested in your app's purpose. You may also consider offering incentives, such as early access or discounts, to encourage users to participate in the beta testing process.
2. Collect feedback: Encourage beta testers to provide feedback throughout the testing process, and provide the best way for them to easily report bugs, issues, and other feedback. This could be through a dedicated feedback form or forum, or through direct communication with your team.
3. Analyze feedback: Once you have collected feedback from beta testers, analyze it to identify patterns and areas for improvement. This could involve categorizing feedback by type, such as bugs or usability issues, or creating a prioritized list of improvements based on the severity of the feedback.
4. Implement improvements: Use the feedback collected during beta testing to make improvements to the app development companies. This may involve fixing bugs, improving the user interface, or adding new features based on user demand.
Conclusion
These are some of the mobile app development tips for your small business that also align with your marketing strategy. Developing a mobile app for a small business owner can be a challenging task, but following these five tips can make the process much smoother and increase the chances of success.
By starting with a clear understanding of the target audience and business goals, and integrating these insights into your marketing strategy, focusing on user experience to enhance customer engagement, utilizing analytics and feedback to refine your marketing approach, keeping the mobile app design simple and consistent to align with your brand image, and prioritizing security and privacy to build trust with your customers, small businesses can create mobile apps that not only provide real value to their customers but also synergize with their marketing efforts, thereby driving business growth.
With the ever-growing importance of mobile devices in our daily lives, investing in a well-designed business app can be a game-changer for small businesses looking to stay competitive in today's market research. Contact Us to develop the best Mobile Application for small businesses, we provide the development at a very affordable price and with the latest technology.

What's Next ?
I know after reading such an interesting article you will be waiting for more. Here are the best opportunities waiting for you.
For Such Interesting articles

Uncover our captivating services

Supercharge your business with us