6 Important Reasons: Why Should I go with WordPress for My Business Website?
In the ever-expanding realm of online business establishment, the decision regarding the ideal platform carries immense weight. Notably, WordPress, an open-source software, stands tall as a prominent preference amid businesses. The rationale for this inclination becomes glaringly evident, particularly when delving into its seamless alignment with hosting services, its reputation as a secure platform, and the overarching importance of WordPress for business website development. Throughout this discourse, we shall delve into six pivotal reasons that illuminate the significance of WordPress in steering successful ventures in the digital landscape:
Importance of WordPress for Business Website Development 
Here are 6 important reasons why one should go with WordPress for designing a business website: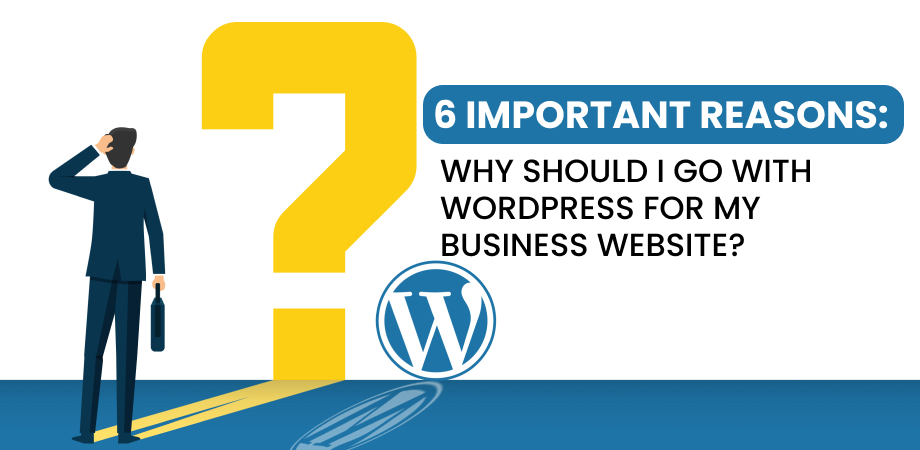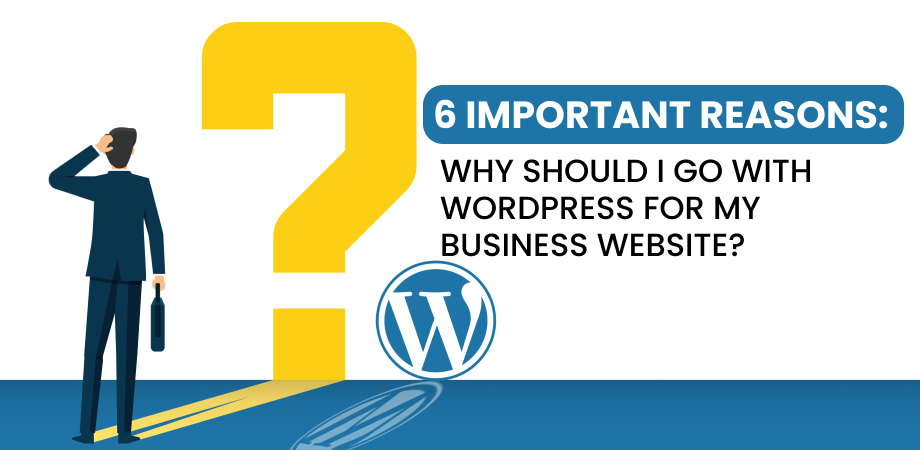 1. Ease of Use
Ease of use is a key factor that has contributed to the popularity of WordPress as a platform for business websites. The user-friendly interface of WordPress makes it easy for non-technical users to manage their website content, such as creating and editing pages, adding images, and publishing posts. This makes WordPress the best choice as a blogging platform.
Furthermore, the platform offers a vast library of plugins and themes that provide businesses with a wide range of customization options. These plugins and themes allow businesses to add new features to their website development and make them look unique, all without the need for technical expertise. This ease of use makes WordPress an ideal choice for businesses that want to have full control over their online presence without having to rely on a web developer for every small change.
Some examples of businesses that use WordPress for their website due to its ease of use include:
1. Small and medium-sized businesses (SMBs) such as local restaurants, shops, and service providers
2. Online stores and eCommerce websites
3. Non-profit organizations and charities
4. Personal blogs and portfolios
5. Educational institutions, such as schools and universities.
These businesses can use the platform to easily create and manage their website, showcase their products or services, and engage with their audience. The ease of use also makes it easy for businesses to make updates to their website without having to rely on a web developer, saving them some period of time and money.
2. Use Google Analytics to Track Visitors
One of the top reasons why businesses use WordPress for their website is the ability to track visitors using Google Analytics. Google Analytics is a free web analytics service offered by Google that tracks and reports website traffic.
It provides detailed insights into a website's audience, behavior, and performance. For businesses, this is valuable information as it allows them to make data-driven decisions about their online presence and improve the user experience for their potential customers.
For example, businesses can use Google Analytics to track the number of visitors to their website, the pages that are most popular, and the sources of traffic (such as search engines or social media).
They can also track conversion rates and monitor the behavior of individual users, such as how long they spend on the website and what pages they visit.
With this information, businesses can make informed decisions about the content and design options of their website to increase engagement and drive more sales.
3. User-Friendly Interface
Another key reason why businesses choose WordPress for their website is its user-friendly interface. WordPress is designed to be simple and intuitive for users, allowing businesses to easily manage and update their websites without the need for extensive technical knowledge. This makes it an ideal choice for small and medium-sized businesses that want to take control of their online presence.
For example, businesses can use the drag-and-drop page builder to create and customize pages, add images and videos, and publish new content with ease. They can also install plugins to add new features and functionalities to their website, such as contact forms, social media integration, and e-commerce plans.
With a user-friendly interface, businesses can quickly answer and efficiently manage their website, saving time and resources while still maintaining a professional and engaging online presence.

Start a successful online business by easily launching your website with WordPress
Elevate your online business with our incredible website developers! Experience top-quality website development tailored to your budget.
4. No Coding is Needed To Make Most Of The Changes
One of the most attractive features of WordPress Website Development for businesses is the fact that most changes can be made without the need for coding. This makes it an accessible platform for businesses of all sizes, including those without a dedicated technical expert team. With a user-friendly dashboard and intuitive visual editors, businesses can easily update their websites without needing to have programming skills.
For example, businesses can add or remove pages, change the layout of their site, and add images and videos without needing to write any custom code. They can also customize the appearance of their website using pre-made themes or by creating their own custom design skills using CSS.
This flexibility and ease of use allow businesses to quickly make changes to their website to reflect their brand, respond to changing customer needs, and stay ahead of the competition.
5. Can Be Expanded Easily Using Free / Paid Plugins
Another advantage of WordPress for businesses is its ability to be easily expanded using premium plugins. WordPress has a large repository of both free and paid plugins that can be installed with just a few clicks, allowing businesses to add new features and functionality to their website without needing to hire a developer. This makes it a versatile platform that can be customized to meet the specific needs of each business.
For example, businesses can use plugins to add e-commerce functionality to their website, integrate social media, improve SEO(search engine optimization), and enhance security features.
Moreover, opting for paid plugins brings forth not only enhanced features but also dedicated professional support. This equips businesses with the means to effortlessly augment their website's capabilities, thus allowing them to stay attuned to the evolving demands of their customers. From fortifying security with security plugins to amping up visibility via SEO plugins, and safeguarding data through backup plugins to empowering transactions with eCommerce plugins, the spectrum of possibilities widens. By actively leveraging these plugins, enterprises can strategically position themselves in the digital arena, consistently aiming to outshine competitors and ascend the ladder of search engine rankings.
6. Manage Your Website From Any Computer
Being able to manage your website from any computer is another advantage of using WordPress for businesses. With the cloud-based platform, businesses can access and make changes to their website from any mobile device with an internet connection.
This allows for greater flexibility and convenience, as businesses can make updates to their website from the office, at home, or while on the go.
For example, businesses can use their smartphone or tablet to upload new products to their e-commerce site, publish blog posts, or make changes to the design comparison tool of their site while they are away from their desk. With the ability to manage their website from any computer, businesses can stay on top of their online presence and respond to customer needs in real-time, no matter where they are.
Conclusion:
WordPress is a powerful and versatile platform that offers many benefits for businesses looking to create and manage a website. With its user-friendly interface, the ability to track visitors using Google Analytics, the ease of making changes without coding, the ability to expand using plugins, and the convenience of being able to manage your website from any computer, WordPress is the ideal choice for businesses of all sizes.
Whether you're a small start-up looking to establish an online presence or a large enterprise looking to streamline your website management process, WordPress has the tools and features you need to succeed for all types of websites. With its vast community of developers and users and its commitment to providing a flexible and scalable platform, WordPress is a smart investment for any business looking to thrive in the digital age.
Ready to take your business website to the next level? Contact us to learn more about the 6 important reasons why WordPress is the best choice for your business.

What's Next ?
I know after reading such an interesting article you will be waiting for more. Here are the best opportunities waiting for you.
For Such Interesting articles

Uncover our captivating services

Supercharge your business with us