Get a Free Quote
You will receive quote within 24 Hrs
Zen Cart Configuration – What is It All About
Having opted for Zen Cart as your preferred open source solution for the new e-commerce website of yours you begin selecting the appropriate template or layout for the website. There are plenty of generic free templates available on the Internet which you can simply download and follow the simple instruction to install. The instructions are simple enough for a novice to understand them and cleanly install the template. However it is more often than not that that you will want a customized design, a design that is exactly how you envisioned your store would be. Such designs need to be custom built by web designers and are also touch to install since it is not quite straight forward. You will most definitely require the help of an e-commerce web developer to install the template for you with the appropriate programming and integration.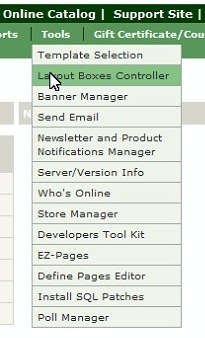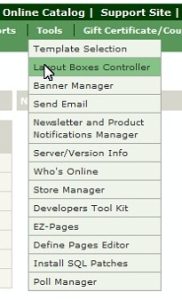 Admin Tools
Once the integration is complete most of your worries are over and you are almost ready to transfer your website to your main domain and start accepting customer orders. But there is one additional requirement yet to be completed and that is the configuration of your ecommerce website, your Zen Cart. The configuration can be performed as described in this article. Zen Cart has made configuration pretty easy by having the Configuration all under one menu option in the admin panel. This all can be accessed by going to the admin panel menu Configuration.
Here the first option is the 'My Store' where you need to set the parameters like your store name and address and phone number. It is possible to switch the store status here as well from a normal ecommerce store to that of only a product display store where users can only view the products and not purchase.
There is another option in the same menu 'Images' which allows you to set the size of the images on each page of your store; thus easily increasing the site if you wish.
The next option is 'Customer Details' where you can select the fields that you wish to appear on the customer register form. It is also possible to toggle the option of whether you wish to have the customer approval on registering via this page.
You need to set the store zip code here. It is possible to do so from the menu option 'Shipping / Packaging', where you select the country of origin and the postal code.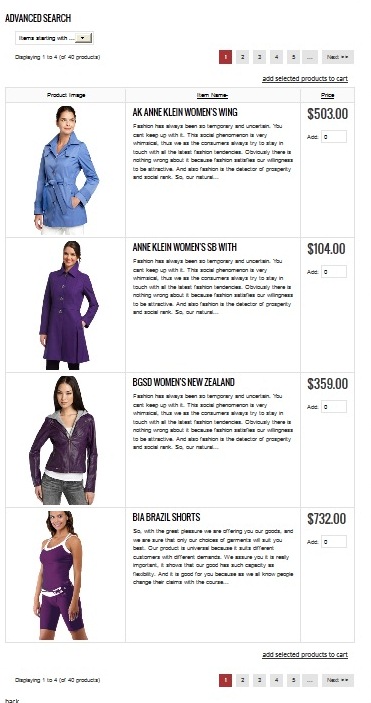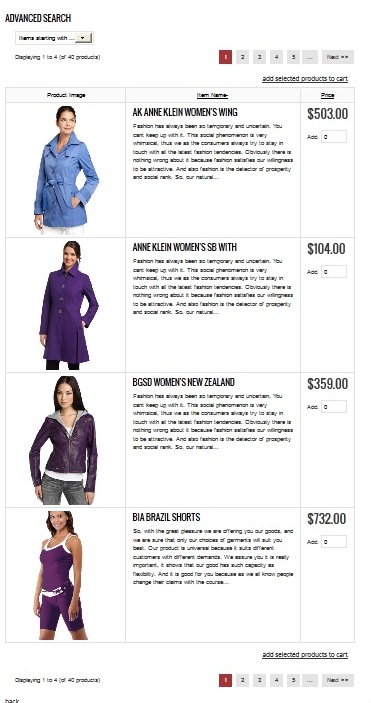 Search Product Listing
All your email addresses of the store can be set from the page 'E-Mail Options' thus defining where you want the order confirmation, contact inquiry emails etc to be emailed to.
It is possible to set the credit cards you want to accept from the 'Credit Cards' menu option by simply ticking the ones that apply to you.
Further configuration is required that of the shipping and payment modules as per your choice and may even require help from the ecommerce web developer. Alakmalak is a ecommerce web development company with considerable amount of experience in the field and would be more than happy to help you out with your ecommerce website.
Why Choose Alakmalak As a Your Growth Partner?




Alakmalak is a web development company in India that offers services for several technologies. There have been around for a very long time and have developed over 2500 projects for clients all around the world. They have highly skilled web developers with a great deal of experience.
how to do hire zen cart configuration
OVER
600 Small, Medium

and

Large

Enterprise business clients have chosen us from

35 COUNTRIES
Federico Bilches

www.latmeco.com

I want to thank all Alakmalak team for take my project and help me to improve my website! Thank you for your responsibility and seriousness at the time to do corrections and improvements on my website and for always be in touch with me. Highly recommended! Great team! Great company! I'm very thankful Alakmalak!

A few kinds words to say about Alakmalak programming and design. Working with these guys is always such a great relief. You know you are getting your stuff done right and usually always in a timely fashion. I'm a middle man for the most part And my clients are always happy with the end result.