WordPress mobile app – A step into the future of the Websites
WordPress is an open-source content management system that is available as a free download. In fact, it happens to be one of the most powerful blogging and content management systems around. It has an admin panel that can be learned easily and used effortlessly. WordPress is used by many people for many different types of websites like a blog, a content management system, an eCommerce website, a simple informational website, forum or any other type of custom website as per client requirements.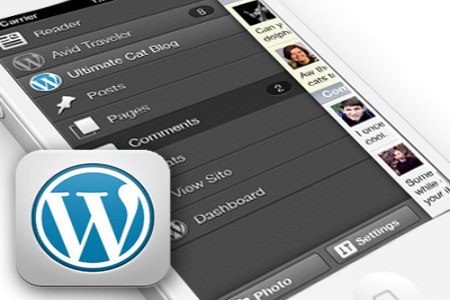 The advantage using WordPress is there are many plugins available that can transform the website into almost any type of website, even a social network. In addition to this, it is possible to customize WordPress to create plug-ins of your own for special requirements. Although customizing WordPress requires programming knowledge of PHP.
WordPress Admin Panel at your figure tips – Mobile App
The WordPress mobile app is available for both Android devices and Apple devices. It is an app that can be used to manage your website. Here are some of the main features of the app:
– Update your blog anywhere: The mobile app allows you to update your WordPress website from your mobile no matter where you are. Hence you can update it while traveling to work or by taking an hour off from your busy schedule at midday. This feature opens many doors for the users and is a boon for the businesses.
– Statistics: It is possible to stay abreast with the latest visitor stats for your website. You can get information about who is visiting your website and which is the most popular blog, page or product, etc.
-Notifications: It is possible to set up the app to receive all the important notifications about your website.
The Mobile Movement
Now, the time is for mobile and every user moves ahead in mobile. Every single click is possible throughout in mobile. And that is companies going to develop mobile apps to make work easy. As more users use mobile devices that can be accessed throughout the internet. There is bound to be an increase in the number of people using the Internet for several different purposes like buying something online, researching a topic, researching product information, simply reading the news and even online learning.
Thus the new feature from WordPress that allows the website owner be it business man or a blogger can be very handy. Imagine being able to update your blog while on the move. This will make sure your blog is always current even when you are very busy. The same applies to a businessman, who no longer needs to revert to his laptop or desktop just get information regarding his website. The mobile app from WordPress provides all the information he needs right on his palm.
WordPress Web Development with Alakmalak
Alakmalak is a Web Development firm that has been around for a while. They have developed tons of websites for clients all around the world. They offer professional WordPress development with the help of their highly skilled WordPress developers. They offer several other services like Custom Website development, etc. and have dedicated teams available to handle large projects.
Professional Wordpress Development
WordPress developers
WordPress development
WordPress mobile app

What's Next ?
I know after reading such an interesting article you will be waiting for more. Here are the best opportunities waiting for you.
For Such Interesting articles

Uncover our captivating services

Supercharge your business with us