Get a Free Quote
You will receive quote within 24 Hrs
WooCommerce vs Shopify: Which One Is the absolute best for your business?
WooCommerce versus Shopify: Two eCommerce titans face off. Who wins between Shopify and WooCommerce? And will it become the web's most popular eCommerce platform?
People prefer to choose Shopify over the other. Plus, it comes with great templates and fantastic customer support. That doesn't mean WooCommerce can't compete. This smart eCommerce plugin converts any WordPress site into a strong online shop as an open-source platform. We'll help you choose between these two renowned brands in this post.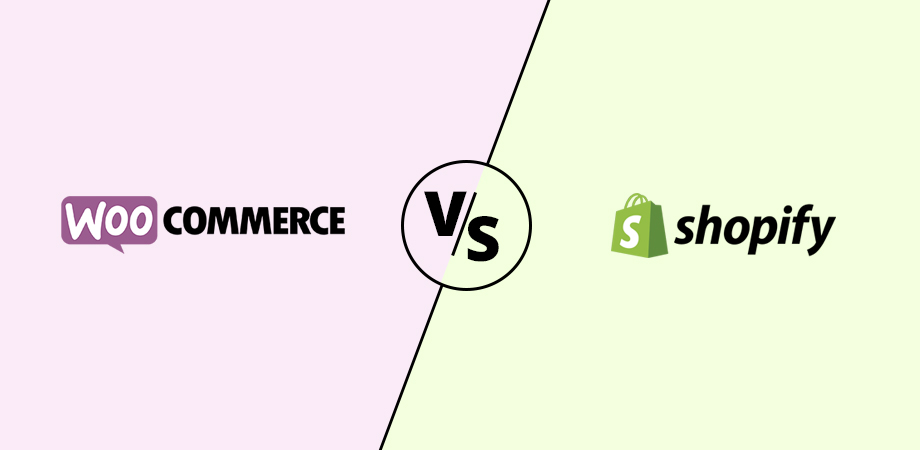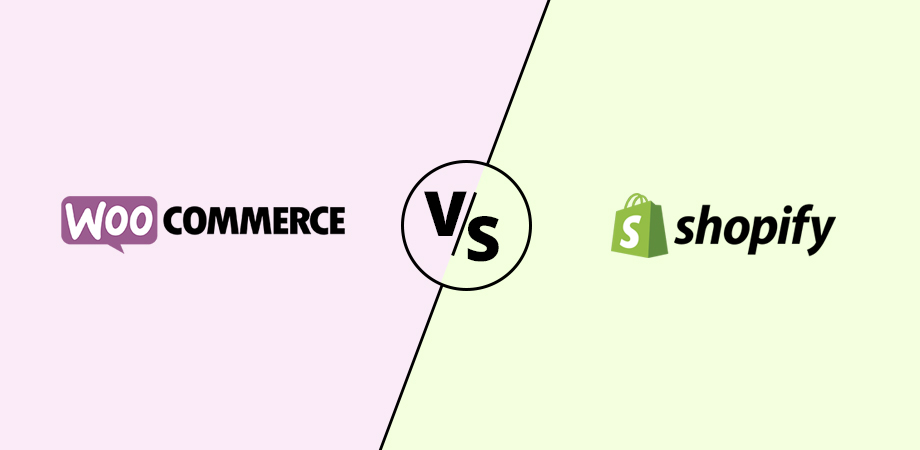 Pros and Cons of WooCommerce Vs Shopify
Both WooCommerce and Shopify have advantages and disadvantages. Let's examine which belongs to which platform.
Shopify Pros
For Shopify ecommerce business monthly fee is expectable and reasonable. The themes are abundant and lovely. Shopify takes care of your hosting and security. It's simple and fast to set up your business. Shopify makes drop shipping easy. The finest assistance in the industry.
Shopify Cons
Shopify gives you less control over your site. Less customizability with other platforms Your monthly payment will only increase.
WooCommerce Pros
WooCommerce allows for total customization. A large online WordPress community. Themes and plugins abound because anyone can create and sell them online. WordPress WooCommerce setup is simple. WooCommerce is free.
WooCommerce Cons
WordPress has a learning curve. Plugins, themes, and hosting may make WooCommerce more costly. You're stuck with hosting, security, maintenance, and backups.
1. Ease of use
Customers aren't web designers or Shopify developers. Even users familiar with basic concepts need an easy-to-use platform. Let's compare WooCommerce to Shopify user-friendliness.
WooCommerce Ease of use
Since WooCommerce is not a hosted platform, you must install, maintain upgrades, preserve backups, and safeguard your shop. After completing these steps, you can install the WooCommerce plugin on WordPress. After activating WooCommerce, the on-screen setup process appears, with five steps to operate your business. We strongly advise you to pick a reliable WordPress hosting provider that will take care of your hosting, domain, and WordPress installation needs.
Shopify Ease of use
Shopify has a built-in web store, so everything is straightforward. Shopify's intuitive interface makes setting up and maintaining stores easy. Go to Shopify.com, sign up, follow the basic setup instructions, and start selling to get started with Shopify. Shopify is for everyone, including those who don't know to code. As you can see, Shopify outperforms WooCommerce in terms of usability. WooCommerce is for web developers and techies, while Shopify is for non-techies.
2. Page Speed
No matter how eager customers are, shoppers will not wait more than a few seconds. Slow loading sites risk losing existing and potential clients. So, while choosing between WooCommerce and Shopify for your online shop, you should consider page speed.
WooCommerce Page Speed
The rapid loading increases conversion rates. This study's performance tests revealed WooCommerce to be slow. The average page load time for all tested shops was 776 milliseconds and 1.32 seconds for the cart page!
Shopify Page Speed
Shopify's web pages load within 309 milliseconds, quicker than Google's suggested 500 milliseconds! Shopify's rapid response times contribute to an excellent overall user experience. Optimizing WooCommerce loading speed depends on your hosting package. No matter how much you spend for SEO specialists to level up your site, you cannot expect it to be speedy if you pick the $2 hosting. Based on it, Shopify clearly outperforms WooCommerce in terms of page speed.
3. Design and Templates
We all know that themes are vital in attracting clients as there is a wide variety of designs. The first impression of a customer is dynamic for the website for our E-commerce Platform. A pleasant experience may generate long-lasting commercial partnerships.
WooCommerce Themes
The design and template of WooCommerce are like stepping into a whole new world, and there are so many amazing options to pick from. WooCommerce is designed to work with practically any WordPress theme available, so you can choose any theme and have it function with WooCommerce.
Themes for Shopify
Shopify themes are designed by a team of expert web designers and are mobile-friendly. The Liquid code and the theme editor allow you to alter these themes from your Shopify admin simply. The good news is that the theme editor has recently improved its editing process and theme load speeds.
In short, Shopify offers amazing themes, but they are restricted to what is available in its theme shop. On the other side, WooCommerce is supported by a vibrant community of developers and freelancers that create incredible themes.
4. Security Features
Online businesses are concerned about security. So it's no wonder that many businesses ask, "WooCommerce versus Shopify, which is safer for the eCommerce store?" In fact, choosing a hosted eCommerce solution over an open-source platform reduces security and data protection concerns.
WordPress Safety
With WooCommerce, most security is up to you. You will need to get your own SSL certificate, set up security plugins, implement two-factor authentication, and take other measures to safeguard your site.
Shopify Safety
Shopify handles all upgrades and security problems automatically. This platform includes a free SSL certificate, encrypting all data sent between you and your customers. A Level 1 PCI compliant server is required to receive credit card and debit card information.
So, Shopify is far better than WooCommerce in security.
5. Features
Shopify is more accessible since it has built-in features like abandoned shopping cart recovery, which WooCommerce doesn't have. Both systems allow you to create a successful online shop. Neither will fail you down if you want to sell things online or start a company online.
The features that come standard with WooCommerce and Shopify are different.
Abandoned Cart Recovery
Abandoned cart recovery is a Shopify functionality that WooCommerce lacks. These features enable consumers to finish abandoned orders without having to re-enter their information. An email invitation to complete the deal is also sent as a reminder. No sales will escape through the gaps!
Multi-Channel Selling
You may sell on Amazon, eBay, Instagram, and Facebook. The only difference is that WooCommerce charges $79 to install all of them except Facebook, which is free. However, integrating your business with such channels is free with Shopify.
Delivery
A smooth shipping experience might help grow your brand's image. Both Shopify and WooCommerce enable you to provide free shipping and sell abroad, but Shopify goes one step further by partnering with USPS, DHL Express, UPS, and Canada Post.
Most Shopify features, such as receiving payments from Authorize.net, maybe purchased via WooCommerce's Extension Store.
Shopify has built-in tools for running a successful online company.
WooCommerce features: While both systems suit merchant requirements, Shopify has built-in functionality. They're ready to go as soon as you sign up. WooCommerce's strengths are in its plugins, but it also has several outstanding essential features.
6. Build Time
Shopify has built-in functionality and is simple to use. Overall, if you're starting from scratch, Shopify is faster than WooCommerce. Do you want to develop a robust shop quickly? Or are you prepared to put in some effort for more control? In a nutshell, Shopify is faster than WooCommerce.
Shopify is the ideal alternative for beginners or those with low technical expertise. Getting your shop online is much faster. You can customize the appearance and feel of your shop by selecting and changing themes. Unlike WordPress, the process is automated, and Shopify keeps everything in one location.
WooCommerce is for users who aren't trying to make a lot of sales right away. Building stores on this platform is more creative than on Shopify – you have more creative control and can personalize the site. We recommend Shopify if you're new to online selling and want to build a quick online presence. With it, you get tremendous eCommerce functionality with ease of use.
Conclusion
To sum up, for your online business, it entirely depends on you whether you choose Shopify or WooCommerce for your Website building. But make sure to get the assistance of a professional expert while starting the one as a basic plan. Because in the long run, professional consultation will save you time and money by providing a wide range of premium themes and advanced features for your app store like product options, different payment method, third-party payment gateways, range of SEO plugins to rank your website through which it will create a powerful platform. Thus, the major difference between both is, they are an all-in-one eCommerce solution that is designed to provide you with everything you need to get started online to improve user reviews.
OVER
600 Small, Medium

and

Large

Enterprise business clients have chosen us from

35 COUNTRIES
Federico Bilches

www.latmeco.com

I want to thank all Alakmalak team for take my project and help me to improve my website! Thank you for your responsibility and seriousness at the time to do corrections and improvements on my website and for always be in touch with me. Highly recommended! Great team! Great company! I'm very thankful Alakmalak!

A few kinds words to say about Alakmalak programming and design. Working with these guys is always such a great relief. You know you are getting your stuff done right and usually always in a timely fashion. I'm a middle man for the most part And my clients are always happy with the end result.