Get a Free Quote
You will receive quote within 24 Hrs
Why Your Small Business Needs a Website
If you don't already have a website, then you, as a business owner, are missing out on a huge opportunity. Websites allow customers to easily access your services and information. This means they'll be able to find you, contact you, and even book appointments with you. In addition, websites also give you the chance to showcase your brand and interact with potential clients.
A website is the single most important tool your small business can have in its arsenal. The reason is simple: a website allows you to reach a much wider audience than you would ever be able to through any other medium. Not only that, but a well-designed website can help you attract new customers, boost your brand awareness, and even generate more leads. In this article, we'll explain why your small business needs a website.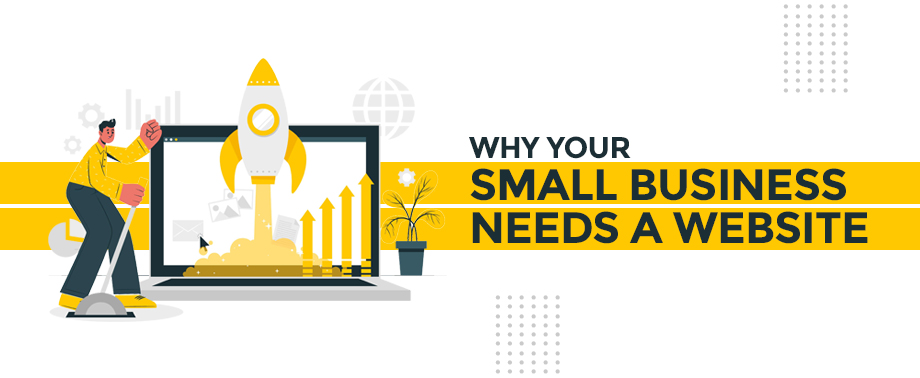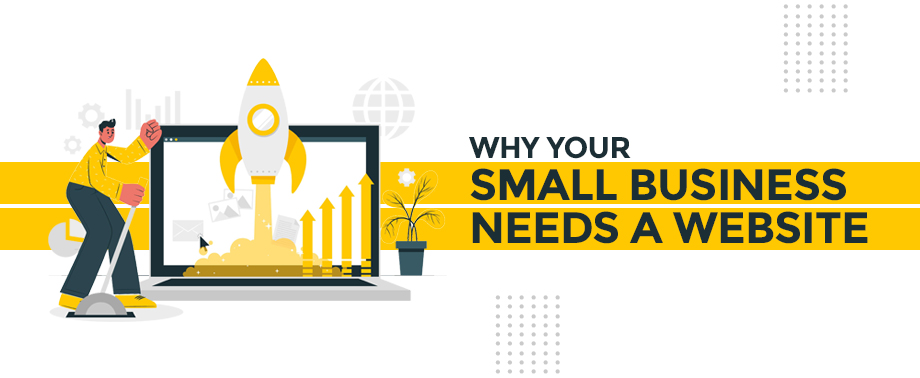 There are several reasons why every small business should have a website. Check out the reason why your small business needs a website:-
1. A website makes you look professional
One of the most important things you can do to make your business look professional is to have a website. A website is your business's digital storefront, and it is the first step in building a strong online presence. A website should be easy to navigate and use, and it should be updated regularly with the latest information about your business. Additionally, make sure to design your website in a way that is appealing to consumers, and use relevant keywords in your title, tags, and URL.
Your website can also be used to promote your business online. You can create custom content for your websites such as blog posts, e-books, or white papers, and post these on different social media platforms. Additionally, you can create videos or podcasts to further explain your product or service. Finally, make use of Digital Marketing and Google AdWords to promote your website through pay-per-click ads. By doing this, you can reach a wide audience, retain loyal customers and increase your website's visibility.
2. Your website establishes your place in your industry
The key to establishing your place in your industry is to produce high-quality content that is both engaging and interesting on your website. By writing engaging and interesting content, you can create a passionate following that will spread the word about your website. You can also use this following to promote your website through social media channels and create successful marketing campaigns, which can lead to more traffic and revenue.
Additionally, make sure to stay up-to-date with the latest marketing trends and use effective copywriting techniques to draw in your readers. Use strong visuals and offer video tutorials to engage your readers and show them how your content can help them. Additionally, be vocal on social media and use it to build connections with potential clients. When creating your website, make sure to consider all of these factors in order to establish your place in your industry.
3. You can clearly showcase your products and services
A website is a perfect way to showcase your products and services to consumers. It can be a one-stop-shop for information on your products and services, and it can be accessed from anywhere in the world. Additionally, it can be used to build a relationship with your customers and generate leads and sales. When designing your website, make sure to think about the user experience. You want your website to be easy to navigate, and you want to make sure that your content is easy to read and understand.
You should also create a mobile-friendly website so that your customers can access your content from anywhere. To create a website that is effective and eye-catching, consider using templates or hosting providers that offer pre-made templates or designs. Or, you can design your own website using popular software like Adobe Photoshop or Microsoft Word. Once your website is ready, be sure to optimize it for SEO by incorporating keywords into your content, design, and title tags.
4. Website Adds To Company's Credibility
Website credibility is key to any business, and it can be achieved in a variety of ways. First and foremost, make sure your website is up-to-date and well designed. This will help to create a positive first impression and show that you are dedicated to providing quality content. Additionally, make sure your website is well organized and easy to navigate. This will help your customers find the information they are looking for quickly and easily.
You can also improve website credibility by providing customer testimonials and other valuable content that is relevant to your audience. This can be achieved by writing about topics that are of interest to your target market, or by featuring guest writers who share an expert opinion on topics that are relevant to your business. Finally, use website marketing tools like Google AdWords or Facebook Ads to generate leads and increase traffic to your website. By doing these things, you will increase your chances of converting potential customers into customers!
5. Your website can attract new customers through Google
One of the best ways to attract new customers to your website is through Google AdWords. AdWords is an advertising program that allows you to place ads on Google.com and other Google properties. When someone clicks on one of your ads, you will earn a commission based on the terms of the deal you have made. Another way to attract potential buyers to your website is through SEO. SEO is the process of improving the visibility of your website so that it can rank higher in search engine results pages (SERP).
This can be done through a wide range combination of on-page optimization (such as keyword research and using relevant keywords throughout your content) and off-page optimization (such as building links and increasing social media engagement). Finally, you can also advertise through paid search (such as display ads and search engine display click-throughs). Paid search is a more expensive option, but it can be more effective in reaching a wider audience.
6. A website can encourage customers to contact you
There are a few ways that a website can encourage customers to contact them. One way is by using contact forms on the website. This allows customers to easily and quickly contact the company with any questions or concerns that they might have. Another way is by using social media profiles like Facebook and Twitter.
This builds a digital presence and allows customers to share their experiences with the company and connect with other customers. Additionally, a website can create blog posts that discuss specific topics or issues that customers may be interested in. By providing useful information and engaging with customers on a regular basis, businesses can build a strong relationship with their customers.
7. Maximize ROI
Providing Maximize ROI for your website can be a challenging task, but with the right strategy and tools, it can be achieved. One of the most important aspects of providing Maximize ROI is creating content that is engaging and interesting to your audience. This can be done through a variety of methods, including guest posts, social media engagement, or creating engaging videos.
In addition to engaging content, it is also important to ensure that your website is optimized for search engines. This can be done through the use of keywords, title tags, and other Search Engine Optimization tactics. Additionally, it is important to track your website's analytics to measure the success of your efforts. Finally, be sure to stay up-to-date with the latest marketing trends and keep your writing style fresh. Your consumers should either have fun or learn something new every time they read your content.
8. You can display your best reviews and testimonials
Having positive online reviews and testimonials on your website can be a major advantage when competing with customers. Not only will they help to promote your business, but they will also provide assurance that you are a reputable company. Additionally, they can act as a form of quality assurance for potential customers. To have reviews and testimonials on your website, you first need to make sure that you are taking the necessary steps to ensure that they are authentic.
This includes setting up a review policy, ensuring that all reviews are posted in a timely manner, and resolving any disputes that may arise. You should also make sure to respond to all reviews, whether they are positive or negative. This will show that you appreciate your customers and are committed to providing the best service possible.  In addition to reviews and testimonials, social media can also be used to showcase your best customer experiences.
9. Have More Constructive Conversations
When you have a website, you are representing your business and its goals to the world. It is important that your website has engaging and interesting content that will keep your consumers coming back for more. This means that you need to engage in constructive conversations with your consumers. Constructive conversations occur when you are able to have a discussion with your consumers about their concerns and questions. By doing this, you can gain insights into their needs and wants, and better understand how you can serve them better.
You can also resolve any issues that they may have, and build a relationship of trust with them. Constructive conversations are important not only for your website but for your business as a whole. They help to build brand awareness, drive traffic to your website, and create a positive customer experience. So, be sure to engage in constructive conversations with your consumers, and you will be on the right track to building a successful business!
Conclusion
A website is the essential first step in your small business' online marketing strategy. It's a platform where you can market and sell your products and services to customers all over the world. With a well-designed website, you can target potential customers with the right content, create an online presence that's powerful and engaging, and track your business' progress and performance in real-time. So what are you waiting for? Get started today and see the amazing results for yourself!
Our team of expert website developers offers you industry-specific advice on how to improve your business using state-of-the-art technologies. Contact Us Today at Alakmalak Technologies to hire website developers.
OVER
600 Small, Medium

and

Large

Enterprise business clients have chosen us from

35 COUNTRIES
Federico Bilches

www.latmeco.com

I want to thank all Alakmalak team for take my project and help me to improve my website! Thank you for your responsibility and seriousness at the time to do corrections and improvements on my website and for always be in touch with me. Highly recommended! Great team! Great company! I'm very thankful Alakmalak!

A few kinds words to say about Alakmalak programming and design. Working with these guys is always such a great relief. You know you are getting your stuff done right and usually always in a timely fashion. I'm a middle man for the most part And my clients are always happy with the end result.