Get a Free Quote
You will receive quote within 24 Hrs
Why PHP is one of the most popular Web development language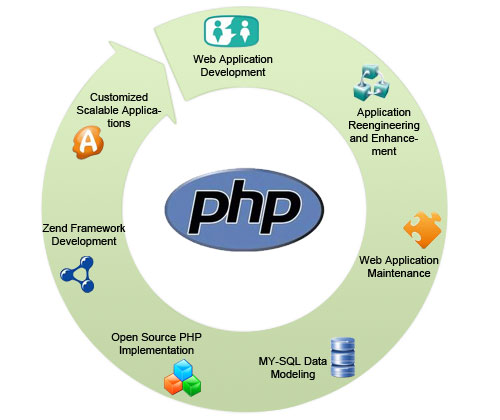 PHP is one of the most popular languages when it comes to web development. As per the statistics available online, PHP is the most popular programming language for Web Development, followed by ASP.NET and Java.
[Coutesy : https://w3techs.com/technologies/details/pl-php/all/all].
Here is a short list of popular websites that have been developed using PHP:
Facebook.com
Wikipedia.org
Twitter.com
Pinterest.com
Engadget.com
List of reasons why PHP is so popular
PHP is easy to learn and has a low learning curve. Although one does require to have the basic knowledge of programming in order to learn PHP, it is possible to master PHP quickly if one has their concepts of software development clear.
PHP is widely used and hence there are several forums available online which can be used for support if necessary. Besides which there is also plenty of documentation available for reference.
There are many frameworks and CMS tools available in PHP. Some of the most popular frameworks like Laravel, Code Ignitor and Symphony have been developed using PHP.
PHP can be used for the development of many different types of websites using core PHP. However, there are many open source software available that have been developed using PHP.
It is possible to develop secure websites using PHP.
PHP has some good and advanced features that make it possible to be able to develop fabulous websites.
With the release of PHP version 7, the programmers now have several new features at their disposal. These new features can be implemented to develop high performance websites.
The added advantage of using PHP is that it is cross platform.
There are several third party tools and plugins available that complement your web development using PHP. For example, tools like Google Maps, Google Analytics, etc are some of the most popular ones used in a great many websites that have been developed.
Web Development with Alakmalak
Alakmalak is a web development company that is involved in developing many kinds of websites. They can help with any type of website, be it a simple CMS project or a website developed using core PHP that has several advanced features.
Alakmalak has grown in leaps and bounds since it was established with growth in their infrastructure and facilities. With clients from all across the globe, Alakmalak is trusted by many for the development of their website. Their client retention ratio says a lot about their quality of work.
php application development company
php development company india
php development services
php web development company
OVER
600 Small, Medium

and

Large

Enterprise business clients have chosen us from

35 COUNTRIES
Federico Bilches

www.latmeco.com

I want to thank all Alakmalak team for take my project and help me to improve my website! Thank you for your responsibility and seriousness at the time to do corrections and improvements on my website and for always be in touch with me. Highly recommended! Great team! Great company! I'm very thankful Alakmalak!

A few kinds words to say about Alakmalak programming and design. Working with these guys is always such a great relief. You know you are getting your stuff done right and usually always in a timely fashion. I'm a middle man for the most part And my clients are always happy with the end result.