Get a Free Quote
You will receive quote within 24 Hrs
What is a website audit and why is it important?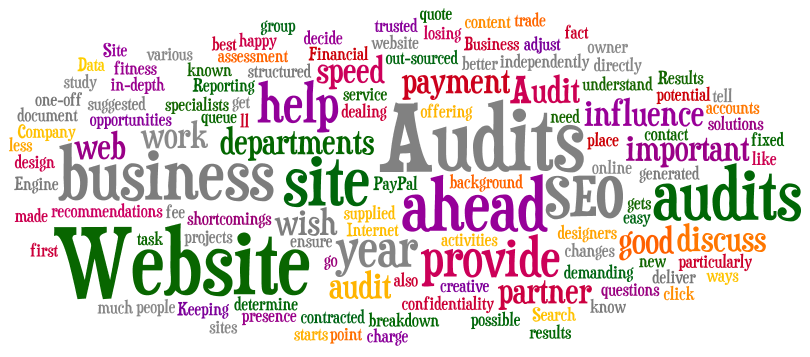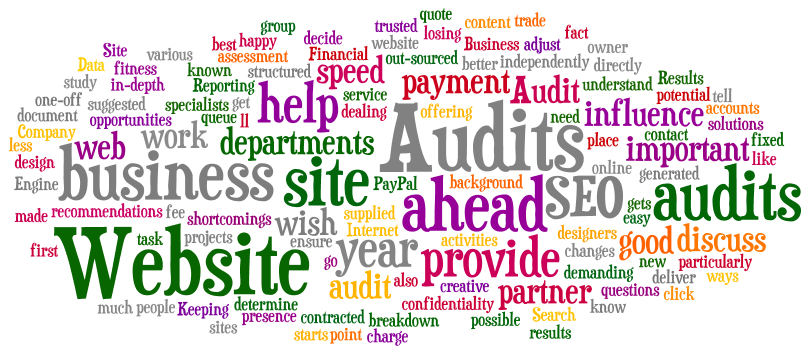 Website audit is useful in several situations; it can come in handy while you are in the process of developing your website and it can also be useful if you want an assessment of your existing website. A website audit can be customized to check every section of the website that you think is important. This isn't a fixed list of items and though it should be a list of important factors that matter the most.
Why is it important perform a website audit?
A website has a lot of potential for just about any business. Thus it is important to make sure it keeps ranking in the profits in the case where you already have a very successfully running website. In the case where your website is struggling a website audit if done comprehensively has the ability to pin point the technical and design related issues with the website.
How is it done?
There are several factors that matter the most and should be crossed checked for efficiency and correctness.
Color:
If you already have a logo for you firm make sure you design the website such that it uses the color scheme that matches the company logo colors. In the case where you don't you have more space to experiment with all the website colors. At times it also happens that you might have opted for a ready made template, in that case make some time to change the website colors to suit the logo.
Typography:
The typography of your website is really a personal preference. You can either go with what the Web Designer selects or if you do have a specific font that you like, you could implement that. Using a special font can differentiate your website from the rest and act as a statement. Either way constancy should be maintained throughout the website.
Images & other media elements:
When it comes to selecting images for a website the Web Designer will offer to place image from a stock image website. Stock images are useful but not every time. If you place an image that more personal it will have a better effect. The same applies to other media elements placed on your website like videos, etc.
Information About you:
It is necessary to place information about yourself where it is easy for the visitor to spot. This can be implemented in the form of an "About Us" page link on the first page or by providing a small description about yourself on the first page. The "About Us" page that you design should be in theme with the rest of the website and only contain information like testimonials, success stories, employee information and company history.
Setting the tone:
Not every website will have the same tone and message and this subtle difference can change the entire outlook of the website. Thus it is important to grasp your tone in all your design options and even the content that you design or get designed.
Favicon:
A favicon is an image (16 x 16 pixels) that is usually similar to you logo. Installing a favicon can help you branding efforts.
Website Formatting:
With website formatting too consistency is the key.
Layout options:
No matter what design you choose for your website, you should always make sure that the visitor can view all the main website options above the fold. This can be done in many different ways, for example via a smart navigation or by strategically placing the content. The flow of the content is equally important.
White Space:
White space is very important and by making sure there is enough white space throughout your design helps the visitor and reduces the cognitive load.
Headings:
Pay special attention to the headers and sub-headers on the website. Make sure they are clearly visible, ideally use the H1 and H2 tags and are in a different color from the rest of the text. This not only makes it more presentable but also is easy on the eyes.
Maintain a Sitemap:
A sitemap can help a visitor when he is stuck or wishes to do some quick navigation. Thus making sure your sitemap is dynamic so that is always updated.
Avoid Frames at any cost:
Frames was a HTML element that used to be used extensively at one point of time. But it is not a good idea to use frames in your new website designs. It is not a good for SEO as well.
Website Performance:
When it comes to search engines the performance of your website matters. A slow website that takes a long time to load will not be in Google's good books for example. The visitors these days also have lesser patience especially those that are surfing on their mobile device. Thus optimising your website for performance will help.
Staying current:
Although HTML5 has been released since some time, several people are still utilizing the older HTML4 code. This is not a good practice. Make sure you are always using the current technology and current version. In this case using HTML5 will make sure you are more popular with the search engines.
Quality Content:
A website in general is about its content and will usually have a lot of it. Providing your readers with good quality content is a good way of creating a good impression. On the other hand if you content is ridden with spelling and grammatical errors, it will create a very bad impression and you may even lose the visitor. With good quality content that has depth and is relevant and engaging, it is highly likely that the visitor will return for more.
Readability Level:
The content you place on your website, should not be very complicated. It should be understandable by the major portion of your visitors. If you insist on placing highly technical description or a detailed description that is likely to be hard for the average person to understand it is a good idea to place a link to further details instead of including this information on the same page.
Keywords:
It is a good idea to use keywords on you website, however always use the appropriate keyword and never use more than two keywords per page. Several people engage in keyword stuffing as Google calls it, this not advisable any day.
Optimizing for the Search Engines:
It helps to optimise your website for the search engines. This can be done by placing the right keywords, Meta content and title on every page.
Capitilize on Social Media:
Social Media is huge it is continuing to grow hence many of us integrate it with our website. Make sure you get this right by using proper titles and Meta description in your content. The issue at times is that no data may appear when visitor attempts to share the content.
Designing for Mobile devices:
Responsive design is in and it is even more important that your website me correctly view able on the mobile platform now in 2015 than before. The reason being that the number of Mobile Internet User is set to exceed those from other platforms this year.
Conclusion:
A simple audit check list that makes ensures that you have got all the factors that really matter correct (as mentioned in this article) will help get ahead of your competitors.
The website designed at Alakmalak usually always highly optimised form every perspective. This comes easy and is effortless for the Web developers at Alakmalak who have already developed more than 2000 projects over the past few years for clients from all around the world.
How Important is a Site Audit?
Importance of a Website Audit
What is a website audit and why is it important?
OVER
600 Small, Medium

and

Large

Enterprise business clients have chosen us from

35 COUNTRIES
Federico Bilches

www.latmeco.com

I want to thank all Alakmalak team for take my project and help me to improve my website! Thank you for your responsibility and seriousness at the time to do corrections and improvements on my website and for always be in touch with me. Highly recommended! Great team! Great company! I'm very thankful Alakmalak!

A few kinds words to say about Alakmalak programming and design. Working with these guys is always such a great relief. You know you are getting your stuff done right and usually always in a timely fashion. I'm a middle man for the most part And my clients are always happy with the end result.