We got Interviewed by – GoodFirms
Using Talent And Value To Deliver High-Quality Work — Alakmalak
Alakmalak Technologies specializes in web design & development, app building, and digital marketing services. In this exclusive interview with GoodFirms, Alakmalak Technologies's CEO, Rushik Shah, shares how he established the company and since then has grown remarkably.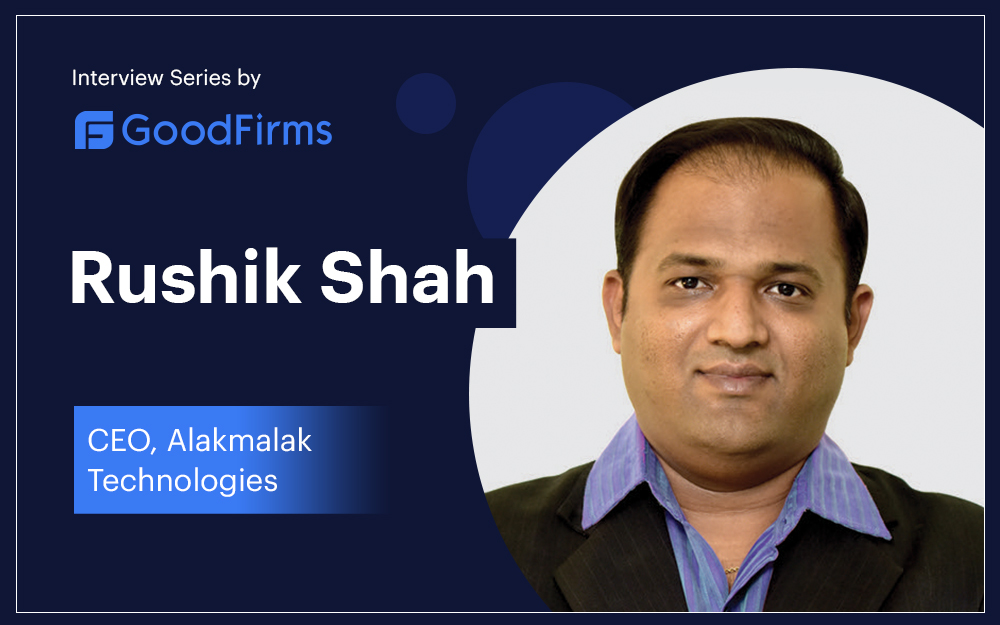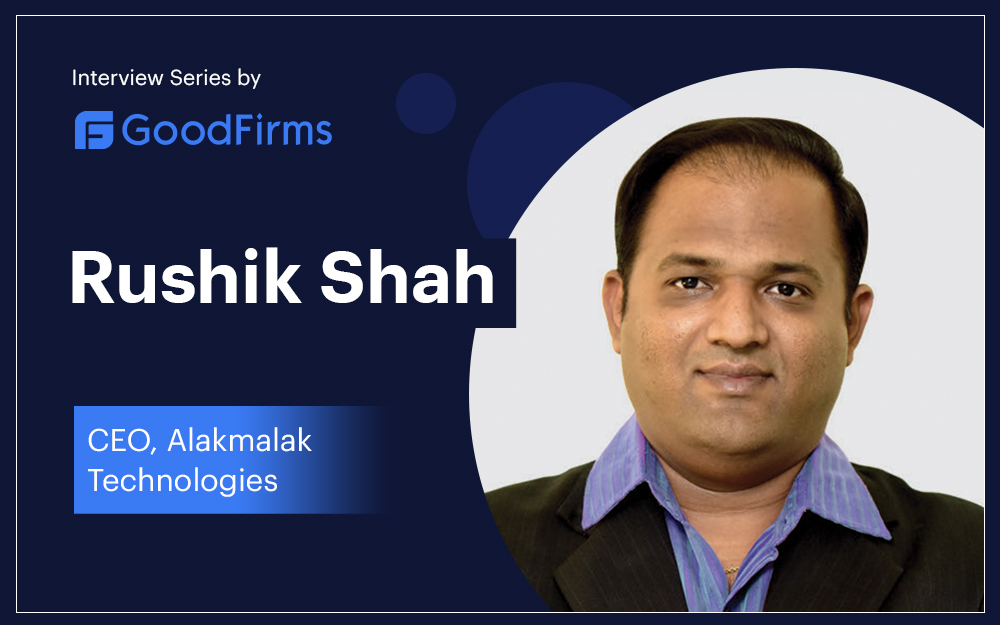 Source: GoodFirms
The Story Behind Launching Alakmalak
In 2006, the world began to realize the potential of the internet. Businesses began to see the value in having a website, and the demand for web developers was at an all-time high. As a software developer in India, Rushik saw first-hand the challenges faced by his colleagues when working with clients worldwide.
Rushik stated that he realized there was an excellent opportunity to bridge this gap and bring together the best Indian talent with top-quality web development services worldwide. Thus, Alakmalak Technologies was established.
Alakmalak Technologies helps small and medium-sized businesses create an online presence by prioritizing quality, creativity, reliability, transparency, and timely delivery to ensure complete customer satisfaction at an affordable price.
The company believes in "complete customer satisfaction," and prioritizes building personal relationships with its clients. "Our services are tailored to the individual needs of each client, and we offer a detailed scope of work and a single point of contact to ensure a smooth and successful project," said Rushik.
Comprehensive Service Range For Clients
"We have developed a strong track record of delivering high-quality work and results for our clients," said the CEO. These are the services that Alakmalak clients most often ask for: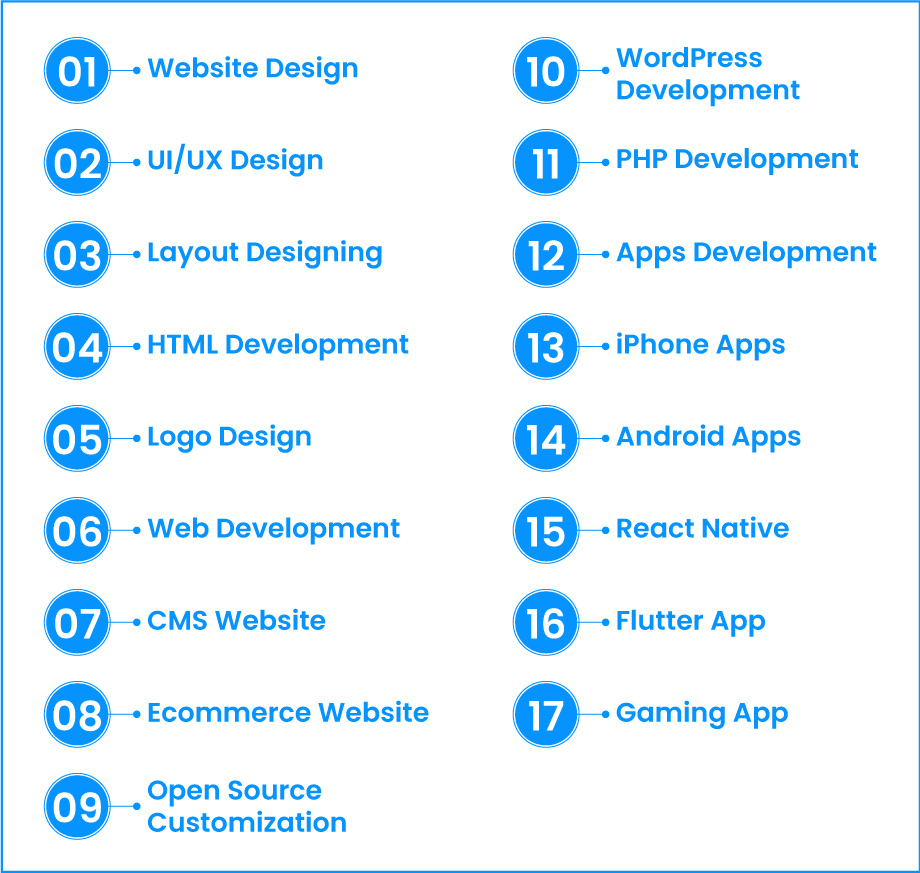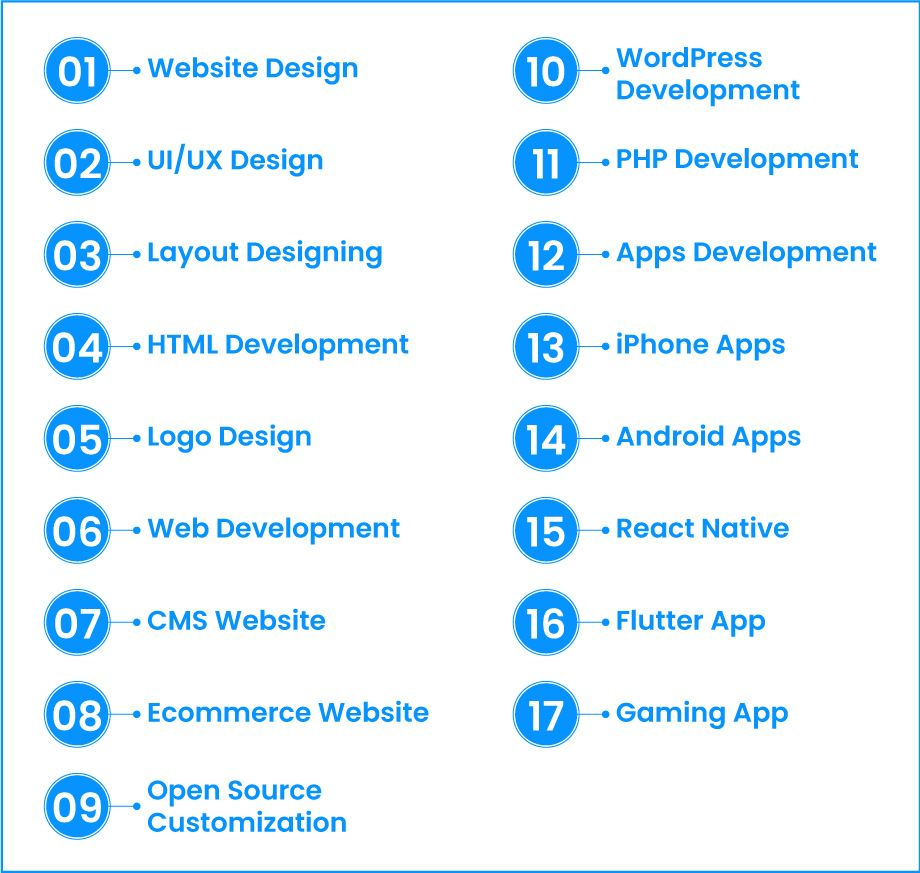 High-Quality Work In Diverse Industries
Alakmalak has worked with clients in these industries, and the company has a good track record of delivering high-quality work and outcomes across a diverse range of sectors.
Rushik spoke that Alakmalak works with a wide range of industries, including: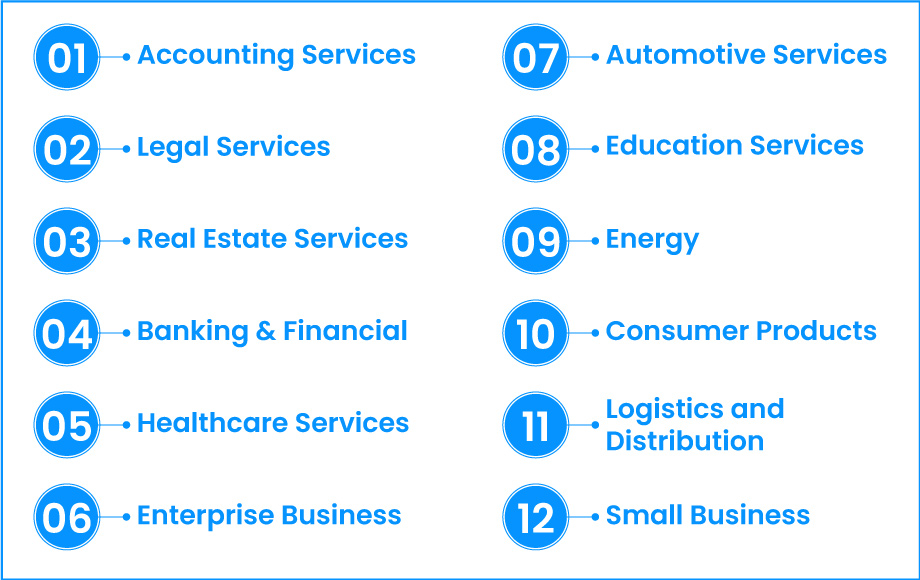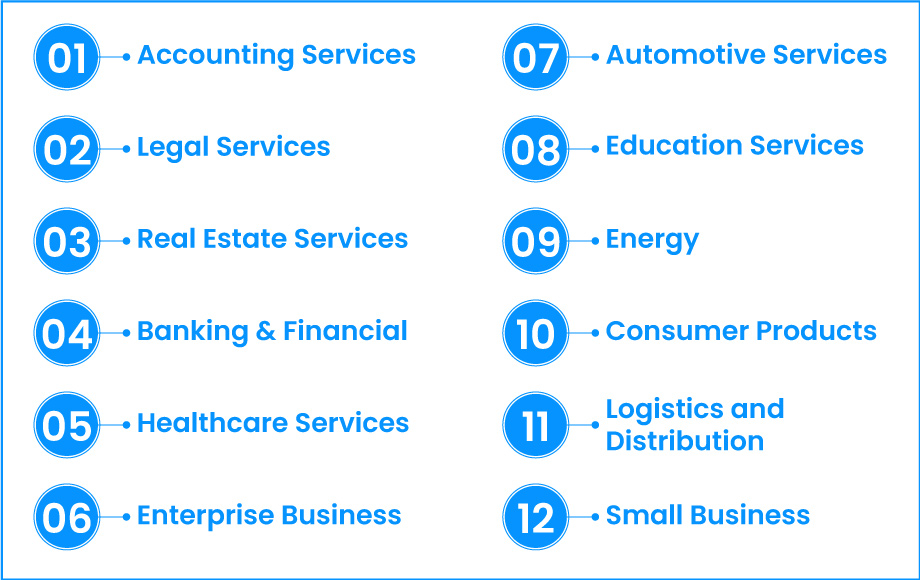 About client retention goals, the CEO said, "We do have a number of clients who return to us for additional work or updates to their existing projects. However, we also work with a lot of new clients on a regular basis, and our client base is constantly evolving."
Indifferent To Competition
The CEO stated that they are a globally trusted IT company with a client base of over 3000 websites from more than 35 countries. The huge portfolio of work has given them a strong reputation and a track record of delivering high-quality work to clients around the world.
In addition to their global reach, they are known for their fresh and innovative ideas.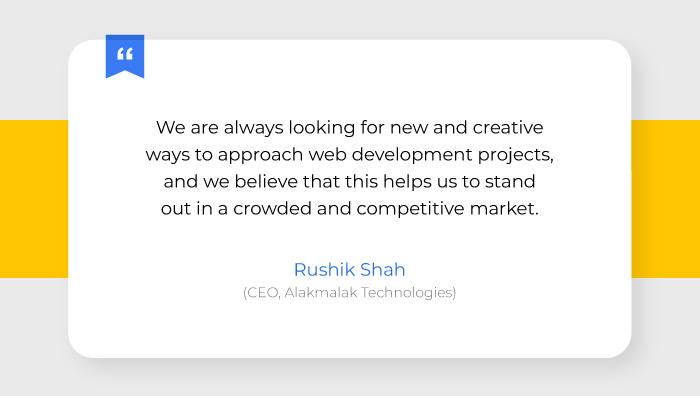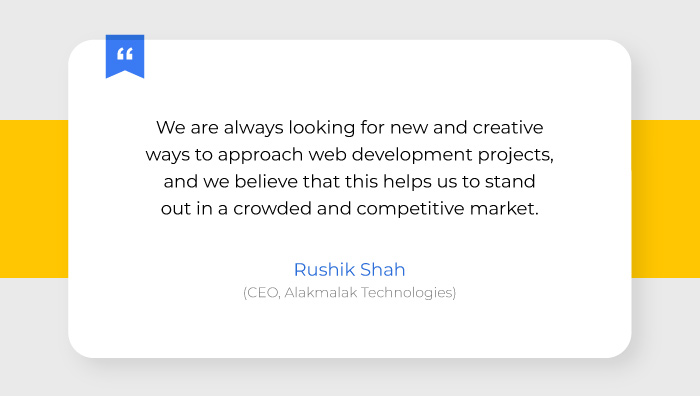 The team of specialists at Alakmalak pays attention to detail and takes time to review and refine every aspect of a project carefully. Besides, their location in India allows them to benefit from a strong pool of programming talent, while also offering cost-effective cooperation opportunities for their clients. They use this combination of talent and value to deliver high-quality work at an affordable price.
Delightful Customer Rating
Rushik shared their customer satisfaction rate, which is currently at 98%. The company is extremely proud of this high satisfaction rate and strives to maintain it by consistently delivering top-quality work and results for our clients.
He added that the team takes several steps to understand their goals and expectations. Before starting any work, they carefully document the customer's needs and share them with the client for review. This helps to ensure that the team is on the same page and that there are no misunderstandings or miscommunications about the scope of the project.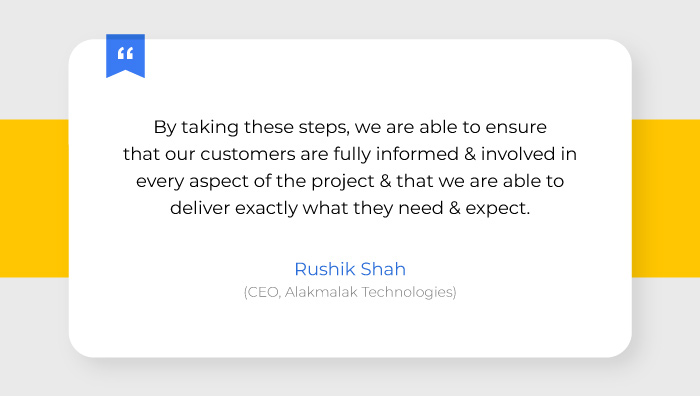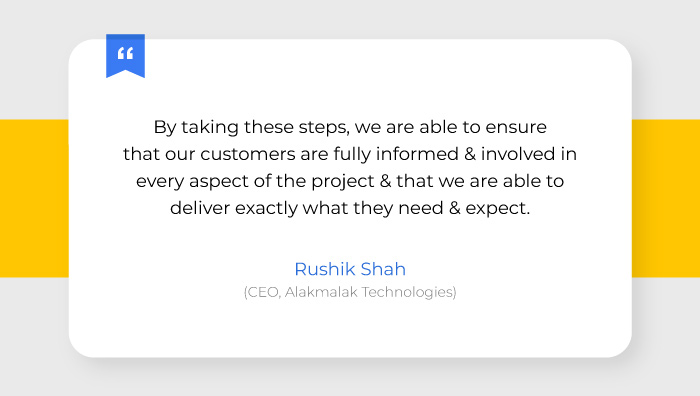 Flexible Pricing Model
Rushik spoke about the payment structure and budget requirements for the project. The company offers a flexible payment structure designed to meet its client's needs and preferences. They understand that different clients have different needs and budgets and that they strive to offer a range of options to suit their specific requirements.
Some of the payment options that Alakmalak offers: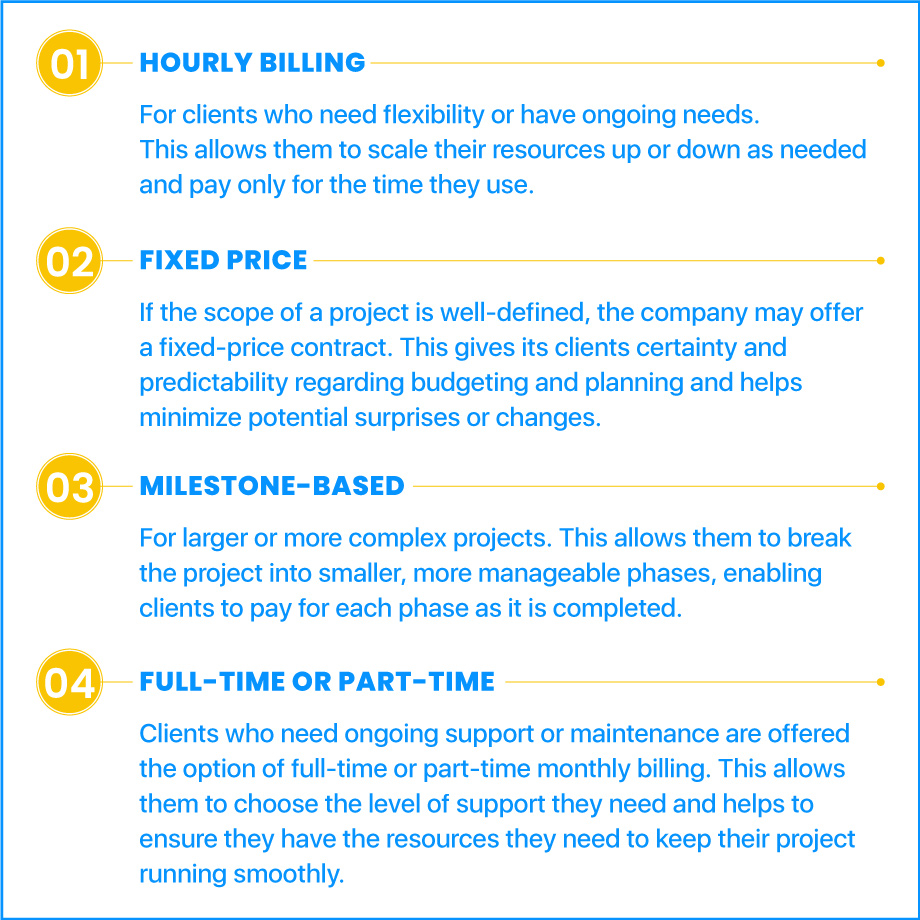 Furthermore, Alakmalak's minimum budget requirement is $180k; in 2021, they completed projects worth $79,000 for their clients. The minimum budget requirement for 10 hours of work they charge is $180.
Concluding the interview, Rushik revealed the plans of Alakmalak for the coming ten years; "We want to become the best IT company in the state."
"We are always grateful for the opportunity to work with any client, and we strive to deliver the same high level of service and quality to every project that we undertake," the CEO added.
This is only an excerpt from the detailed interview, which can be read on the GoodFirms website for the company.
About GoodFirms: GoodFirms is an excellent B2B research review firm founded in Washington, D.C. It looks for digital marketing and web development that provide its clients with unmatched services. GoodFirms does a lot of research to rate companies and improve their online reputations. This helps service seekers find the best technology partner for their business needs.
Author Bio: Ryan Allen is a content writer at GoodFirms, a full-fledged research, and review platform that provides software and mobile app developers with a great place to excel in their respective fields. He has a Master's in Journalism and reads a lot of nonfiction.

What's Next ?
I know after reading such an interesting article you will be waiting for more. Here are the best opportunities waiting for you.
For Such Interesting articles

Uncover our captivating services

Supercharge your business with us