Get a Free Quote
You will receive quote within 24 Hrs
Using a Magento Demo Website to Understand its Features
Magento is an open source eCommerce software that is available as a free download. The new version has a great many new features and has strengthened its foothold. There are many different versions available of Magento, however the others are not free. This also includes the cloud version with many additional features. Magento was released fairly recently compared to the others which have been around since long. In spite of this, Magento is already one of the most popular eCommerce software available.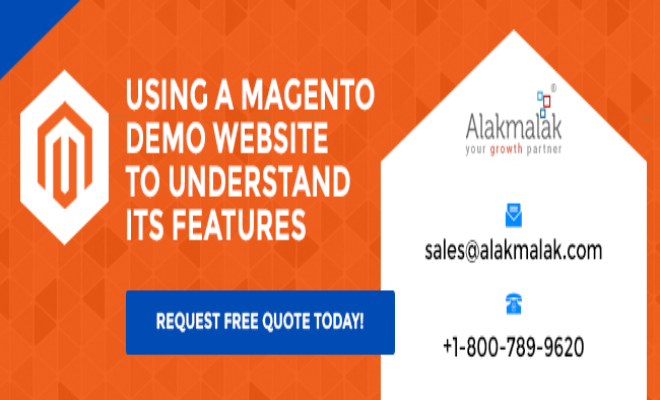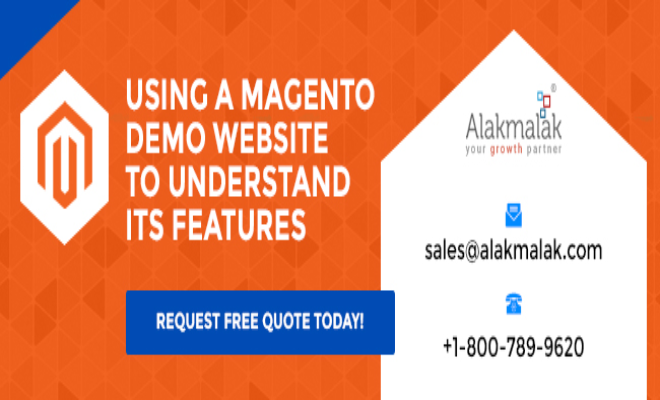 Magento Demonstration Website
Magento does offer a demonstration of their product at the link mentioned below, however it is also possible to request a demonstration from the Web Development company that you have trusted your project with. The Magento demonstration can be scheduled at this link: https://www.alakmalak.com/contact.html
Almost every Web Development company will have a Magento demonstration link that they can share with you. This website will be a sample eCommerce store with all the common features like product listing, product page, checkout page and the payment page. Besides which, a demonstration website will also display all the additional features of Magento.
Magento has several plugins available and it is also possible to develop customized plugins to cater to specific needs. The demonstration website will most likely showcase a few popular plugins and also have a brief mention about customized plugins.
Deciphering Magento Features from a Demonstration Website
A Magento demonstration website will consist of the front end and the back end. The front end is the website store which will be visible to all the visitors and is where all the products are displayed. Here it is possible to check all the features of the website from the perspective of the customer. Although the template can be different for every website it is possible to have a look at the feature and widgets that make a Magento website appealing to the customer.
The front end will allow you to go through the entire process of searching for a product, go through the product listing, check the product page and profile pages, and even go through the checkout page and make (fake) payment to buy the product.
Doing this allows one to check the ease of use from product selection to product checkout and showcase how smooth the process is.
The demonstration website will also have a back end, which is the administrative panel. The administrative panel allows the store owner to manage the website. Hence, it is possible to check all the features that Magento has to offer from the basic features like adding products, managing orders, processing payment to the advanced features that Magento has to offer. Magento has a lot features and some are hidden deep in the configuration menu, hence these demonstration websites make it possible to explore all the features.
It is also possible to install plugins in Magento and this can be seen from the Magento back end. The front end is where these features will be visible to the customer. The custom features may be tagged in the front end and back end, hence making it possible for you to get a better idea of what extensions can be made to a Magento eCommerce website.
Conclusion


A Magneto demonstration website is a good way to check all the features that it has to offer and decide on whether it is right for you. Alakmalak is involved in Magento Web Development and has many skilled and experienced Magento developers for the task. These developers use the state of the art resources at their disposal. Hence, if in need to Hire Magento Developer in India, Alakmalak is the best option.
Feature of magento
Hire Magento developer in India
Magento demonstration website
magento web development
OVER
600 Small, Medium

and

Large

Enterprise business clients have chosen us from

35 COUNTRIES
Federico Bilches

www.latmeco.com

I want to thank all Alakmalak team for take my project and help me to improve my website! Thank you for your responsibility and seriousness at the time to do corrections and improvements on my website and for always be in touch with me. Highly recommended! Great team! Great company! I'm very thankful Alakmalak!

A few kinds words to say about Alakmalak programming and design. Working with these guys is always such a great relief. You know you are getting your stuff done right and usually always in a timely fashion. I'm a middle man for the most part And my clients are always happy with the end result.