Ultimate Best FAQ Plugins for your WordPress website
The number of free quality plugins available for WordPress is overwhelming. What are some of the best WordPress FAQ plugins?  WordPress powers over 27% of the entire web, and millions of websites around the world rely on it every day. WordPress offers a free version, plus a wide range of premium options.
If you own a blog or eCommerce store, then you surely know that it takes time and effort to create a unique appearance. Thus finding the perfect FAQ plugin to enhance your site can be tricky, especially if you're new to using them. There are various FAQ plugins available, each with its own unique features. This article will give you a quick overview of the top options for improving your WordPress experience.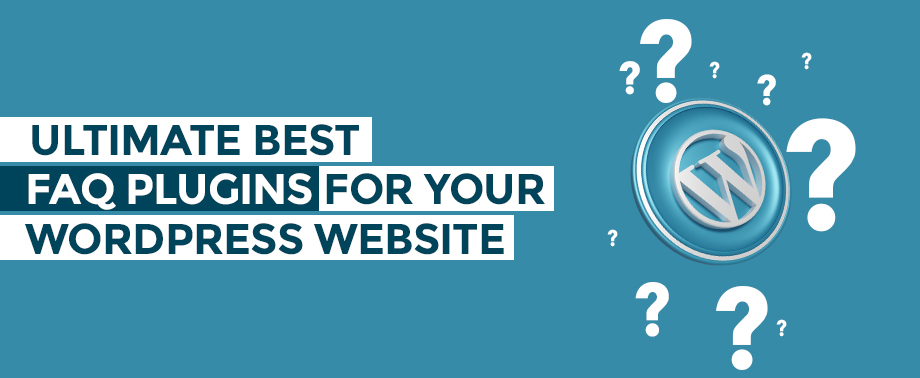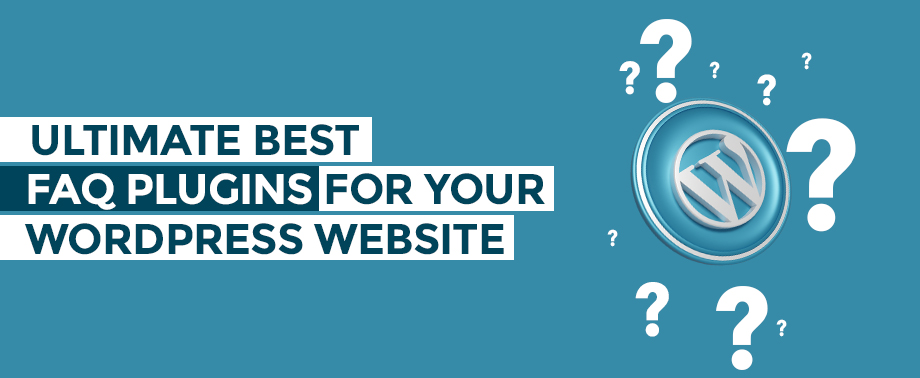 Let's have a look at some of the ultimate FAQ plugins for your WordPress website:-
1. Ultimate FAQ
Ultimate FAQ is one of the most popular and widely used FAQ plugins for WordPress websites. This plugin provides a customizable, searchable database of frequently asked questions (FAQs) that can be easily accessed by users on your website.
The FAQ plugin also offers powerful features like SEO optimization, pagination, categorization, and a drag-and-drop interface making it easy to add new questions or update existing ones.
Furthermore, Ultimate FAQ makes it possible to create custom widget versions for different platforms including web pages, posts/pages, categories/tags pages, etc., which allows you to provide an easy answer location for your visitors on any page of your website. All together these features make Ultimate FAQ the perfect toolkit for providing quality information about your products and services to potential customers.
2. Heroic FAQ
Heroic FAQ is considered the best FAQ plugin for WordPress because it offers a variety of features that make it easy to manage and update your website's FAQ section. In addition to being able to create custom questions and answers, you can also add user comments, track answered questions, and generate various reports based on how often your content is consulted.
This plugin also allows you to customize the look and feel of your FAQ section while ensuring that it remains search engine friendly. Furthermore, HeroicFAQ integrates with several popular SEO plugins such as Yoast SEO or Google Search Console so that you can optimize your content for better ranking in search engines. Overall, HeroicFAQ offers an extensive set of features that makes managing and updating your website's FAQ section easier than ever before.
3. Accordion FAQ
Accordion FAQ is considered to be the best FAQ plugin for WordPress websites because it allows you to create a widget that can easily be added to any page or post on your website. Additionally, it offers tons of different configuration options, so you can customize the look and feel of your FAQ section just the way you want it. And if that's not enough, Accordion FAQ also comes with an algorithm that analyzes user behavior in order to personalize each response as they are activated.
This helps visitors find answers more quickly and makes sure that every question gets answered properly.
Finally, all content is moderated automatically so improper or misleading information is promptly removed. These features make Accordion FAQ incredibly versatile and easy-to-use perfect for creating a comprehensive FAQ section on your website!
4. Arconix FAQ
Arconix FAQ is the best plugin for WordPress websites because it allows you to easily create, manage, and publish quality FAQs that can help your site visitors find the information they are looking for. With Arconix FAQ, you can quickly add questions and answers to your website with little effort, and then track user engagement so that you know which questions are being answered most frequently.
Additionally, ArconixFAQ offers several other features that make it an excellent choice for FAQs on your WordPress website. These include customizable templates that make creating a clean look easy, support for comments and ratings so users can give feedback on the content of each question/answer pair, and automatic archiving so old questions aren't cluttered up by new ones every time they're updated, translation capabilities into more than 60 languages, and spam protection through Akismet.
5. FAQPlus
FAQ Plus is a well-known and respected FAQ plugin for WordPress websites. It was created with the intention of providing users with an easy way to create, manage, and update FAQs on their websites. FAQ Plus offers a variety of features that make it versatile for use by both experts and novices.
These include the ability to add questions and answers, create keyword searchable indexes, embeddable questions in posts or pages, user profiles that allow administrators to control which users can edit which FAQs, as well as schedule maintenance tasks like updates or deletions.
Additionally, FAQ Plus allows you to customize your interface in order to match your brand's look and feel. This makes scaling up or down your installation easier than ever before. Overall, if you're looking for a quality and popular FAQ plugin for WordPress websites then be sure to consider FAQ Plus!
6. WP Responsive FAQ
WP Responsive FAQ is considered the best FAQ plugin for WordPress because it has been designed from the ground up to be responsive. This means that its layout will automatically adjust to fit any device or screen size, making it easy and simple to use on mobile devices or tablets.
Moreover, WP Responsive FAQ comes with built-in support for Google Adsense, so you can monetize your content through online advertising.
Furthermore, WP Responsecore plugins have a well-oiled commenting system that allows readers of your FAQs to leave feedback and ask questions in an easily accessible manner. Finally, responding to questions is easy since comments are linked directly back to the relevant question in your FAQ file. All these features make WP Response FAQ one of the most powerful and versatile FAQ plugins available today!
7. Quick and Easy FAQ
Quick and Easy FAQ is considered the best FAQ plugin for WordPress websites because it provides an easy way to create, manage, and publish Frequently Asked Questions (FAQs) on your website. Additionally, this plugin offers a wide range of features that make it ideal for creating comprehensive and up-to-date content on your website.
Some of the most notable features include automatic generation of questions based on user input or data from third-party sources such as search engines; easy creation of templates; the ability to categorize questions by topic; integration with Google Analytics so you can track how visitors are using your FAQs; quick deployment via WP admin panel.
Aside from its great functionality, Quick and Easy FAQ is also visually appealing and intuitive to use. This makes it a perfect choice for both beginner AND experienced bloggers who want to easily add valuable information about their products or services to their website.
Conclusion
In this article, we have shared some of the best and most well-known FAQ plugins for WordPress. All these plugins work flawlessly to provide you a powerful yet simple feature in creating your website. Moreover, all these plugins provide plenty of other functionalities as well, so that you can easily manage your website and remain updated with the latest trends. These are our top five picks but if you feel like there's something better then feel free to share it in the comments section below!
Our team of experts offers you industry-specific advice on how to improve your business using state-of-the-art technologies. Contact us today at Alakmalak Technologies for expert services at no additional cost.

What's Next ?
I know after reading such an interesting article you will be waiting for more. Here are the best opportunities waiting for you.
For Such Interesting articles

Uncover our captivating services

Supercharge your business with us