Top Local companies for React Native App Development
There are a number of reasons why React Native has become such a success. The ability to build native applications using JavaScript (a programming language) makes developing apps easier. In addition, it allows developers to access the entire ecosystem of iOS or Android devices. React Native is a framework that helps mobile app developers create cross-platform applications. This means that their app runs on both iOS and Android platforms. React Native is a hybrid approach that combines the benefits of web development and native application development.
React Native enables developers to build high-quality and responsive native mobile applications without having to worry about maintaining two separate code bases. Additionally, it provides a robust workflow for managing multiple projects and ensures that your app will run across multiple platforms. In this article, we will shed some light on the top local companies for React Native App Development.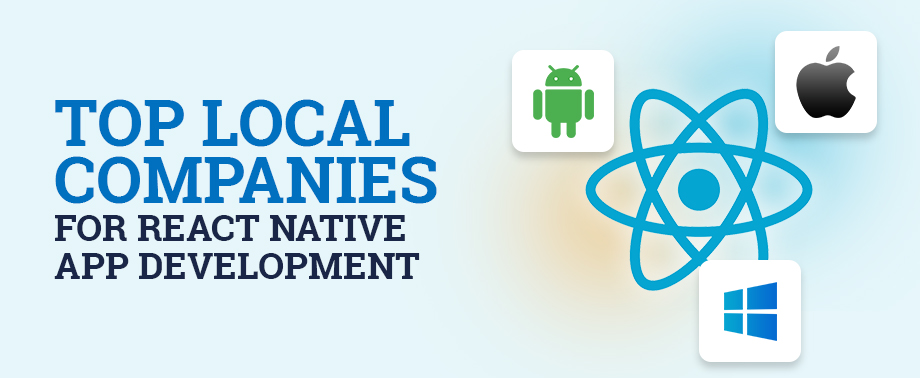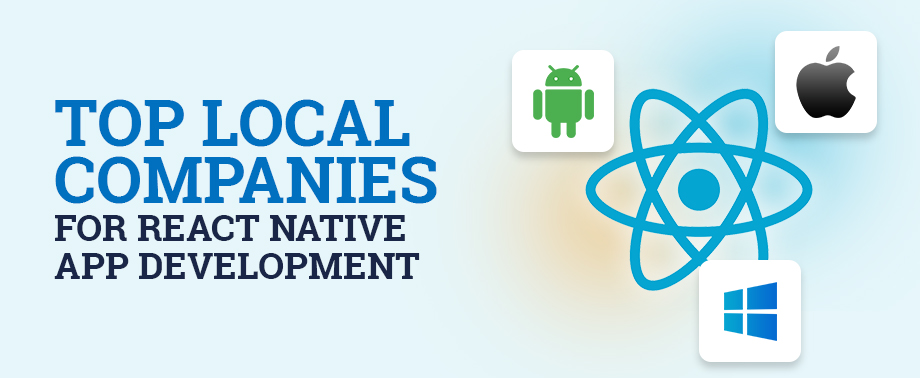 Here is the list of top local companies for React Native App Development:-
Groovy Web LLP
Groovy Web LLP is a fully grown IT service firm established in the year 2015. The company has paved its way to excellence to set a path for its team members to follow. Groovy Web LLP has passionate and excellent creators keen to adapt to modern technologies. The designers and developers at Groovy Web LLP follow the process of connecting the bridge of ideas into a working, reliable, and secure model for businesses.
The company believes in providing the project within the time that is promised. Groovy Web LLP has served more than 250 satisfied customers and has worked on more than 500 projects. They believe in transparent communication, undivided attention, care for every project, etc.
Elsner Technologies
Elsner Technologies is a full-fledged IT service firm providing web development and mobile development services. The company has been satisfying clients worldwide for more than a decade. It has an experience of more than 14 years with 2500+ happy and satisfied customers all over the world. Elsner has a highly talented team of more than 200 people who have successfully completed 9000+ projects. 
Elsner has successfully marked several numerous milestones due to its smart work, dedicated and expert professionals. The company has also been acknowledged with various awards for there achievements in the field of IT and digital marketing solutions.
Alakmalak Technologies
Alakmalak Technologies is an IT company founded in 2006, focusing on various services like web design and development, logo design, eCommerce web design, mobile application development(Android and iOS), etc. The company's mission and vision are to help Small & Medium Size Businesses to have an online presence by which they become visible to their target audience and execute your business idea to reality by executing your idea at a reasonable cost so that you can stay ahead of your competition.
Alakmalak Technologies has served various industries and has been also recognized with numerous awards for its achievements over the year. It has successfully completed over 3000 projects for clients all over the globe.
TriState Technologies
TriState Technology offers a complete extent of IT-related services from web development to mobile app development. The company can provide the service with accuracy, expertise, and punctuality. TriState Technology has worked with some of the most sophisticated clients from all over the world. the company was able to fulfill the requirements of the clients according to their expectations.
TriState Technology has worked with more than 125 happy and satisfied customers from over 29+ countries. It has also completed 220+ mobile app development projects and 120+ website development projects on time for its clients. TriState Technology believes in client satisfaction, promptness, and clarity.
IQLance
IQLance is a mobile app and web development company with more than 7 years of experience. The company was started by two passionate engineers to bring change to stand out from the rest of the competitors. The company's mission is to encourage startups and for future technologies. IQLance has been providing its services across the world for the last 7 years. They have to build many successful and creative mobile apps for various industries like fitness, healthcare, education, eCommerce, etc. 
IQLance has successfully served more than 1500 projects to over 200+ happy and satisfied clients across the globe with 100% quality assurance. IQLance helps businesses to make better use of the latest technology for effective results.
Simform
Simform is an IT company providing software development, mobile application development, etc services to businesses. The company was founded in 2010 and has never looked back since then. The mission of Simform is to help other companies to build ambition and flexibility using the software. Simform has provided its support to companies in becoming leaders. Their teams help the clients in deciding the right architecture.
Simform has provided its services to more than 500 companies ranging from small business startups to well-renowned companies. Also provided the services to NGOs featured by WHO.  
Alliancetek
Alliancetek is a web development and mobile app development company for the last 14 years. The company has transformed businesses completely using the latest technologies. It can also offer top-notch services and support to there clients. Alliancetek's mission is to provide the bridge that leads to success for everyone. It has been serving many international clients in employing over 100 people in California, New York, etc.
Alliancetek has provided its services to many industries and emerged with 100% success. It has over 14 years of experience with 480+ successful projects to more than 12 global locations. Alliancetek has also been acknowledged for its various achievements over the year.
Space-O Technologies
Space-O Technologies is an IT company providing mobile and website development services and believes in getting things done. They have kept up with the fast-paced environment around them and emerged successfully. These smart and expert developers help you take your business one step further. Their mission is to provide their services to as many people as they can. 
Space-O Technologies was established in 2010 and has been serving small and large businesses since then. The company has more than 200 employees who have successfully completed various projects for over 1200 clients in 20+ countries.
Conclusion 
React Native is a hot trend these days, and with good reason! It's a powerful and versatile platform that makes developing mobile apps easier than ever. But which companies are best suited for the task? We've put together a list of the top local companies that specialize in React Native App Development, so you can be sure you're making the right choice. 
Alakmalak Technologies has expert & skilled designers and developers who are well equipped to develop customized websites & applications to fulfill your needs. Get in touch with our experts now!

What's Next ?
I know after reading such an interesting article you will be waiting for more. Here are the best opportunities waiting for you.
For Such Interesting articles

Uncover our captivating services

Supercharge your business with us