The Importance of Effective Web Design for eCommerce
Ecommerce Websites have become a major part of our lives to reach our target audience. The number of online shoppers and online stores continues to rise every year. In fact, according to Statista, global retail sales from eCommerce reached $2.1 trillion in 2018. This means that more and more businesses are turning to eCommerce platforms to sell their goods and services and thus increases the importance of effective web design for eCommerce websites.
But, before you start selling online, it's important to consider some things to better understand the effectiveness of your website. For example, is the design of your website consistent? is your website SEO Friendly? is it user-friendly? These are questions that should be answered before you launch your eCommerce store. In this article, we will learn the importance of effective web design for eCommerce.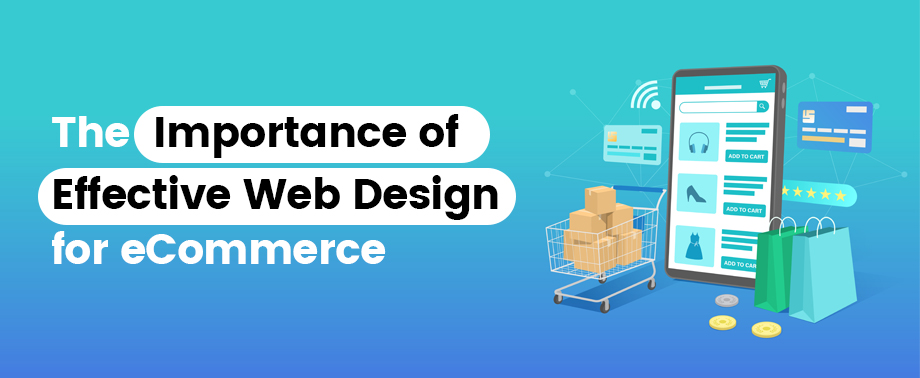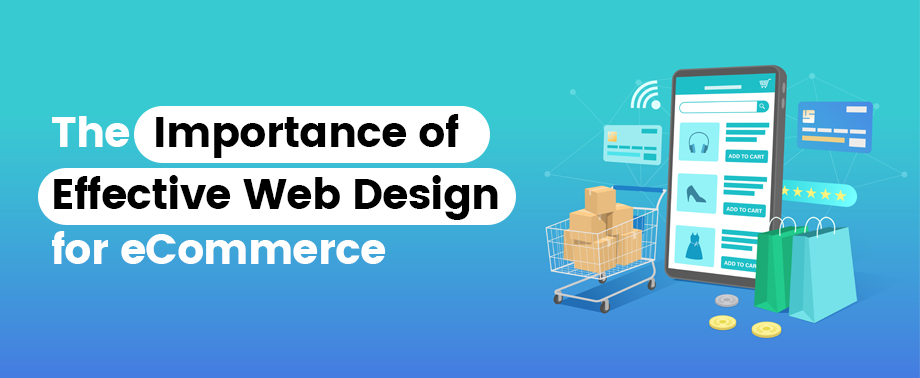 Let's take a look at the points that make it important to have an effective website design Element for your eCommerce store:-
1. Sets The First Impression
A website sets the first impression for a business, and it is important that it is professional and engaging. This means creating a design that is visually appealing, easy to navigate, and organized. You also need to make sure that your website is responsive so that it looks good on all devices. You should also consider using social media platforms like Instagram and Twitter to share your latest news and updates.
It is also important to keep your website up-to-date with the latest marketing trends so that you can stay ahead of the competition. Be sure to use keywords in your content and include links to your social media pages to increase traffic. Additionally, be sure to stay vocal on social media and use it to build connections with potential customers. Use these connections to promote your website and generate leads for your online business. Last but not least, make sure to have a strong portfolio that showcases your work.
2. Effective eCommerce Website Design to Build Trust
Building trust is essential for any website, and it is hard to do that with a poor website design. Effective website design not only looks good but also makes the user feel comfortable and informed. It should be easy to navigate, with clear and concise instructions, no hidden costs, and a user-friendly interface. Besides looking good and feeling functional, an effective responsive design also promotes trust by providing accurate information. This is especially important for medical websites, as patients rely on accurate and up-to-date information to make informed decisions.
In addition to providing accurate information, effective website design also ensures that all relevant laws and regulations are followed. This not only builds trust but also ensures that your website is compliant with all applicable regulations. All of these factors – effective design, accurate information, trust-building features, and compliance with regulations – are what make effective website design a powerful marketing tool.
3. Create Consistency
Maintaining consistency is one of the most important factors when it comes to creating effective web design. By keeping your design elements consistent, you can create a more cohesive and user-friendly experience for your visitors. This will help them to more easily understand and navigate your website. Additionally, it will make it easier for you to create revisions and updates, as your design will be more recognizable and cohesive.
There are a few things that you can do to help maintain consistency in your design. First, be sure to use the same type of font, color, and layout throughout your site. This will make it easier for you and your team to apply the same style and tone to all of your content. Additionally, use common design elements such as headers, footers, and buttons. This will help to create a simpler and more unified look and feel for your site. Finally, be sure to test your designs in different browsers and devices.
4. Increased Conversions
Web design can play a significant role in conversion rates by improving the user experience. This includes making the website easy to navigate, providing clear and concise information, and eliminating deadweight content so that users spend more time on the site. In addition, good web design can help in increasing brand awareness, attracting new customers, and increasing lead generation.
One of the best ways to measure the success of a web design project is through user feedback. This can be obtained via surveys, qualitative feedback, or A/B testing. By monitoring how users interact with your website and measuring the results, you can improve the design and ultimately increase conversion rates.
5. Helps Your Search Engine Optimization (SEO) Strategy
A well-designed website can help improve your search engine optimization (SEO) strategy by providing greater visibility for your website and increasing the chances of attracting organic traffic from Google and other search engines. A well-executed web design should be user-friendly, easy to navigate, and consistent with the brand image of your business. It should also include effective copywriting that is both on-brand and appealing to potential customers.
A well-designed website can also help you with a strong online presence that will promote your brand and attract leads and customers from other platforms. A well-optimized website can also help you to rank higher in Google and other search engines, which can result in increased sales and revenue. In short, a well-designed website can help you to improve your search engine optimization (SEO) strategy, attract more leads and customers, reduce bounce rates, and increase your profits.
6. Get The Best UI/UX Designer To Make Your Website
UI/UX designers are in high demand these days, and there are many reasons for this. First of all, they are responsible for the look and feel of a website, and keep in mind not to go with cheap providers to save some bucks. This includes everything from the layout and design of the pages to the functionality of the site. This means that a good UI/UX designer will be able to create a website that is both aesthetic and functional.
Another reason why UI/UX designers are in high demand is because of the increasing use of mobile devices. Today, nearly half of all website traffic comes through mobile users, so it is essential that your website looks and works well on these devices. UI/UX designers are skilled in creating responsive websites that look great on all devices, regardless of their size. Last but not least, UI/UX designers are responsible for the customer experience. This means that they are skilled in creating an easy-to-use website that is both informative and engaging.
7. Make Sure The Website is SEO Friendly
SEO is all about getting your website ranked higher in search engine results pages (SERPs). This can be a valuable asset for attracting more customers and generating leads. Not only does a high ranking increase your website's visibility and click-through rates (CTRs), but it also increases the chances of being found by potential customers who are actively looking for your product or service.
There are a number of factors that can contribute to your website's SEO success, and the most important thing is to make sure that all of your content is optimized for search engine ranking. This includes keyword selection,  content quality, and effective link building. Additionally, you should regularly monitor your website's ranking to make sure that you are keeping up with the latest search engine algorithm changes and strategies. By following these simple guidelines, you can ensure that your website is positioned to succeed in today's competitive market.
8. Make sure The Website is Responsive and User Friendly
Making sure your website is both responsive and user-friendly is important for a number of reasons. First and foremost, it makes your website more accessible to users. If your website is not mobile-compatible or hard to use on a phone, then you are likely losing potential customers. Additionally, making your website responsive ensures that your content is easily viewable and navigable on all devices. This includes desktop computers, laptops, tablets, and smartphones.
A website that is responsive also looks good and feels good when users visit it. Users appreciate websites that are well designed and look modern, regardless of the device they are using. Furthermore, making your website responsive can save you a lot of money in terms of redesigning or upgrading your website. Instead of having to make multiple updates to accommodate different devices, you can simply make one update that will be applicable to all devices and mobile versions. Lastly, making your website responsive is good for the environment.
Conclusion
Web design is one of the most important factors in the success of any eCommerce business. It not only helps your customers find what they're looking for quickly and easily but also enhances the overall user experience. In the world of online shopping, the importance of web design cannot be overstated. A well-crafted design with high-quality images not only captivates users but also reduces bounce rates and improves loading times. Additionally, customer reviews serve as a valuable feedback loop, allowing business owners to refine their design process and deliver exceptional user experiences.
If you need any help, please feel free to reach out to our team of experts at any time!

What's Next ?
I know after reading such an interesting article you will be waiting for more. Here are the best opportunities waiting for you.
For Such Interesting articles

Uncover our captivating services

Supercharge your business with us