Get a Free Quote
You will receive quote within 24 Hrs
Subscribe us

Sign up our newsletter
to get daily updates
Magento Web Development
How to Create a Newsletter in Magento?

By: Rushik Shah
Magento is an e-commerce software and is also an open source software. It has become quite popular in recent times due to the innumerable amount of features that it offers. Besides which there are also several extensions available to add to that. Of the many feature that Magento offers the Newsletter is one of them.
To make sure you can offer this service on your website you need to make sure it is enabled by going to the admin menu System –> Configuration –> Advanced –> Disabled Modules Output and set Mage_Newsletter to 'enable'.
Manage Newsletter
In addition to which you need to make sure that the SMTP settings in the admin panel
System –> Configuration –> Advanced –> System
is valid.
To actually configure the Newsletter you need to goto System –> Configuration and select the Newsletter option in the Customers tab on the left side column. There are several settings need to be taken into account here. From selection of template to the finer settings of the Newsletter is what you configure here.

Configure the Newsletter
It is now necessary to create the newsletter itself. You can do so by going to the admin menu option
Newsletter –> Newsletter
Templates and hit the
'Add New Template'
button. A new template can be designed using the tools at your disposal.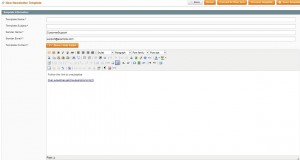 Add New Template
This newsletter thus developed now needs to be sent to all your subscribers. This can be done from the admin panel menu Newsletter –> Newsletter Queue. You can select the newsletter and queue it by selecting the date when you want to send it.

Newsletter Queues

Queue Date Start
Thus a well developed e-commerce website makes things happen along Magento which is very simple to use. Alakmalak is a
magento web development company
that is fully capable of creating your dream website or web store for you.
Why Choose Alakmalak As a Your Growth Partner?


Alakmalak is a web development company in India that offers services for several technologies. There have been around for a very long time and have developed over 2500 projects for clients all around the world. They have highly skilled web developers with a great deal of experience.
Create newsletter in magento
How to send newsletters to customers
Setup Magento Newsletters

What's Next ?
I know after reading such an interesting article you will be waiting for more. Here are the best opportunities waiting for you.
For Such Interesting articles

Uncover our captivating services

Supercharge your business with us