Get a Free Quote
You will receive quote within 24 Hrs
8 SEO strategies for website that one must follow in 2023
This is the year when many entrepreneurs will think of launching their startups. Many established businesses will want to spread their reach further. This website is a handy tool. But having a website is not enough. Businesses need a well-optimized website that will reach out to a greater number of target audiences.
And for that SEO is very important for any website to reach out to a large audience. So today I am here with some of the mindblowing SEO strategies for websites that help you in growing your business or website fast.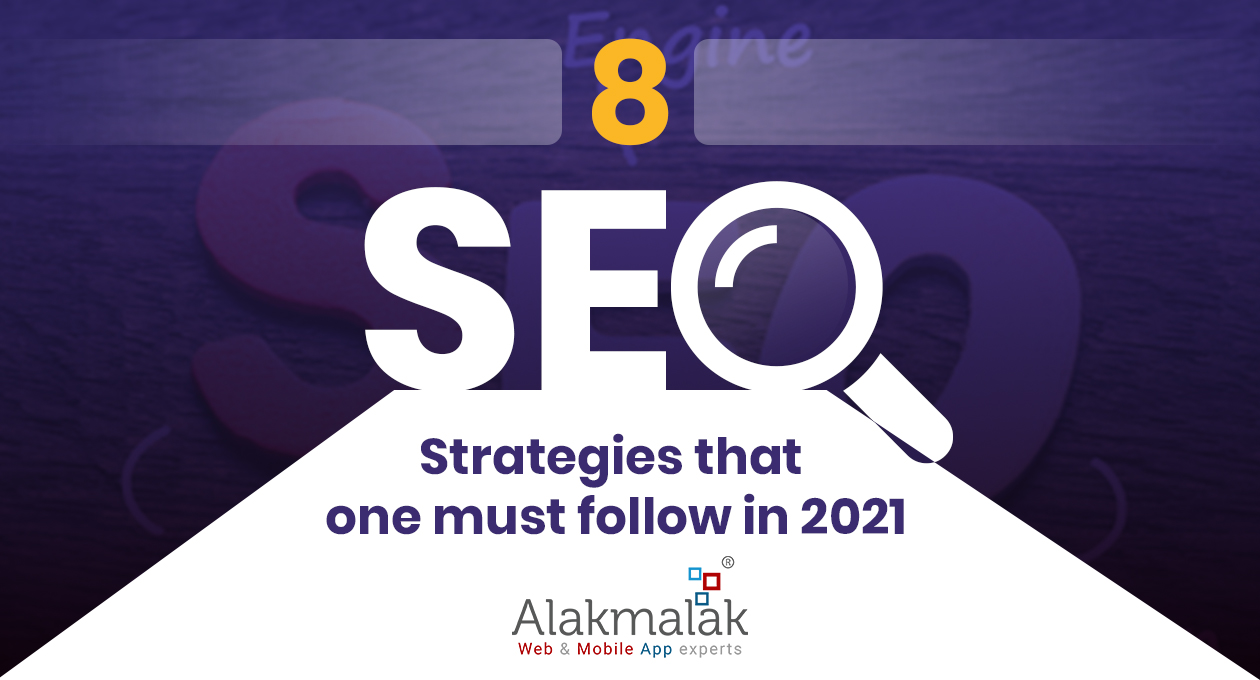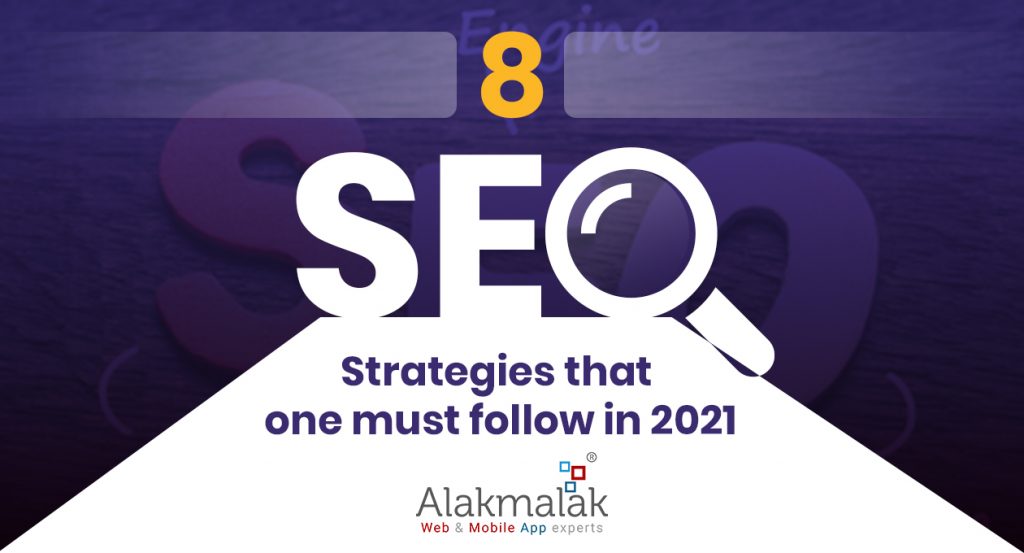 Follow these important aspects in your
SEO
strategy for your new website or business website without fail:

Optimize for BERT:

To leverage machine learning and natural language processing, BERT is very important.
Search engine giants Google, Bing, etc., give a lot of importance to BERT. Therefore, when you are optimizing the website, you have to keep BERT in mind.
Use of featured snippets:
A featured snippet will occupy the position above the first organic search result, and it will answer the query that the user has typed. This is position zero, and we are sure you understand the importance of this snippet. So, you must try to grab this position at zero at any cost in your SEO strategy.
Optimization of content:
Your search engine optimization(SEO) strategy must include optimization of the content. For this, the use of correct keywords in the right way is very important. It is also important to find the correct keywords, which can help to give a boost to your website in the organic search results.
You cannot lose focus on the content:
Along with the use of proper keywords, it is also important that the content is relevant and informative, and well-researched. It must be able to hold the attention of the target The importance of Structured Data:
The importance of Structured Data:
Optimization of the website can be done by proper use of Structured Data, which is also called Schema markup. It is a code that gives information to the search engine about the page, and it helps in understanding the purpose of the page.
Knowledge Graph:
A knowledge Graph is an algorithm that gives information about entities, organizations, public figures, etc. For the optimization of the knowledge graph, you will have to keep in mind a few important things like Schema markup, Wikipedia page, verified social media accounts, and Google My Business Profile.
Link Building & Brand Building:
If you want to establish your company or product as a brand, then you have to have one of the best SEO strategies. Efficient link building is one of the ways which can help in building brands. To achieve more organic traffic focus on content marketing in order to get a good search engine ranking and help you to reduce your bounce rate.
Focus on Visibility:
SEO visibility is important to increase awareness of your brand. You have to try and achieve a higher ranking on the Search Engine Result Page so that your target audiences are more likely to find you when they search for something that is in context to your company, products, and services.
Voice search:
Voice search will impact the search queries. There are many innovations like google assistant, apple's Siri, and amazon's Alexa that have developed very good technology.
Off-Page SEO Strategies:
Off-page link-building strategy refers to taking action outside of the website to improve our SEO and Use Long Tail Keywords:
As a part of the SEO strategy for 2023, we should start focusing on long-tail keywords. To find the long-tail keywords we can use tools like google auto suggest, google keyword planner, ahref, semrush, long tail pro, and many others.
While creating a content strategy we should prioritize content and keywords using different criteria like high search volume, low difficulty, strong ctr, and high relevance.
Internal Linking:
Internal Linking is one of the most important SEO strategies in 2021 for ranking websites in google.
You want to link from high-authority web pages to pages that need authority and use keyword anchor text in your internal links.
So go back and update your internal links.
Optimizing for Search Intent:
Search engine algorithm BERT showed us that we should focus on the search intent of the user. Search intent or user intent is what exactly the user is searching for in search engines.
When it comes to SEO you need to add relevant keywords to your content to naturally pass SEO value.
User Experience:
As a part of an effective SEO strategy for 2021, we should also focus on user experience. We should execute an effective UX Audit to improve the user experience.
Zero-click searches:
Zero-click searches are now becoming the new normal nowadays. In zero-click searches, the user's query is answered by the search engine itself.
Recently Google started showing more local news in a search-featured snippet and zero-click searches.
Optimize for Core web Vitals
According to a recent Google algorithm update, we should focus on core web vitals to improve our SEO.
John Mueller one of the top SEO at google recently set the benchmark for core web vitals that you should qualify for ranking signals.
We can see a separate section in the Google search console for measuring the core web vitals, it is known as Page Experience in the Google Search console.
Mobile-Friendly Websites:
Recently Google announced that your website must be mobile-friendly which would be beneficial for your website g traffic and growth. We can check the mobile-friendliness through various tools like
google's mobile-friendly test.
Mobile optimization is necessary because google practices mobile-first indexing.
Conclusion:
SEO strategy is a vital part of digital marketing strategy. Keep the above points in mind while formulating your search engine strategy so that you can reach out to a greater number of potential customers with ease.
Are you worried about how to do SEO for your website? There are many companies in web development in India which provide SEO services. But don't worry you do not need to go anywhere, we are one of the finest SEO service providers in India.
OVER
600 Small, Medium

and

Large

Enterprise business clients have chosen us from

35 COUNTRIES
Federico Bilches

www.latmeco.com

I want to thank all Alakmalak team for take my project and help me to improve my website! Thank you for your responsibility and seriousness at the time to do corrections and improvements on my website and for always be in touch with me. Highly recommended! Great team! Great company! I'm very thankful Alakmalak!

A few kinds words to say about Alakmalak programming and design. Working with these guys is always such a great relief. You know you are getting your stuff done right and usually always in a timely fashion. I'm a middle man for the most part And my clients are always happy with the end result.