How to Add Custom Product Relations in Magento?
Magento is a very popular open source ecommerce software solution. It is highly versatile and has been widely accepted by many. It is a very powerful and fast growing software. Magento is very flexible due to its modular architecture. Any Magento website is easily scalable. Like any other e-commerce site it offers an intuitive category module which allows you to enter the new products. Besides being able to enter new products it also has many other option on this page. It is possible to integrate Magento to your Google Analytics account. This generally is good for the website and optimization. Besides that Magento has many marketing tools. It is also quite easy to download a nice free template for Magento's layout or theme although there are many that come at a cost that are very good as well. Such themes can easily be set-up by a Magento web developer.

Manage Products
Magento is quite popular when it comes to entering the products. It is an easy task to enter loads of products and this module offers several marketing option as well. Magento offer several product relation like UpSell, Related products and Cross sell. The UpSell products are a way of offering more options to customer who has selected a product to buy.
For example if you have chosen to buy an economical Camera and loaded the product's page on the website then this page will also display the selected UpSell products which are slightly expensive and of better quality. Magento also offers the option of setting related products. The related products option can be a very good from the marketing perspective since it has the ability to show the customer what else the store has to offer which is similar to the product being purchased.
Magento offers yet one more marketing tool by the name Cross Sell. This a very popular amongst all the e-Commerce shopping carts and is something that comes as an in-built feature with Magento. Once the Cross Sell products are set-up they are usually displayed on the product details page.
Product Description
It is simple to set up such related products in Magento as described further in this article. It is necessary to access the products management system in Magento in order to do this. In case of a new product you need to admin menu
Catalog –> Manage Products
. Here it is possible to click the new product button to enter a new one.
At the same time it is also possible to select one of existing products and edit them. There are several options in this product management section and this is where the related products like UpSell, Related Products, and Cross Sell products can be set-up.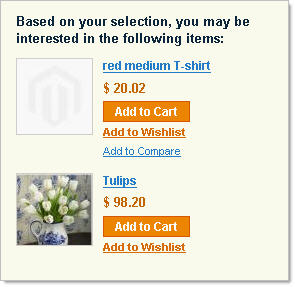 Cross Sells Products
Alakmalak is a web solutions company that offer
Magento Development services
and is quite capable of providing you with the right kind of solution to suite your requirements.
Why Choose Alakmalak As a Your Growth Partner?


Alakmalak is a web development company in India that offers services for several technologies. There have been around for a very long time and have developed over 2500 projects for clients all around the world. They have highly skilled web developers with a great deal of experience.
Custom Linked Products for Magento
How to add custom product relations in Magento?

What's Next ?
I know after reading such an interesting article you will be waiting for more. Here are the best opportunities waiting for you.
For Such Interesting articles

Uncover our captivating services

Supercharge your business with us