7 UX Principles to follow on your website to boost your SEO
One of the most important targets for businesses who engage in digital media is to improve their Search Engine Optimization so that they can be at top of search engine Rankings. To maximize outcomes and ensure that your company maintains strong site placement for the most important keywords in your market, you must invest in a particular strategy.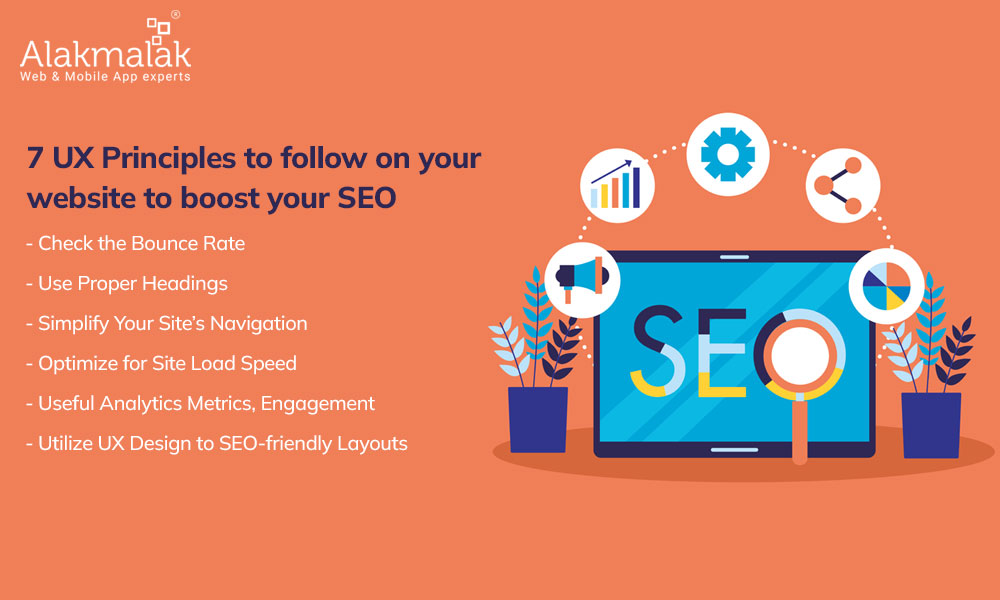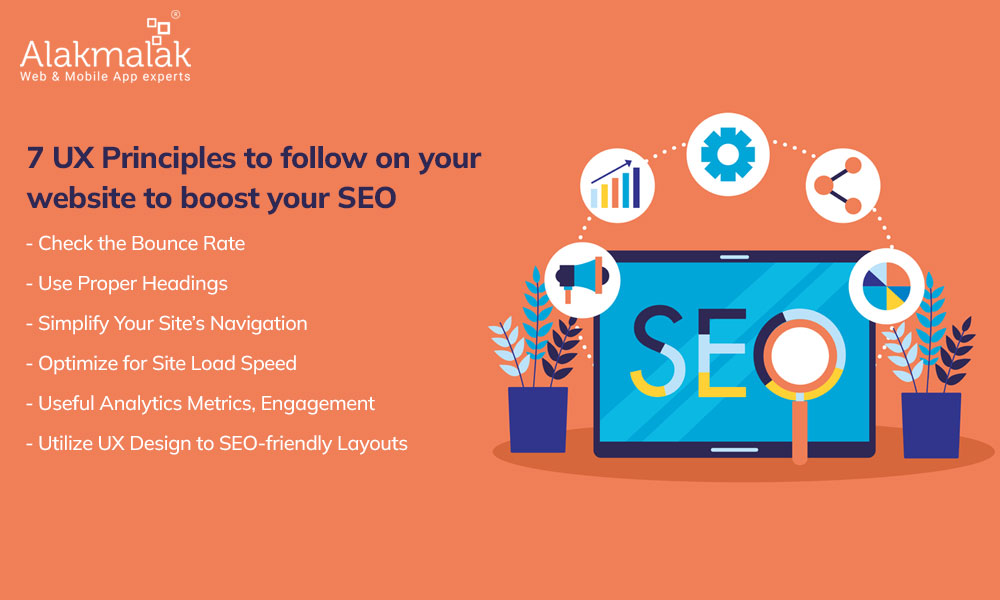 You will use SEO to make your website appear in related searches, linking your High-Quality content with users searching for similar goods or services to yours. Follow these principles to boost website SEO :
Check the Bounce Rate
People leave websites for a variety of reasons like Screen Sizes, non-responsive design, and the larger size of CSS Files. The keywords you're rating for may not be relevant to your site's content, your website may be sluggish to load or site visitors may encounter errors when they arrive.
Use Proper Headings
Headings serve as a route map for your users as they navigate your site's content. They're also how search engine crawlers figure out what the website's aim is.
The use of appropriate headings makes it possible for both web users and search engines to understand what your material is about. They arrange emotions, build a rational hierarchy, and make scanning written text a breeze.

Simplify Your Site's Navigation 
Previous SEO methods of building very granular pages based on tight keyword groupings have been debunked. According to an Ahrefs report, rating only one page for several similar keywords is a recent SEO best practice. In essence, creating a single page that is both content-rich and user-friendly can be a valuable SEO tool for a variety of search queries. In the end, you want people to be able to browse your website with ease.
Though perhaps more SEO-friendly, complex navigation systems will interrupt a user's experience, forcing them to exit faster. Instead of worrying about how to make all pages available to search engines, think of how to make pages accessible to people. SEO-friendly navigation is frequently stripped-back navigation with fewer pages.
Optimize for Site Load Speed
The pace of your website creates the first impression of your business. It's important to realize that when it comes to customer experience, there are no second chances. One of the most aggravating factors that can drive users away from your resource is the slow website pace.
Optimize for site load speed and choose a web-responsive interface, as mobile
search now accounts for more than half of all traffic. If your platform isn't
mobile-friendly, you'll see a drop in user interest.
Useful Analytics Metrics, Engagement
Google Analytics can be used to map experience metrics. We ought to look at three main metrics to come as close to calculating interaction as possible: Exit Rate, Bounce Rate, and Time on Page. From Google, below are the meanings for each of these: Exit Rate: The Exit Rate is the last number in the session for all web views to the page.  Bounce Rate: Single-page sessions separated by total sessions, or the number of total sessions on your site where visitors only visited one  Time on Website: The total amount of time spent on a page by all Mobile users and Desktop Users. As an SEO, it's your responsibility to find out why there's a high bounce rate and how to lower it.
Utilize UX Design to SEO-friendly Layouts
There are many instances where graphic design and Relevant content formatting can cause SEO issues. The basic explanation for this is that aesthetics, such as having ideally sized headers and the appropriate amount of text will obstruct
But what if UX style and on-page SEO and interface formatting will make a happy couple? This would be the perfect pairing, as it would benefit both accessibility and organic traffic generation, which, as we all know, are mutually beneficial
To ensure Mobile Responsiveness for both usability and SEO, the mobile-responsive layout has become essential. Since mobile search now accounts for more than half of all traffic, pages that are not mobile-responsive risk alienating more than half of their users.
The Google User-friendly Testing tool can be used to test a site's web responsiveness. For more information on this subject, check out this related article on mobile-friendly web design.
Conclusion
Organic Search traffic to the website is superior to paying traffic, and Google is the best traffic source globally. However, in order to rank in the top search Performance, you must understand how to place your website, and there is no better way to do so than to understand SEO. You can pay for ads, but most consumers want natural effects for their goods.
If you want to design your website then we can help you design your website. Click here to design your website here.

What's Next ?
I know after reading such an interesting article you will be waiting for more. Here are the best opportunities waiting for you.
For Such Interesting articles

Uncover our captivating services

Supercharge your business with us