Get a Free Quote
You will receive quote within 24 Hrs
PrestaShop SEO: 9 Practical Ways to Improve Your Store's Ranking In 2022
As you probably know, every company wants to rank higher in search engines to get more traffic to their online stores. But don't worry, it's possible and PrestaShop offers several features and tools to improve your ranking in search engines. The goal is to increase visibility on the web and boost conversions.
As a business owner, your top priority is ensuring that your online store ranks high on Google.
And with PrestaShop being one of the most popular eCommerce platforms on the market, it's no wonder why rank optimization is such an important part of optimizing your store for search engines.
By implementing some of the techniques, you can build a solid foundation to improve your store's position in search engine rankings. There are a number of ways to optimize your store and build your domain authority. By taking advantage of these tactics, you'll see your rankings rise steadily over time.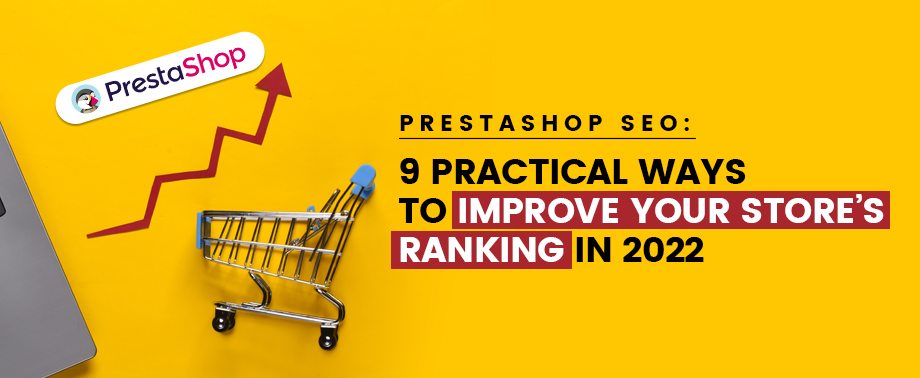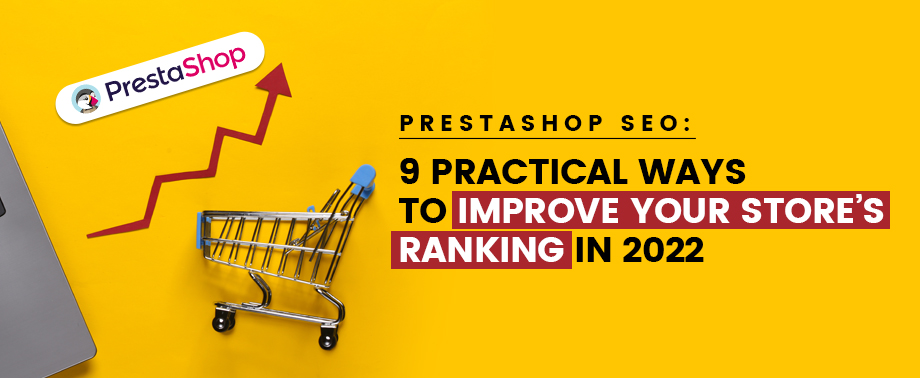 This exclusive guide will teach you how to improve your store's rankings in 2022:-
1. Improving your page load time
Improving your page load time can improve your store's ranking on Google. Google measures the speed of a page against a set of standards that are designed to provide a fair and accurate representation of the page's performance. A page with a fast load time is likely to be more responsive and user-friendly, which can result in a higher domain authority. In addition, slow pages can lead to lost conversions and lost revenue.
There are a number of ways that you can improve your page load time. Some of the most common include using modern web technologies, optimizing images and product descriptions, and reducing the number of redirects. By using these strategies, you can make your website faster and more user-friendly. Additionally, you can also use tools like Google PageSpeed Insights to monitor your progress and make necessary adjustments.
2. Optimizing for intent 
There are a variety of reasons why optimizing your store for intent can improve its ranking. One of the most common reasons is that it can help to increase your conversion rate. When shoppers are able to easily find the products and services that they are looking for, it is likely that they will make a purchase and have an enhanced shopping experience. Additionally, optimizing your store for intent can help to improve your site's relevancy.
By targeting the relevant keywords and focusing on the needs and wants of your target audience, you can increase your chances of attracting traffic and converting it into sales. By focusing on search engine optimization (SEO), you can also improve your site's ranking. This will make it easier for potential customers to find and navigate your site. This can be especially beneficial if you are selling a product or service that is not easily found by ordinary search engines.
3. Use a mobile-responsive theme
A mobile-responsive design provides your store with the ability to be viewed on any device. This means that customers can shop from their phones, tablets, or laptops, without having to worry about any formatting or design issues. Additionally, a mobile-responsive design makes your store look better in search engine results pages (SERPs), as it is optimized for mobile viewing. A mobile-responsive theme can also help you to save bandwidth and speed up your website.
By ensuring that all content is mobile-friendly, you can reduce the load time of your eCommerce Platform overall. This makes your store more accessible and user-friendly, which can lead to increased sales. When choosing a mobile-responsive theme, it is important to make sure that it is compatible with your store's layout and website design. There are many options available on the market, so it is important to choose one that is tailored specifically for your store's needs.
4. Avoiding Duplicate Content
Duplicate content is one of the most common SEO mistakes that online store owners make. By creating the same content on your website multiple times, you are putting your site at a disadvantage. This can slow down your site's load time, cause visitors to bounce off your page, and ultimately, damage your website's ranking. In addition, Google penalizes websites that display the same content multiple times.
It is important to create and publish unique and fresh content on a regular basis. This will help you to keep your website top of mind and increase your chances of capturing the attention of Googlebot, which is responsible for indexing and ranking your website.
Finally, make sure to monitor your website's search engine rankings regularly to ensure that your content is being found and ranked by potential customers.
5. Effective Link Building
Effective link building is one of the most important aspects of Off-Page SEO, and it can have a dramatic impact on your store's ranking. When you build high-quality links to your website from reputable sources, it will help to improve your store's visibility in search engines. This will lead to increased traffic and revenue, as well as greater brand awareness. There are a number of different strategies that you can use to achieve high-quality links, and the most effective approach depends on the type of website that you are targeting.
You can use link-building tools like Majestic SEO or Moz to find high-quality links that are relevant to your niche and will improve your store's ranking. You can also use link-building techniques like article marketing and guest posting to create valuable content that will attract links from reputable sources. Whatever approach you choose, make sure to take the time to measure the results and adjust your strategy accordingly.
6. Keeping your pages updated
Updating your pages on a regular basis can help improve your store's ranking in search engines. By regularly updating your pages, you will be providing your customers with the latest and greatest products and services. You will also be ensuring that your site is mobile-friendly, which is important for shoppers who are using mobile devices to browse your store. In addition, updating your pages will help to improve the overall quality of your site.
However, there is no need to spend hours updating your pages on a daily basis. You can make updates on a more frequent basis, such as once a week or twice a month. Regardless of how often you update your pages, it is important to make sure that your updates are of high quality and accurately reflect the content on your site. You also need to ensure that your updates are timely and relevant, as search engines are quick to penalize sites that do not regularly update their content.
7. Submit XML Sitemap
If you're running an eCommerce store, submitting an XML sitemap to Google is a must. Not only does it help your store rank higher in the search engine results pages, but it can also improve your store's visibility in Google Maps. By submitting your XML sitemap, you're telling Google that you're taking the time to document your website and make it easy for users to find the information they're looking for.
XML Sitemap documentation is broken down into three main sections: the website's structure, the pages, and their content, and the links between pages. In addition, you need to include a robots.
txt file that tells Google which pages not to index. This will help to prevent your site from being crawled by search engine robots. All in all, submitting an XML sitemap is a great way to increase your store's visibility and improve its ranking.
8. Image Alt Tags Optimization
Image Alt Tags Optimization is a popular technique that can help improve the ranking of your store in search engines. By including Alt tags with your images, you can add additional information that can be used by search engines to better understand and rank your store. This can include things like the title of your product, the name of your store, or the name of the product supplier.
This additional information can help to improve your store's visibility and ranking in search engines, which can lead to more customers. Alt tags should be included in all images that are used on your store, and you can also use keywords to optimize your tags for better results. Make sure to test different tags and find the ones that are most effective for your store before you go live with them.
9. Use SEO Plugins
Using SEO Plugins can help improve your store's ranking in Google and other search engines. There are a number of SEO Plugins available, and it is important to choose the one that is most appropriate for your needs. Some of the most popular SEO Plugins include the SEO by Yoast plugin, which was created by the well-known SEO author Yoast. This plugin allows you to optimize your content, optimize your metadata, and add Google Analytics tracking.
Other popular SEO Plugins include the SEO by SEOMoz plugin, which was created by SEOMoz, a search engine optimization company. This plugin allows you to optimize your site for both organic and paid search results, as well as add social media optimization features.
Conclusion
There's no doubt that the search engine ranking of a store is of utmost importance, as it can determine how many visitors the store receives and, ultimately, how profitable it is. However, achieving a high ranking doesn't come easy- there are a number of factors that need to be taken into account. In this blog post, we will outline some practical ways that you can improve your store's ranking in 2022. By implementing the strategies outlined in this blog, you will be on your way to increasing traffic and boosting sales.
Our team of experts offers you industry-specific advice on how to improve your business using state-of-the-art technologies. Contact Us Today at Alakmalak Technologies for expert services at no additional cost.
OVER
600 Small, Medium

and

Large

Enterprise business clients have chosen us from

35 COUNTRIES
Federico Bilches

www.latmeco.com

I want to thank all Alakmalak team for take my project and help me to improve my website! Thank you for your responsibility and seriousness at the time to do corrections and improvements on my website and for always be in touch with me. Highly recommended! Great team! Great company! I'm very thankful Alakmalak!

A few kinds words to say about Alakmalak programming and design. Working with these guys is always such a great relief. You know you are getting your stuff done right and usually always in a timely fashion. I'm a middle man for the most part And my clients are always happy with the end result.