Get a Free Quote
You will receive quote within 24 Hrs
Overview Of The WYSIWYG Editor
There is an editor to help you out in WordPress while writing posts or pages. This editor can be disabled and enabled as you please. In addition to which it is also possible to enhance the editor. While placing text on a page you can either just paste the text from a text editor like Microsoft Word for example or you also spend time making the heading bold and beautifying the important bits.
You could even add some different styles or a bulleted list. Simply placing the text on the website does not seem appealing as is rarely done. On the other hand many people opt for placing complex HTML code as well. This too is not advisable since if and when you do need to change the text the entire article will have to be edited using the same style currently being used.
Simple View: This article is aimed at explaining how to make use of the default editor provided by WordPress to beautify your text in a page or a post. First we have a look at the simple view: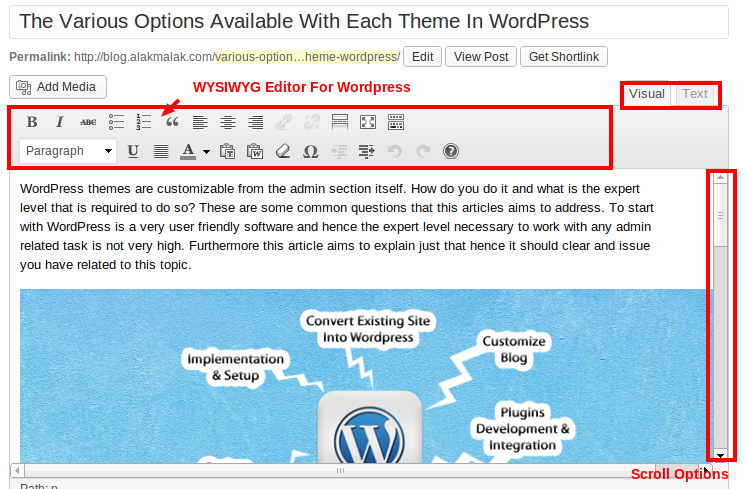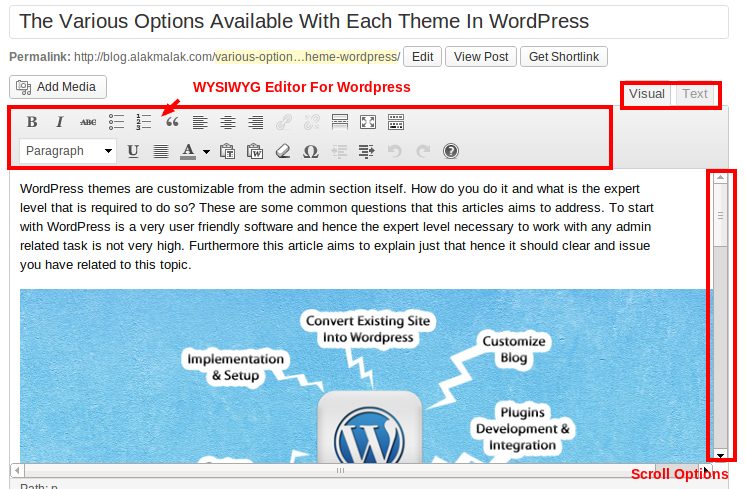 1. This is the text formatting button to make the text bold, italic, or strike-through.
2. This button allows you to create a block quote blocks.
The adjacent buttons allow you to make lists in several different formats.
3. These set of buttons are used for alignment of the text which can be aligned either left, right or center.
4. You can insert or remove links tags with these buttons and also create a custom post excerpt.
5. Finally the last set of buttons allow you to check the spelling, toggle full screen modes and enable or disable the extended editor view.
Extended View: The extend editor has more text formatting options as show in the next part of this article.
1. The text format in terms (size) of paragraph or heading can be selected here.
2. These set of buttons include additional text formatting tools like underline, or text paragraph fit and even text color option.,
3. You have the ability to insert text directly from Microsoft Word using these set of buttons; which clears all formatting to make the text usable.
4. The paragraph indentation can be managed using this option.
5. You even have the undo and redo options along with the editor help option.
Placing text in the page and formatting it is the easier part of the website and this article should make it even easier for you. But actually making the website with the appropriate design is another ball game altogether.
Alakmalak is a WordPress web development company that can help you out with your WordPress projects big and small.
Why Choose Alakmalak As a Your Growth Partner?


Alakmalak is a web development company in India that offers services for several technologies. There have been around for a very long time and have developed over 2500 projects for clients all around the world. They have highly skilled web developers with a great deal of experience.
What does WYSIWYG mean?
What is WYSIWYG?
OVER
600 Small, Medium

and

Large

Enterprise business clients have chosen us from

35 COUNTRIES
Federico Bilches

www.latmeco.com

I want to thank all Alakmalak team for take my project and help me to improve my website! Thank you for your responsibility and seriousness at the time to do corrections and improvements on my website and for always be in touch with me. Highly recommended! Great team! Great company! I'm very thankful Alakmalak!

A few kinds words to say about Alakmalak programming and design. Working with these guys is always such a great relief. You know you are getting your stuff done right and usually always in a timely fashion. I'm a middle man for the most part And my clients are always happy with the end result.