Get a Free Quote
You will receive quote within 24 Hrs
Essential Web Design Tactics To Convert Visitors into Paying Customers
How do get people to convert their traffic into paying customers? That's the question every entrepreneur wants to answer. And that's why they spend thousands of dollars on advertising and marketing strategies. But, let's face it, these methods don't always work. They might even backfire and cost you more than you expected. If you want to start converting visitors into paying customers, you need to focus on crucial things.
Create a user experience that keeps them there. This means having effective landing pages, great copywriting, and other elements that keep visitors engaged. The key to keeping visitors on your site is to provide a memorable experience. If they don't like what they see or hear, they'll leave before taking action. That's why it's important to focus on creating a consistent tone and style across all interactions on your site.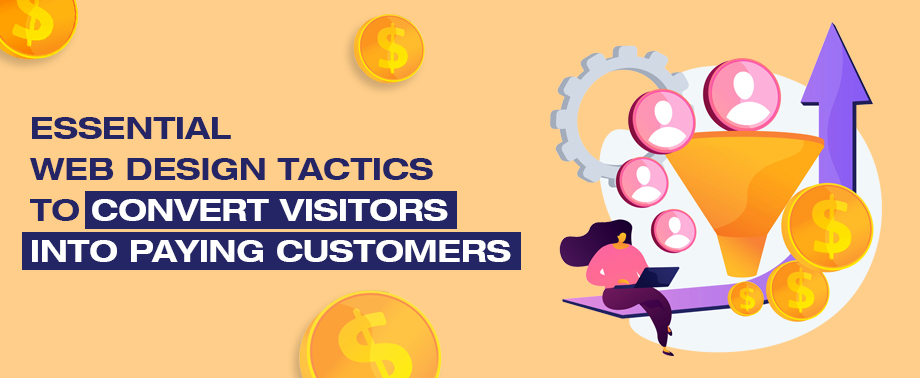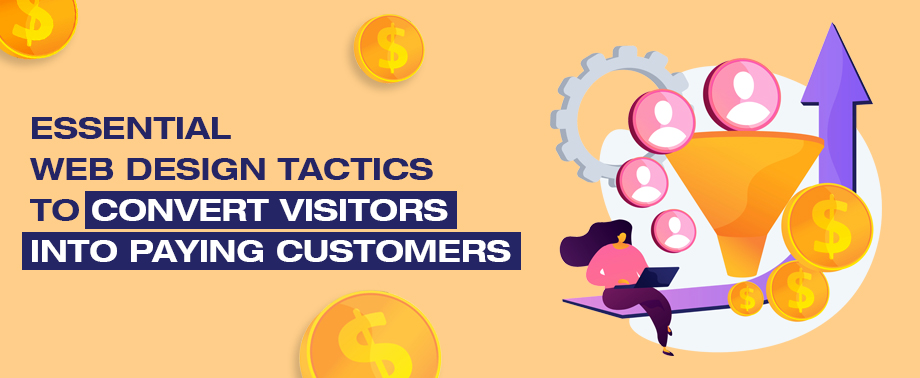 Let's look at some of the essential web design tactics to convert visitors into paying customers:-
Design Call-to-Action Buttons That Get Clicked
A call-to-action button is a button that encourages a visitor to take some specific action, such as signing up for a newsletter, downloading an app, or buying a product. There are many ways to design effective call-to-action buttons that get clicked. One way is to use buttons with simple and clear text that describes the action that the visitor should take. 
Another way is to use images that represent the action that the visitor should take. For example, you can use images of products that the visitor can buy after clicking on the button. You can also create buttons with CTAs that lead visitors to pages where they can enter their contact information or other personal information. This information can then be used to contact the visitor later about your product or service.
Appear Trustworthy and Transparent
Appearing trustworthy and transparent can help convert visitors into paying customers by providing them with the confidence they need to make a purchase. When a visitor lands on your website, they will want to know that you are legitimate and that you will not take advantage of them. You should make sure that your website is easy to navigate and that all of the information is easily accessible.
You should also make sure that your pricing is clear and concise, so visitors know exactly what they are getting for their money. You should also provide customer testimonials and reviews, which will give visitors even more confidence in making a purchase.
Use Responsive Layout
One of the best ways to optimize your website for mobile devices is to make sure that your site is responsive. This means that your website will automatically adjust to different screen sizes, making it easier for people to use. Additionally, you should consider adding mobile-friendly design elements such as buttons that are large and easy to see, and navigation menus that are simple and easy to use. You should also make sure that all of your content is easily accessible from a mobile device.
Finally, you should create separate versions of your website for different types of devices. For example, you might have a version of your website designed for desktop computers, another version designed for laptops, and yet another version designed for smartphones and tablets. This way, you can ensure that your site looks great on all types of devices.
Keep your site simple
Keeping your website simple is one of the best ways to convert visitors into paying customers. A website that is easy to navigate and understand will help you capture more leads and convert more visitors into paying customers. In addition, a website that is easy to use will also save you time and money in the long run. You won't have to spend hours tweaking the design or updating the content, which can lead to increased profits.
Finally, a website that is easy to use will also make it easier for potential customers to find what they're looking for. If your site is cluttered with too many ads and irrelevant links, it will be difficult for people to find what they're looking for.
Make your site lightning fast
The speed of your website is one of the most important factors that can affect your conversion rate. If your website is slow, it will be difficult for visitors to find what they are looking for and make a purchase. One of the most important things is to have a good web hosting plan that provides you with enough bandwidth and storage space. This will allow you to load your site quickly without experiencing any delays or errors.
To improve the speed of your website, you can use web optimization techniques such as search engine submission, on-page SEO, and link building. You can also use content marketing strategies to create high-quality content that is optimized for search engines.
Use only high-quality images and optimize them for web
There are a few things that can help convert visitors into paying customers using high-quality images. First, using high-quality images will help your website look more professional and attractive. This will lead to higher click-through rates (CTRs) and better conversion rates. Second, optimizing your images for the web can help you improve your website's loading time and decrease the number of errors that occur on your website. This will also lead to higher CTRs and conversion rates. 
Finally, using effective image advertising can increase traffic to your website and boost conversion rates even further. By targeting your target audience with relevant image ads, you can increase sales and boost customer loyalty.
Easily Accessible Contact Information
Having easy access to contact information is one of the most important aspects of any online business. This includes your website's contact form, email address, and phone number. Having contact information available on your website makes it easier for visitors to get in touch with you and learn more about your products and services.
Make sure your contact information is updated regularly so people know how to reach you if they have any questions or concerns. It also allows you to convert potential customers into paying customers by sending them an invoice or promotional email.
Evoke emotions with colors based on psychology
Use color to create a visual hierarchy on your website. This means that you should place important elements, such as your logo, in a prominent position so that they will be easily noticed. You can also use color to set the tone of your website. For example, if you want to create an inviting and relaxing atmosphere, you might choose colors like green and yellow. If you want to promote excitement and energy, then you might choose colors like red and orange. 
Finally, it is important to consider the emotions that your target market is likely to feel when viewing your website. If you are selling products or services that are related to happiness or relaxation, for example, then it might make sense to use colors like blue and purple. Different colors are associated with different emotions. Therefore, using colors to influence customer behavior can help convert visitors into paying customers.
Conclusion

 
Web design is all about making visitors feel comfortable and confident. This can be done in many ways, but the main way is by making your website attractive and easy to navigate. Our blog post will give you some of the best web design tactics that you can use to convert visitors into paying customers.
Contact us to design and develop a high-converting website for your business.
OVER
600 Small, Medium

and

Large

Enterprise business clients have chosen us from

35 COUNTRIES
Federico Bilches

www.latmeco.com

I want to thank all Alakmalak team for take my project and help me to improve my website! Thank you for your responsibility and seriousness at the time to do corrections and improvements on my website and for always be in touch with me. Highly recommended! Great team! Great company! I'm very thankful Alakmalak!

A few kinds words to say about Alakmalak programming and design. Working with these guys is always such a great relief. You know you are getting your stuff done right and usually always in a timely fashion. I'm a middle man for the most part And my clients are always happy with the end result.