Essential Web Design Tactics To Convert Visitors into Paying Customers
Are You Wondering How Can Convert Visitors to Customers? That is an answer every entrepreneur seeks in his quest.
Marketing companies spend thousands on advertising and marketing strategies; yet these methods don't always deliver. Sometimes they even backfire costing more than originally anticipated! In order to convert visitors to paying customers successfully, focus on important issues.
Crafting a user experience that keeps visitors on your site is a multifaceted process, and partnering with a reputable website design company in India can greatly enhance your efforts. These experts can help create effective landing pages, captivating copywriting, and incorporate other engaging elements to keep visitors engaged and on your site. A memorable user journey is key to ensuring that visitors return, and working with a website design company in India can assist in maintaining a consistent tone and style across interactions on your site. This cohesion is crucial for sustaining visitor interest and motivating them to take desired actions before departing.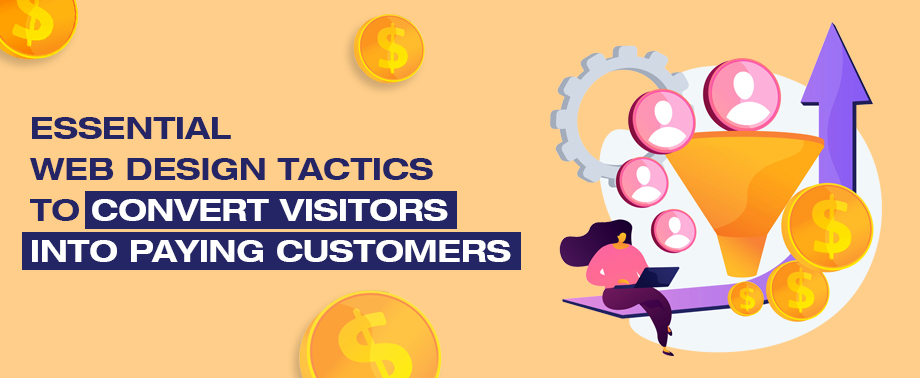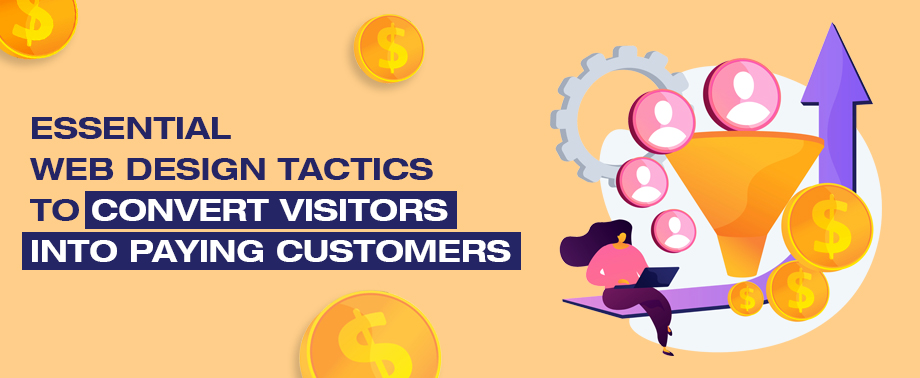 Let's consider some essential web design tactics to convert visitors to

customers

:-
1. Design CTA Buttons That Get Hit On
Call-to-action buttons (CTA) are buttons designed to encourage visitors to take some specific action – like subscribing to an email list, downloading an application, or making a purchase – on websites. There are various strategies for designing effective CTAs that get clicked; one method might include including text which clearly describes what action the visitor must take (for instance).
Another way is by creating images that communicate what action they should take; for instance, images depicting products which customers can purchase by clicking a button are an example. You could also include buttons with Call-To-Action (CTAs) leading directly to pages where visitors can enter contact info so you can contact them about your product/service later.
2. Appear Reliable and Transparent
Representing oneself honestly and transparently is key to turning visitors into paying customers by giving them confidence when shopping on your site. When someone visits, they want assurances that it's legitimate and won't exploit them, making navigation simple so all information can easily be reached by them. To increase conversions further, ensure all materials on your website can be easily found by them as soon as they visit.
Make sure the pricing on your website is transparent so visitors understand exactly what they are getting for their money, provide customer testimonials and reviews so that visitors have confidence when making purchasing decisions, etc.
3. Implement Responsive Layout
Optimizing your website for mobile users is vital in increasing conversion rate and turning more visitors into customers in this age of mobile technology. Adopting a responsive design for mobile devices ensures your site adapts automatically to various screen sizes for seamless user experiences; additionally this approach makes your site accessible and usable by wider audiences.
Responsive design elements should also be carefully integrated with mobile-friendly elements to increase usability on smaller screens; all content should also be easily reachable from mobile phones so visitors can engage with interactive elements which could result in conversion.
Create separate versions of your website tailored specifically to different device types (desktop computers, laptops, smartphones and tablets) can also help increase mobile visitors into satisfied customers more effectively. By designing unique designs tailored specifically for desktop computers, laptops, smartphones and tablets you ensure an optimal browsing experience across devices – this increases conversion into satisfied customers for mobile visitors while strengthening loyalty from all visitors to your site.
4. Keep Your Site Simple
Simplifying your website is key in leading visitors through their customer journey and turning them into paying customers. Offering clear navigation and information increases chances of lead conversion while tailoring content specifically to audience needs will create a more enjoyable customer journey overall.
An intuitive website not only benefits your customers but can save both you and the organization both time and resources over the long-term. No longer will you spend hours fidgeting with its design or content updates – saving both resources and hours that could otherwise go towards increasing profits. By eliminating clutter such as unnecessary advertisements or links from the page, visitors will quickly locate what they are searching for on it; further increasing customer conversion rate.
5. Optimize Your Site For Lightning Speed Performance
Load time of your website can have a substantial effect on conversion rate, with slow websites making it harder for visitors to locate what they're after and make purchases. One key thing in making sure that happens quickly without delays or errors: having access to enough bandwidth and storage space from your web hosting plan.
To increase the speed of your website, web optimization techniques like search engine submission, on-page SEO and link building may help increase its speed. Content marketing strategies also create high-quality material optimized for search engines.
6. Only Use High-Quality Images and Optimize Them For Web Use
High-quality images can play an instrumental role in turning visitors into paying customers, by increasing click-through rates (CTRs) and conversion rates. Optimizing images specifically for the web also can improve loading speeds while decreasing errors on your website, leading to higher CTRs and conversion rates overall.
Utilising effective image advertising can increase website visits and conversion rates exponentially, reaching your desired target market with relevant ads to drive increased sales while simultaneously strengthening customer relationships.
7. Convenient

Contact Details
Easy accessibility of contact details is of utmost importance in online business, including contact forms, emails addresses and telephone numbers on websites. Doing this makes it simpler for visitors to get in contact with you and gain more insight into what products or services your offer.
Keep your contact details updated so people can reach you if they have questions or issues, while it also gives you an opportunity to convert potential customers into paying ones by sending invoices or promotional emails directly.
8. Use

Color Psychology

To Evoke Emotions
Use color to establish visual hierarchy on your website, placing key elements such as your logo in prominent positions where they will easily be noticed by viewers. In addition, color can help set the atmosphere – for instance if you wish to promote relaxation and calm, choose colors like green and yellow while for creating excitement or energy choose red and orange instead.
Final consideration should include considering what emotions your target market will experience while visiting your website. For instance, selling products related to happiness or relaxation might justify choosing colors like blue and purple as these hues are associated with these feelings and could help convert visitors to paying customers.
Conclusion
Website design plays an essential part in turning visitors into customers by improving user experience and meeting target audience needs. One key strategy for doing this successfully is developing an attractive yet user-friendly site; features like social proof, well-placed calls to action and conversion rate optimization tactics can all assist customers along your conversion funnel and raise revenues significantly.
Understanding your target audience and their preferences are integral parts of increasing conversion rate. With smart marketing techniques and effective web design techniques in place, trust can be established between visitors to your site and you; eventually turning visitors into satisfied paying customers.
Contact us to design and develop an impactful website for your business.

What's Next ?
I know after reading such an interesting article you will be waiting for more. Here are the best opportunities waiting for you.
For Such Interesting articles

Uncover our captivating services

Supercharge your business with us