Get a Free Quote
You will receive quote within 24 Hrs
eCommerce Design Trends You Need to Know for 2023
eCommerce platforms have become indispensable for businesses across industries. They provide excellent services and offer numerous benefits to both retailers and consumers. eCommerce platforms allow merchants to sell their goods or services directly on the web. The rise of mobile shopping has led to the creation of new technologies that enable shoppers to access these platforms from anywhere at any time.
Now that eCommerce website development has entered mainstream culture, its design trends will undoubtedly evolve. E-commerce design trends can change every year, and if you want to stay relevant, you need to keep learning about them. What should you keep an eye out for in eCommerce design trends to prepare for next year?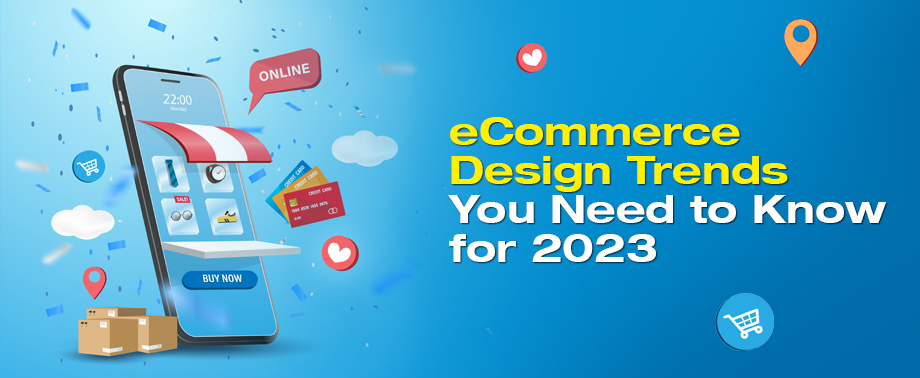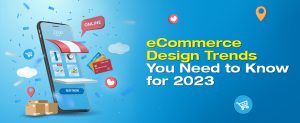 Here are some of the top eCommerce Design trends You need to know in 2023 and consider adopting in your next eCommerce website development project:-
Hyper-creative web animations
Hyper-creative web animations are considered the latest e-commerce trend because they add an extra layer of interactivity and engagement to your website. They are also known as "interactive videos", "motion graphics", and "custom animation". They are created using advanced animation software, and they allow you to create engaging and eye-catching effects that draw in more customers. They can be used to improve the user experience on your website, promote your products and services, and increase sales.
Hyper-creative web animations can be used for a variety of purposes, such as product demonstrations, landing pages, and blog posts. They can also be used to create interactive social media platforms like Facebook and Twitter. With so many benefits to using hyper-creative web animations, it is no wonder that they are becoming increasingly popular among eCommerce businesses.
Vertically aligned menus
Vertically aligned menus are the hottest e-commerce trend right now. This design concept is simple: the menus are aligned vertically on the page so that the items are organized in a logical and easy-to-find manner. This makes it easier for customers to find what they are looking for and eliminates the need to scroll horizontally. Another benefit of vertically aligned menus is that they create a more consistent layout across all devices. This makes it easier for customers to navigate and use your site with a mouse or touchscreen.
In addition, this design concept is visually appealing, which can encourage customers to buy more products from you. If you are looking to take your e-commerce business to the next level, then you should definitely consider adopting a vertically aligned menu. It is a simple and cost-effective way to improve your site's usability and attractiveness.
Unconventional layouts focusing on user accessibility
Unconventional layouts are focusing on making sure that users have easy access to all of the information on the website. This is important for those who are just uncomfortable with traditional websites. By making the website accessible, businesses can attract a wider range of customers who may not have been able to visit traditional websites in the past. Additionally, unconventional layouts are popular because they are considered to be more user-friendly. This makes it easier for users to find what they are looking for and reduces the amount of time that is needed to navigate through the website.
By making the website easier to use, businesses can increase sales and generate more leads. There are several ways that businesses can make their site more accessible. One way is to use alternate text instead of images for those with vision disabilities. Another way is to create a simple layout that is easy to read and use.
Increasing the role of social networks as a sales channel
Social media gives you the ability to connect with potential customers in a way that is convenient for them. This allows you to build trust and credibility quickly, which is essential for any kind of sales transaction. Additionally, social networks provide a way for customers to interact with businesses directly, which can result in stronger customer relationships.
Furthermore, social media allows businesses to target their messages towards specific demographics and interests. This can be extremely useful for businesses that are selling products or services that are specific to certain groups. Social media also allows businesses to measure the effectiveness of their marketing efforts in real-time, which is invaluable for making changes and optimizing the strategy accordingly.
Multidirectional layouts for better compatibility
Multidirectional layouts offer better compatibility with various devices and browsers. This allows for a more streamlined and efficient user experience, which in turn, leads to increased conversions. The benefits of a multidirectional layout go beyond simply making your website more user-friendly. Studies have shown that multidirectional layouts can also help to boost brand recognition, as customers are more likely to see your brand across multiple channels.
In addition, a multidirectional layout can increase website traffic by up to 30%. By displaying items in a multidirectional layout, users can scroll down and see more information about a product, or scroll up and see more products. Ultimately, getting a multidirectional layout right is one of the most important aspects of e-commerce success.
Sophisticated voice user interfaces
Sophisticated voice user interfaces (SVOIs) offer a better user experience by allowing users to interact with websites and apps using their natural voice. This eliminates the need for a keyboard or touch input, which can be difficult for those with disabilities or low vision. Additionally, SVOIs allow users to control their devices with their voices, making them more hands-free.
SVOIs are most often used by those who are physically unable to use a mouse or keyboard. They can also be helpful for those with cognitive disabilities, who may have difficulty understanding and using text-based interfaces. By providing a more natural interface, SVOIs can help people to interact with websites and apps more easily and efficiently. SVOIs are not just for the disabled; they are for everyone who wants an easier and more comfortable online experience.
The role of Artificial Intelligence (AI)
First and foremost, AI offers several advantages over traditional e-commerce platforms. For instance, it can process and respond to customer queries and requests faster than a human can, which can lead to a higher level of customer satisfaction. AI can identify potential customer trends which can save you time and money. Another advantage of using AI is that it can help you to personalize your product and service offerings for each individual customer. This can be especially helpful for those customers who are indecisive or have a lot of shopping preferences.
AI can also help you to create custom content for your website, which can increase your web traffic. By using AI to analyze large amounts of data, retailers can personalize the shopping experience for each individual customer. This means that customers no longer have to search through hundreds of product pages to find the item they are looking for. All these benefits are more than enough to make sure why Artificial Intelligence is considered the trend of eCommerce.
Minimalism in design
Minimalism in design is effective in communicating a message and creating a visual statement. It is also associated with high-quality products, which is why it is being adopted by some of the most successful e-commerce brands today. Minimalist designs are often simple and sleek, making them easy to navigate and view. Additionally, they emphasize the main features and elements of a product, which makes it easy for shoppers to find what they are looking for. This simple design process style also eliminates the need for distracting graphics and fancy effects, which can be overwhelming for some shoppers.
Finally, minimalist designs can help to reduce the cost of Influencer marketing and advertising. By focusing on the key visual elements of a product and design, it becomes easier to create a brand that is recognizable and trustworthy. This trend is likely to continue as more and more shoppers are looking for ways to reduce their spending while still getting the quality they expect.
Conclusion
The design trends for eCommerce will continue to evolve, and the way we interact with online stores will be very different in the future. It's important to stay on top of this trend so you can keep your business looking great! The main point of this blog post is to provide you with some ideas about these trends and how they can be used for your eCommerce website development. To make your job easy, we have compiled a list of these 8 most important trends that are expected to make a big impact on eCommerce stores in the next few years.
Alakmalak Technologies has expert & skilled designers and developers who are well-equipped to develop customized websites & applications to fulfill your needs. Get in touch with our experts now!
OVER
600 Small, Medium

and

Large

Enterprise business clients have chosen us from

35 COUNTRIES
Federico Bilches

www.latmeco.com

I want to thank all Alakmalak team for take my project and help me to improve my website! Thank you for your responsibility and seriousness at the time to do corrections and improvements on my website and for always be in touch with me. Highly recommended! Great team! Great company! I'm very thankful Alakmalak!

A few kinds words to say about Alakmalak programming and design. Working with these guys is always such a great relief. You know you are getting your stuff done right and usually always in a timely fashion. I'm a middle man for the most part And my clients are always happy with the end result.