Ecommerce Conversion Hacks To Boost Sales Like Crazy
How would you describe eCommerce conversion hacks? If you haven't heard of them before, they are techniques to increase sales conversions and boost revenue. Imagine being able to sell more of your products simply by changing a single word on your website. What if you could get more leads, convert them into loyal customers, and close more deals within minutes?
That's exactly what happens when you implement some proven eCommerce conversion hacks that boost sales like crazy. Conversion rate optimization (CRO) is the technique behind optimizing every aspect of your site and landing page to maximize conversions. Here are some of the top conversion hacks. In this article, I'll show you how to apply these strategies to your store and start raking in more profits.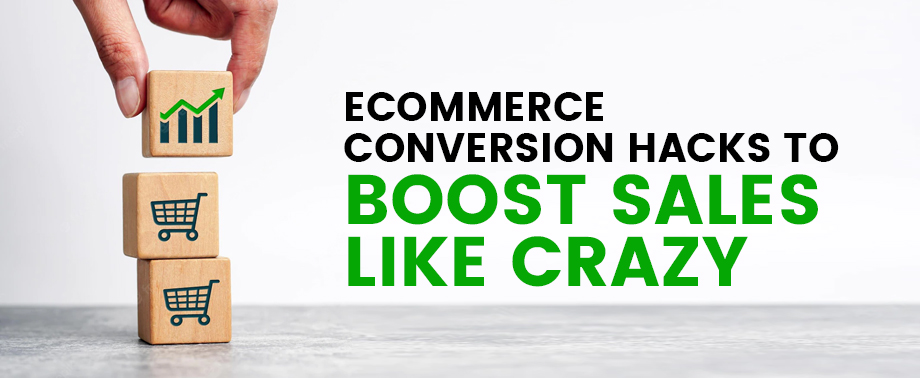 So, let's get started and learn about some of the eCommerce conversion hacks to boost sales like crazy:-
1. Provide Personalized Content
Personalized content is one of the best methods for boosting your eCommerce sales. It helps you to connect with your potential customers in a more personal way and delivers relevant, engaging information that is likely to appeal to them. Additionally, personalized content can help you build trust and authority with your customers, which can result in higher conversion rates (and increased revenue).
When writing personalized content, make sure that it is well-researched and contains original thoughts instead of recycled platitudes or stale marketing slogans. The goal isn't simply to regurgitate old material; rather, fresh perspectives should be incorporated into each piece so that it feels like an exclusive conversation between you and your prospective customers. And finally, make sure to continue providing new and compelling content on a regular basis so as not to lose touch with your audience and thus, you can increase your average conversion rates.
2. Smooth navigation
Smooth, easy-to-use navigation can be a major factor in boosting your eCommerce sales. Not only is it pleasing to the eyes, but it also makes navigating your website easier and more efficient for your customers. By providing them with an intuitive interface that is organized logically, you are encouraging them to spend more time on your site and ultimately buy more products.
In addition to easing the shopping experience, good navigation and enhanced user experience should also lead potential buyers directly to the pages that they are looking for. This means that all of your content is easily accessible without having to search through different sections or pages.
Additionally, adding images or product videos alongside text can further enhance the user experience.
3. Make your CTA bold and clear
A great call to action button can help you boost your eCommerce sales by creating a sales funnel that attracts more shoppers to your site. By using an eye-catching headline, memorable copy, and persuasive images, you can ensure that your visitors take the necessary steps required to purchase what they have been searching for. Your headline should be short but punchy and should encapsulate the main selling points of your product or service.
It is also important to use clear language that is easy for people to understand. In addition, make sure all of the other elements – including your images – are high quality and capture shoppers' attention immediately. Finally, test different versions of your call-to-action scheme in order to find one that works best for you and targets specific demographics(such as male or female customers).
4. Build Curiosity
When you design your eCommerce website, one of the most important factors to consider is how to create curiosity. This involves appealing to your prospective customers' senses and making sure that they're constantly curious about what's happening on your site. One way to do this is by using interesting visuals that are relevant to your product or service. For example, if you sell kitchen tools, then include photographs of knives being utilized in various culinary recipes.
Additionally, make use of eye-catching product video content that showcases how the tool will be used in a particular scenario. And finally, keep track of what's trending so you can feature similar items on your page for customers who are looking for something new and exciting! By doing these things, you'll not only increase traffic and conversions but also foster an aura of trust and confidence around your business. Ultimately, building curiosity will help boost sales across all channels!
5. Retarget Customers
Retargeting your old customers can be a powerful way to boost your eCommerce sales. By retargeting your old customers, you can remind them of your products and services and encourage them to return.
This strategy is especially effective if you have discontinued or reduced the availability of one of your products or if you've made changes to the design or performance of your website that caused customer dissatisfaction.
By targeting these specific individuals with relevant ads, you can help bring people back into the fold who might not have visited in a while and convert those lost leads into additional revenue for your business.
6. Make the Checkout Process Easy
Making the checkout process easy is one of the most important steps you can take to increase your eCommerce sales. This is because customers are more likely to make a purchase when they don't have to struggle with complicated or difficult instructions. In addition, making it easy for them to find what they're looking for and completing the purchase quickly should reduce total shopping time on your website.
Some common ways that you can make the checkout process easier include using prominent search engine optimization (SEO) techniques, creating well-organized pages with clear navigation, and testing different payment methods so that you are able not only to accept but also display compatible payment options prominently on your website.
By taking these simple measures, you can help boost customer conversion rates and encourage repeat visits from those who already shop at your site.
7. Offer Free Shipping
Offering free shipping is a great way to boost your eCommerce sales. Not only do customers appreciate the convenience of receiving orders promptly, but they also tend to spend more when items are shipped free of charge. In fact, research has shown that up to 80% of consumers will spend more on an item if it's delivered quickly and without any additional costs.
Moreover, offering free shipping can help you reduce overhead costs by decreasing the amount of money that you need to invest in packaging and shipping logistics. This enables you to focus on developing better products that customers will genuinely want and enjoy using. Remember early adopters who take advantage of FREE Shipping offers are often the ones who end up driving much larger gross profits for their businesses.
8. Provide social proof
Social proof is a psychological phenomenon in which people give greater weight to information that conforms to their expectations or norms. This can be an important factor when it comes to influencing consumer behavior and decision-making.
Providing social proof can help increase conversions by confirming what the customer sees as being true about your product or service.
This might include feedback from previous customers, positive reviews, photos of happy users, or videos of how your product has been used in real life. By providing social proof, you are putting yourself on par with other brands that the customer may have established trust relationships with over time. In cases where credibility is at stake, this type of reinforcement can be very powerful indeed!
9. Offer Fast Delivery
Offer Fast Delivery is a great way to boost your eCommerce sales because it allows you to offer faster shipping times than your competitors. This can be helpful in two ways: first, it can motivate customers who are on the fence about making a purchase to buy sooner rather than later. Second, it can reduce the amount of time that buyers need to wait for their order to arrive.
In addition, Offer Fast Delivery helps you keep your products fresh by ensuring that they reach customers as quickly as possible. The speed at which orders are processed enables you to avoid late shipping and lost profits due to not having enough stock on hand. Moreover, offering fast delivery helps customers feel valued and appreciated. A sense of urgency will lead them to buy more products since they know that they will receive their purchases quickly and without any delays or problems.
Conclusion
Thanks to these hacks, your eCommerce conversion rates will skyrocket. All you have to do is follow the guidelines we shared above and start using the tricks today. These are just a few of many that work like a charm! Just keep experimenting and improving these tactics until you find what works for your store. Once you do, start seeing major improvements in sales.
If you need any help, please feel free to reach out to our team of experts at any time!

What's Next ?
I know after reading such an interesting article you will be waiting for more. Here are the best opportunities waiting for you.
For Such Interesting articles

Uncover our captivating services

Supercharge your business with us