Get a Free Quote
You will receive quote within 24 Hrs
How Much Does it Cost to Build a Website for Small Businesses?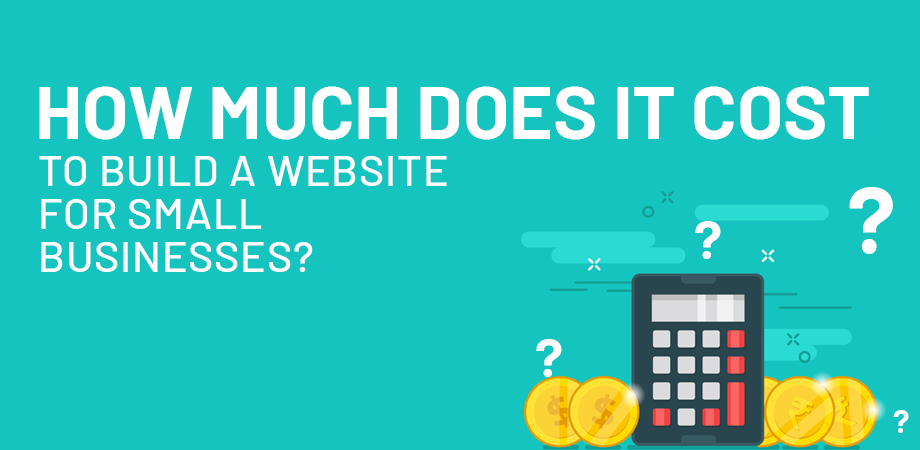 There is numerous upfront creation cost to consider when beginning your own business. The majority of them are simple, be it the office space, incorporation fees, insurance, and even paper clips are regularly priced.
However, cost estimation of a new website can be difficult as there is a wide range of options available, even though it is one of the most crucial tools a small business can have. Because each project is unique, design firms and developers rarely advertise standard pricing for a website. If you conduct your own research online, you'll find articles estimating the cost to be anywhere from $1,000 to tens of thousands of dollars in development and design expenses, not to mention the additional costs of domains, hosting, SEO consultation, logos, and branding, marketing, and more.
What Are the Different Methods for Creating a Website?
Before we get into the figures, you should decide who will build your website. You basically have two possibilities, each with a different price range.
Hire a Professional Freelancer
Professional website developers that work as freelancers will build and launch your site for you. Furthermore, they will collaborate with you to determine your vision and goals for your site.
One thing to keep in mind concerning freelancers: you'll want to select someone who will provide you with the website you're looking for. This entails reviewing their portfolio and discussing the project with them. Pricing may not be entirely reflective of their skill and talent. Occasionally, the best coders will price the most. On occasion, you'll come across incredibly talented developers at a low cost. Essentially, you'll want to go with someone that knows what they're doing and is worth the money they're asking.
The DIY option may be the most cost-effective way to develop your site. You can build a website on your own for a few hundred bucks if you follow the steps outlined in this essay.
DIY websites allow you the entire control over your site's design, content, and layout. Though it appears to be a time-consuming and difficult operation, systems such as WordPress, SquareSpace, Wix, and others make it quick and simple. And, yes, even for beginners. When you construct your own website, we can't give you exact pricing. The final cost will be determined mostly by the style of website you establish and the builders you hire to do the work.
What do You Need to Build a Website?
Every website must have three non-negotiable initial costs:
Your domain name is the internet address for your websites, such as optinmonster.com or wpbeginner.com. This is the address, often known as the URL, that visitors will enter into their browsers to access your website. You must register a domain name in order to use it.
A domain name is yours for a year after you register it. Of course, you can keep renewing the domain registration and keep the name indefinitely if you choose. You can even let the registration expire if you get weary of it.
If your domain name is the address of your website, the host is the house or storage facility where all of your belongings are kept. When users utilize your URL, web hosting firms store your files and deliver website content to them.
Furthermore, web hosting costs endeavor to maintain internet connectivity in order to keep your site up and running for visitors no matter when they visit or from where they visit. Bluehost, GoDaddy, DreamHost, and HostGator are examples of hosts. They provide various types of website hosting, two of which will be discussed in this article: shared hosting and managed to host.
The website builder will be in charge of designing what everyone sees when they visit your website. Whether you're a novice or an experienced developer, the majority of online business owners will prefer to use a website builder to establish their website. 
Website builders make it simple to design a stunning website that appears exactly how you want it to. You may also quickly and easily add all of the features you require.
Estimating the Cost to Build a Website:
So, let's go over some questions to assist you in better defining your objectives for your small company website. This can help you avoid overspending when you are setting everything up.
Do You Really Need a Custom-Built Website?
There are many customization options available to build a website and also it is an expensive option but installing a pre-built WordPress theme is the most convenient and cost-effective solution for many small businesses to create a new website. Furthermore, it helps you save money by eliminating the need to hire out the task. Most themes are modifiable, so you may give it a one-of-a-kind look without investing time or money and also it helps to increase user experience. Thus, the custom-built website may not be the cheapest option for you than having a pre-built website as it not only increase development cost but also increases the design cost 
However, if you want to invest your money in a custom-built website, you will almost certainly need to hire a website developer. A ready-made template-based website can range in price from $700 to $15,000. A custom one can cost anything from 1000 to 5000 $ for information, and any custom applications can cost anywhere from 5000 $ to a few million dollars depending on what you want.
Think of the Features that You will Need
When you initially start, you probably won't need all of the functionality that you see on more established websites. So, make a list of the required components for the launch of your site. Then, make a list of additional features you'd like to add later.
These lists will assist you in streamlining the development of your site. It will also help you save money on the initial expense of developing your website.
First, you don't need all of the bells and whistles that a smart website has. You can utilize free tools; they perform well but bear in mind that they have limitations, so don't rely entirely on them. 
Begin with an MVP – Minimum Viable Product – so that you have a set of features that are must-haves to begin with and good-to-have features that can wait.
You don't have to be an expert web designer to use a pre-built WordPress theme. This will also keep design expenditures to a minimum. Premium themes might cost between $100 and $200 each year.
While there are numerous free design options in WordPress themes available, we recommend that you use a premium theme designed for businesses that can be sufficient in your limited budget. Of course, you can select another responsive WordPress theme with the characteristics you require in the development and design process for such custom design.
There are numerous other plugins and SEO tools that you may want to employ. WordPress, in reality, has over 55,000 plugins. If you need help selecting the finest WordPress plugins for your site, consult our list of the best WordPress plugins. 
Pay for plugins only when you require the premium or any extra features. However, as a small business, you should expect to pay for some plugins, especially if you want to incorporate an online store into your simple website.
Wrapping Up:
Starting small is the greatest approach to avoid overpaying saving money on your website maintenance costs and investing in such a complex website. To save money, you may always look through the free WordPress theme and plugin directories to improve your website and keep doing work on search engine optimization for better ranking.
Once you've started attracting visitors and improvising your online presence, you should think about investing in a premium theme and premium plugins for further advanced features. Keep an eye out for WordPress offers and coupons to receive substantial discounts on your purchases to stay within your budget. 
A growing company website will also require a more powerful hosting service arrangement than a basic website which not only increases their development cost but also increase their maintenance costs. It is also possible that you may need to optimize your WordPress server on a regular basis. Consider hosting your site on a dedicated hosting server to run it on a server that is particularly tailored for website security configuration.
OVER
600 Small, Medium

and

Large

Enterprise business clients have chosen us from

35 COUNTRIES
Federico Bilches

www.latmeco.com

I want to thank all Alakmalak team for take my project and help me to improve my website! Thank you for your responsibility and seriousness at the time to do corrections and improvements on my website and for always be in touch with me. Highly recommended! Great team! Great company! I'm very thankful Alakmalak!

A few kinds words to say about Alakmalak programming and design. Working with these guys is always such a great relief. You know you are getting your stuff done right and usually always in a timely fashion. I'm a middle man for the most part And my clients are always happy with the end result.