How Much Does it Cost of Building a Website for Small Businesses?
When starting a small business and considering to have a website, understanding the cost of building a website is crucial. The upfront creation costs for a website, like office space and insurance, are straightforward. However, estimating the cost of a new website can be challenging due to the wide range of options available. Design firms and developers usually don't have standard pricing as each project is unique. Online research may show estimates ranging from a few thousand dollars to tens of thousands for development and design, not to mention additional expenses like domains, hosting, SEO consultation, logos, branding, marketing, and more.
For small business websites, costs can vary based on factors such as design complexity, functionality needs, and ongoing maintenance. Monthly costs may include expenses for premium plugins, dedicated or private servers, and domain registration. Investing in a user-friendly design, effective content management, and search engine optimization (SEO) can enhance user experience and overall website performance. Exploring options from different domain registrars and considering essential elements like a dedicated server or private server can help in managing costs effectively while building a valuable online presence for your business.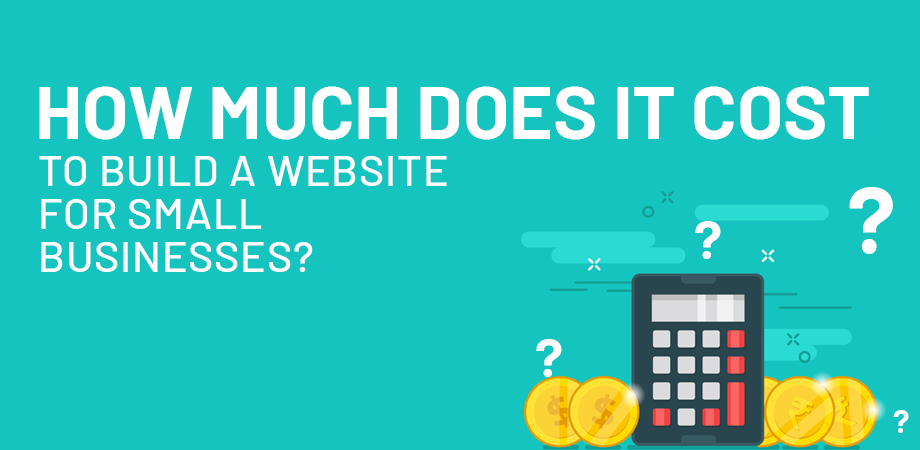 What Are the Different Methods for Creating a Website?
Before we get into the cost of building a website, you should decide who will build your website. You basically have two possibilities, each with a different price range.
1. Hire a Professional Freelancer
Hiring professional website developers who work as freelancers can be a great way to bring your website vision to life. These developers not only build and launch your site but also collaborate with you to understand your goals. When choosing a freelancer, it's essential to review their portfolio and discuss your project with them. Keep in mind that pricing may not always reflect their skill level. Sometimes, highly skilled developers may charge more, while you might find talented developers offering their services at a lower cost. Ultimately, it's important to select someone who understands your needs and delivers a website that aligns with your vision.
The average cost for freelancers can vary, and for a professional website, it might range from a few hundred to several thousand dollars. This cost can include aspects like content management, design, and even ongoing maintenance costs. When working with freelancers, communication is key to ensure you're on the same page regarding the project scope and associated costs. Understanding the breakdown of costs, including design and maintenance, is crucial for budgeting and getting the website you desire.
2. Do-It-Yourself (DIY)
The DIY option may be the most cost-effective way to develop your site. You can build a website on your own for a few hundred bucks if you follow the steps outlined in this essay.
DIY websites allow you the entire control over your site's design, content, and layout. Though it appears to be a time-consuming and difficult operation, systems such as WordPress, Squarespace, Wix, and others make it quick and simple. And, yes, even for beginners. When you construct your own website, we can't give you exact pricing. The final cost will be determined mostly by the style of the website you establish and the builders you hire to do the work.
What do You Need to Build a Website?
Every website must have three non-negotiable initial costs that will include in your cost of building a website for your small business:
1. Domain Name
When building a business website, a domain name is a necessary investment. The domain name serves as your internet address, like optinmonster.com or wpbeginner.com. Visitors use this URL to reach your website. Registering a domain name is a crucial step, and typically, you pay for its use on an annual basis. You have the option to renew the registration to maintain ownership, or if you decide not to, the registration can expire.
The average cost of a domain name varies, and it's influenced by factors like the domain registrar and any additional features you choose, such as domain privacy. Domain registrars are companies that facilitate the registration process. Some popular domain name providers include GoDaddy, Namecheap, and Google Domains. It's common for businesses to opt for a custom domain, which is a unique and branded web address. Understanding the costs associated with a domain, including any extra features like domain privacy, is crucial for budgeting when establishing an online presence.
2. Website Hosting
If your domain name is like the address of your website, then think of the host as the house or storage facility where all your website's content is kept. When someone uses your website's URL, web hosting companies store your files and make sure the website content gets delivered to them. Additionally, web hosting costs cover maintaining internet connectivity, ensuring your site stays accessible for visitors, no matter when or from where they visit.
There are various hosting providers like Bluehost, GoDaddy, DreamHost, and HostGator. They offer different types of hosting services, two of which we'll discuss here: shared hosting and managed hosting. The average cost of hosting can vary based on factors like the hosting provider, the type of hosting service, and any additional features. Shared hosting is like living in an apartment – you share resources with other websites. Managed hosting is more like having a service that takes care of the technical aspects of your website, providing a bit more personalized attention.
Understanding the hosting costs and choosing the right type of hosting for your website is crucial to ensure it runs smoothly and meets your needs. Some hosting services also offer scalable hosting, allowing you to adjust resources as your website grows. Dedicated hosting is another type where you have a server all to yourself, providing maximum control and performance. Knowing the typical cost and type of hosting that suits your website's requirements is important for a successful online presence.
3. Website Builder
The website builder takes charge of creating the look of your website, making it the go-to choice for many online business owners, whether they are beginners or experienced developers. Using a website builder simplifies the process of designing a visually appealing website that suits your preferences. It allows you to effortlessly add the necessary features, making the entire website creation process straightforward.
The average cost of using a website builder varies, and many offer a range of pricing plans to accommodate different needs. Some website builders may have free versions, while others may offer premium features or plugins at an additional cost. The exact cost can depend on factors like the chosen plan, any premium features or plugins you select, and specific design requirements. Utilizing a website builder not only makes the design process more accessible but also often eliminates the need for spending thousands of dollars on custom design, making it a cost-effective option for many business owners.
Estimating the Cost of Building a Website:
So, let's go over some questions how much does it cost of building a website that will assist you in better defining your objectives for your small company website. This can help you avoid overspending when you are setting everything up.
1. Do You Really Need a Custom-Built Website?
There are many customization options available for website development and also it is an expensive option but installing a pre-built WordPress theme is the most convenient and cost-effective solution for many small businesses and will decrease the cost of building a website. Furthermore, it helps you save money by eliminating the need to hire out the task.
Most themes are modifiable, so you may give it a one-of-a-kind look without investing time or money and also it helps to increase user experience. Thus, the custom-built website may not be the cheapest option for you than having a pre-built website as it not only increases development cost but also increases the design cost 
However, if you want to invest your money in a custom-built website, you will almost certainly need to hire a website developer. A ready-made template-based website can range in price from $700 to $15,000. A custom one can cost anything from 1000 to 5000 $ for information, and any custom applications can cost anywhere from 5000 $ to a few million dollars depending on what you want.
2. Think of the Features that You will Need
To save costs when developing a website, it's smart to only include the features you truly need, especially when starting out. In the beginning, you may not require all the functionalities seen on more established websites. Create a list of essential components that your site needs for its launch. Then, make a separate list of additional features you'd like to add in the future. This approach helps streamline the development process and allows you to focus on the necessary features initially.
These lists not only guide the development of your site but also save you money on the initial expenses. Consider including essential features like search engines optimization and security features to ensure your site is both discoverable and safe. As your website grows, you can gradually add more fancy features or payment features based on your evolving needs and available budget. By prioritizing features, you make the most of your resources while still creating a functional and effective website.
3. Start with an MVP
When creating a website, remember that you don't need all the fancy features right away. You can use free tools that work well, but keep in mind they may have some limitations. Instead of aiming for a fully-loaded website from the start, consider starting with an MVP – a Minimum Viable Product. This means focusing on essential features like content management and basic search engine optimization. These are the must-haves to get your website up and running. You can add more advanced features and design elements later when you have more resources.
Additionally, for E-commerce websites, it's crucial to manage costs wisely. You can start with a basic setup and then expand as your business grows. Instead of investing in a dedicated server right away, consider more cost-effective options. Begin with a reasonable marketing budget and gradually increase it as your website gains traction. By prioritizing and starting with the essentials, you create a solid foundation for your website without overwhelming yourself with unnecessary costs.
4. WordPress Themes
You don't have to be an expert web designer to use a pre-built WordPress development theme. This will also keep design expenditures to a minimum. Premium themes might cost between $100 and $200 each year.
While there are numerous free design options in WordPress themes available, we recommend that you use a premium theme designed for businesses that can be sufficient in your limited budget that is other than saving the cost of developing a website. Of course, you can select another responsive WordPress theme with the characteristics you require in the development and design process for such a custom design.
5. WordPress Plugins
There are many plugins and SEO tools available, with WordPress alone offering over 55,000 plugins. It's essential to choose the ones that best suit your website's needs. For guidance, you can refer to lists of the best WordPress plugins to help you make informed decisions. While there are numerous options, it's advisable to pay for premium plugins only when you genuinely need the extra features they offer. Small businesses, especially those with simple websites, may find some free plugins suitable for their requirements.
When considering plugins, prioritize essentials like security plugins and backup plugins to safeguard your website. These plugins help protect your site from potential threats and ensure you have a backup in case anything goes wrong. Additionally, incorporating maintenance plugins can assist in keeping your website running smoothly over time. While some plugins may require a fee, investing wisely in those that enhance the security and functionality of your website is crucial for its long-term success.
Wrapping Up:
Wrapping your question "What is the average cost of building a website?"Starting small is the greatest approach to avoid overpaying saving money on your cost of developing a website, website maintenance costs, and investing in such a complex website. To save money, you may always look through the free WordPress theme and plugin directories to improve your website and keep doing work on search engine optimization for better ranking that will help you in saving the cost of building a website for your small business.
Once you've started attracting visitors and improvising your online presence, you should think about investing in a premium theme and premium plugins for further advanced features. Keep an eye out for WordPress offers and coupons to receive substantial discounts on your purchases to stay within your budget. 
A growing company website will also require a more powerful hosting service arrangement than a basic website which not only increases their development cost but also increase maintenance costs. It is also possible that you may need to optimize your WordPress server on a regular basis. Consider hosting your site on a dedicated hosting server to run it on a server that is particularly tailored for website security configuration.
But I would like to suggest that you do not need to fall into this all when Alakmalak Technologies provide the website development at just 18$ / hr, which is very affordable compared to the market. We provide the development with the latest technology and we have a highly experienced team of developers that will guide you on the right path. 
"Contact Us" to get free consultation for your website development. 

What's Next ?
I know after reading such an interesting article you will be waiting for more. Here are the best opportunities waiting for you.
For Such Interesting articles

Uncover our captivating services

Supercharge your business with us