How to configure Captcha In Joomla3.x.?
So you made your website and now have the much required contact or feedback form on your website for the visitors to contact you. This is a good thing since every website should have a feedback form of some kind. But what is also required is the correct level of security to prevent users from misusing your feedback form.
It is highly likely that now you have installed he feedback form you receive more SPAM emails than useful ones. These are usually emails sent by bots and not humans and there is a way to avoid that. A very common technique used by most of the website is to add a Captcha code to the end of the form. Though this is an added field for the visitors to handle it will ensure that your inbox is not flooded with unnecessary and useless SPAM.
It is possible to configure a Captcha code for your forms in your Joomla website by simply following the procedure below:
Image Courtesy: inmotionhosting.com
To start with login to the admin section of your Joomla website.
Now navigate to the Global Configuration from the admin menu like System >> Global Configuration.
Here you will find an option where you can select the Captcha from a drop down box on your system.
Once you select the Captcha press the save button and you are done. On the other hand if you do not have any Captcha plugin installed on your system no options will come up in the drop down box.
Thus you will first need to install a Captcha plugin.
There are many different kinds of Captcha plugins available; hence I will select the Play through Captcha plugin simply because it is unique.
You will need to download the plugin from the Joomla extensions page first and prepare your Joomla administration section for install of new plugin by going to the Extension Manager in the Extensions menu option.
Select the plugin you have downloaded and install it onto your website.
You will also need to register on the website of the plugin for the necessary keys. The necessary instructions are provided after you install the plugin.
Thus once you do register your website and get the keys you will need to go back to the admin section of your Joomla website and select the plugin from the plugins section. Here there are two boxes provided to enter the two keys that you have obtained.
Enter the keys and enable the plugin.
Now that you do have a plugin you can go back to the Global Configurations options and select it from the drop down box.
You now have a Capcha installed for your Joomla website.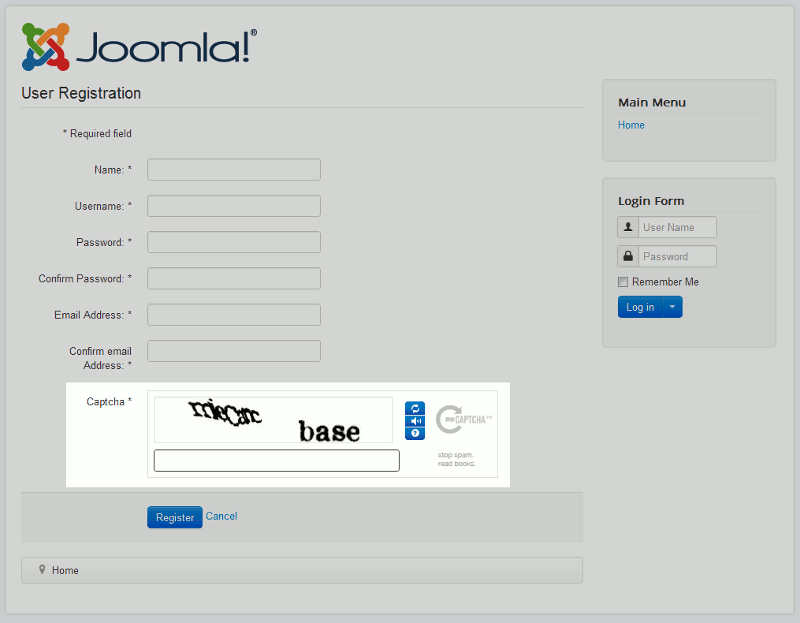 Image Courtesy: inmotionhosting.com
Thus Joomla is one open source software that is very easy to handle in terms of adding plugins and configuring it. The initial setup of your website may be slightly difficult though once you do get you website ready it is easy to maintain. You always have the option of taking the help of a professional Joomla Web Developer in order to make a state of the art Joomla website.
Alakmalak is one such Joomla Web Development company that can help you out with just about any kind of requirement pertaining to Joomla.
Why Choose Alakmalak As a Your Growth Partner?

Alakmalak is a Web Development Company In India that offers services for several technologies. There have been around for a very long time and have developed over 2500 projects for clients all around the world. They have highly skilled web developers with a great deal of experience.
How to use ReCaptcha in Joomla

What's Next ?
I know after reading such an interesting article you will be waiting for more. Here are the best opportunities waiting for you.
For Such Interesting articles

Uncover our captivating services

Supercharge your business with us