Get a Free Quote
You will receive quote within 24 Hrs
Best Blog Themes Available For Your Shopify Store
Do you want to give your Shopify store a fresh and new look? If so, you'll want to consider some of the best blog themes available for your online business. These premium themes let you customize your blog page exactly the way you want it, and they come with tons of features that will make your blog easier to manage and more user-friendly. From fashion and lifestyle blogs to tech blogs and more, these themes will give your shop a stylish and unique look. Whether you're a small business or a major corporation, these themes are sure to fit your needs. So whether you're looking for a theme that's visually appealing or one that offers tons of customization options, we've got you covered. Ready to dive in? We've compiled a list of the best blog themes available today, perfect for any business.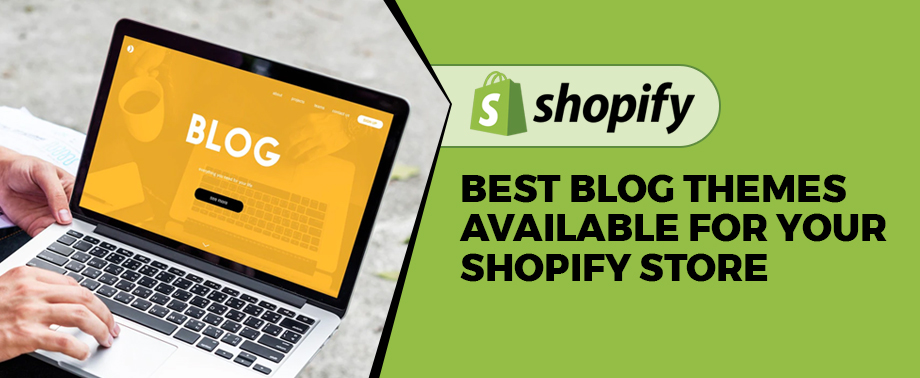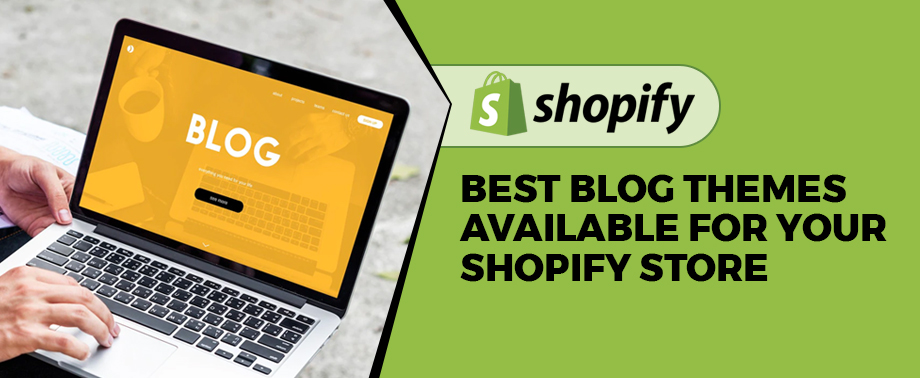 Here is the list of some of the best themes that are available for your Shopify store:-
1. Vogue
Shopify is an eCommerce platform that allows you to create a store from scratch, or you can use one of the many pre-made templates. When it comes to theme selection, there are a number of factors that you need to take into account, including your potential customers, target market, product details, and budget. One of the best blog theme styles for Shopify stores is vogue because it has been designed specifically for fashion retailers and offers tons of features related to styling your shop and building out marketing campaigns.
This theme also includes built-in SEO (Search Engine Optimization) tools so that you can improve your website's search engine rankings. Additionally, vogue supports multiple languages which makes it ideal for international customers. Plus, this template is simple enough for novice users but provides plenty of customizability options so that you can tailor it exactly how you want it! So if you're looking for a professional yet user-friendly shopping experience on Shopify, then try out Vogue!
2. Wokiee
Wokiee is a premium blog theme style that was specifically designed for Shopify stores. It has all the features and customization options that you need to create an amazing online store. Plus, it's super easy to deploy and manage, so you won't have any problems setting up or managing your blog posts with Wokiee. One of the unique selling points of Wokiee is its drag-and-drop builder. This makes it easy for you to customize each page on your website without any coding skills required.
You can also add custom fonts and color schemes, making your site look beautiful from start to finish. In addition, Wokiee comes with built-in SEO tools that will help improve your search engine ranking (SEO). And if content marketing is important to you, then be sure to check out Wokiee's powerful blogging capabilities! With this theme installed in your store, creating engaging and interesting articles should not be a problem at all.
3. Parallax
Parallax offers a variety of features that are ideal for an online business. First and foremost, Parallax comes with an easy-to-use drag & drop Builder that makes creating custom pages or posts a breeze. Additionally, it has built-in SEO optimizations that help increase your website's traffic rank.
Moreover, Parallax also comes with powerful marketing tools like Custom Ads and Adsense ready so you can effectively promote your products and services to reach more people. Last but not least, Parallax has a responsive theme across all devices which means it looks great on both mobile and desktop browsers.
4. Retina
The retina is a popular blog theme that was designed specifically for Shopify stores. This template is heavily laden with features that make it ideal for eCommerce businesses. Some of the most notable include an easy-to-use shopping cart, drag and drop parallax sections, retina-ready fonts and imagery, social media integration, and more.
Furthermore, Retina was built with performance in mind; so your customers will have a great user experience and will also experience minimal loading times while browsing your shop. Additionally, shipping rates are automatically calculated based on customer location and purchase volume! Finally, customer reviews are easily accessible through Retina's integrated Google Ajax search feature.
5. Porto
Porto is considered one of the best blog themes for your Shopify store because it's designed to be sleek, modern, and easy to use. It has a well-thought-out design that allows you to build a powerful blog quickly and easily. Additionally, Porto offers customizable features such as parallax scrolling and unlimited colors for your theme backgrounds.
In addition to its great looks, Porto also includes all the essential features that are needed for successful blogging including an option to create custom post templates, social media feeds integration, Google Fonts support, and the list goes on! Plus portfolio pages let you showcase multiple brands or products under one roof in style with modal windows and lightboxes. 
6. Goodwin
Goodwell is an eCommerce platform that helps businesses of all sizes to design, develop, and launch a custom Shopify store. We take care of everything from configuring your shop to creating engaging content and converting leads into customers. Plus, our customer support team is available 24/7 to help you with whatever you need.
One of the reasons why Goodwell is such a popular choice among Shopify merchants is because we understand how important it is to have beautiful and functional themes that reflect your brand. So whether you're looking for something simple or want something completely unique, we've got you covered! We also provide tons of customization options so that you can make sure your site looks exactly the way YOU want it to look.
7. Kalles
Kalles is considered the best blog theme for your Shopify store because it provides a wide range of features that can be customized to fit your business needs. This includes a custom header and footer, social media integration, layout options, and more. Additionally, Kalles is easy to use and has an intuitive design that makes creating or editing content quick and easy.
In addition, you can also customize the look of your posts with different fonts and colors. Overall, Kalles offers everything you need in a blog theme for your Shopify store: flexibility, convenience, and stylistic versatility. So if you're looking for an appealing way to present your products or services online then Kalles should definitely be at the top of your list!
8. Venture
The venture is one of the most popular blog themes on Shopify and for good reason. It is powerful, easy to use, and customizable – making it perfect for any kind of business. The venture also features a wide range of distinct customizations that can be added such as font variations, colors, and layout options. This makes it ideal for both personal and corporate blogs.
Furthermore, Venture supports WooCommerce out-of-the-box which means you don't have to worry about design adjustments or compatibility issues when installing the theme. Plus, its SEO-friendly nature ensures that your blog will rank well in search engines regardless of how competitive the market may be at any given time. If you're looking for a versatile shopification theme that will give your store an edge over your competition – look no further than Venture!
9. Roxxe
Roxxe is considered the best blog theme for Shopify stores because it provides an easy-to-use and customize a design that suits a variety of business needs. It also includes key features such as customizable widgets, social media integration, the imaginative mode that allows you to easily create photos and videos using just your browser, a drag-and-drop cart wizard for easy creation of your shopping carts, automatic site loading speeds optimized for mobile devices, full support for Google Analytics tracking so you can see how people are interacting with your website, responsive design so it looks great on all types of screens from small phones to large desktop monitors.
In addition to these amazing features, Roxxe also comes with clear documentation that walks users through every step of the process from setting up the theme to building their first page. There's no need to be a developer or designer in order not to rock this theme – anyone can take advantage!
Conclusion
If you're looking for the perfect blog theme for your Shopify store, you've come to the right place! We've compiled a list of the best blog themes that are currently available, and they're all tailor-made for Shopify stores. With these themes, you'll have everything you need to create a professional and eye-catching blog that will help you achieve your business goals. So don't wait any longer – start building your blog today and see the difference!
Reach us to know more about our design and development services that can bring success even before the website is developed.
OVER
600 Small, Medium

and

Large

Enterprise business clients have chosen us from

35 COUNTRIES
Federico Bilches

www.latmeco.com

I want to thank all Alakmalak team for take my project and help me to improve my website! Thank you for your responsibility and seriousness at the time to do corrections and improvements on my website and for always be in touch with me. Highly recommended! Great team! Great company! I'm very thankful Alakmalak!

A few kinds words to say about Alakmalak programming and design. Working with these guys is always such a great relief. You know you are getting your stuff done right and usually always in a timely fashion. I'm a middle man for the most part And my clients are always happy with the end result.