Get a Free Quote
You will receive quote within 24 Hrs
Benefits of Multilingual Website to help you grow your Business
Are you looking for ways to expand your business? If yes, then you should consider having a multilingual website. The reason why is because it helps you reach out to new customers who speak other languages.
There are millions of websites on the web today, and most of them are English-only. This means that only half of the global population has access to those sites. That's why it is important to have a multilingual site.
A multilingual website gives you the opportunity to reach out to people from different countries and cultures. For example, if you sell clothes, then you can target people in different countries. There are several benefits of having a multilingual website, some of which are mentioned below.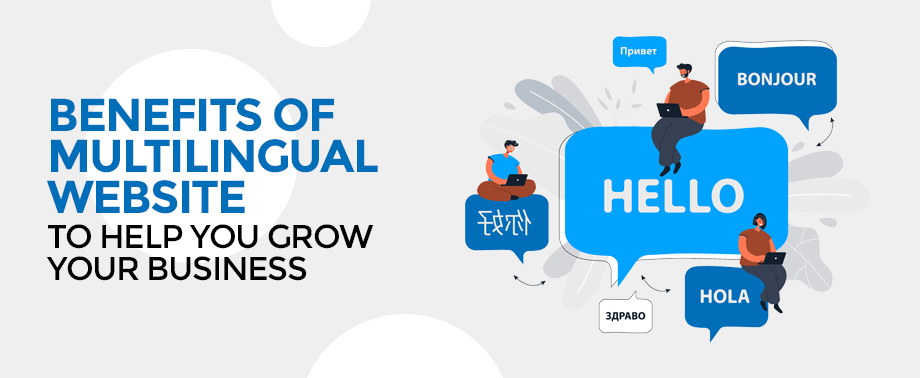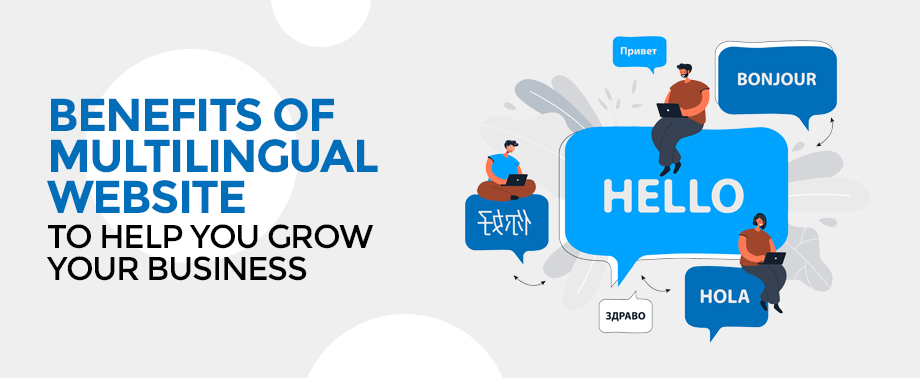 Here is the list of benefits that you can claim by having a Multilingual Website to help you grow your Business:-
Internationalization can increase sales
The internationalization of a website can increase sales by providing the international customer with the same product or service in the local language. This can make it easier for them to understand and find what they are looking for, and make them more likely to purchase from your website.
You can internationalize your website by using a multilingual content management system (CMS) that allows you to translate your website content into different languages. You can also use online translation tools to translate your website pages into different languages. You can also use online market research tools to find out which languages your customers are speaking. Then, you can create localized versions of your website pages for those languages.
Finally, you can use search engine optimization (SEO) techniques to make your website content more visible in search engine results pages (SERPs) for the languages that your customers are speaking.
Increase financial productivity
A multilingual website can provide increased Financial Productivity for a company because it can help the company to reach a wider audience. It allows you to create different versions of your website in different languages, which can help you to target a wider audience. A multilingual website can increase Financial Productivity by providing translation services for Financial Documents, Forms, and Brochures.
This can help customers understand the content more easily and make the process of purchase, transactions, etc. easier. You can also use multilingual content on your website to attract new customers. Additionally, a multilingual website can help businesses to increase their global brand visibility. By providing translations for various languages, a business can reach a larger audience that may not be able to understand the original content.
Cost-effective customer acquisition tactic
Multilingual websites can prove to be a cost-effective customer acquisition tactic by increasing website traffic and conversion rates. It offers a unique opportunity to reach a wider audience by catering to the needs of multiple languages. This can be done by translating all the content on the website, including the homepage, product descriptions, and FAQs.
In addition, multilingual websites can make use of localized advertising to target customers in specific geographies. This can be done by displaying ads in the language of the target market. By taking these steps, a multilingual website can increase revenue and customer base by attracting new customers from different language markets.
Take care of your international SEO
A multilingual website can take care of your international SEO by providing content in different languages that your target audience can read. This will help you rank higher in search engine results pages (SERPs) for your target keywords.
Your website should also have a global search engine optimization (SEO) strategy in place to help you improve your website's visibility across the web. With a well-optimized website, you will be able to attract more international traffic and better convert leads into sales.
There are a few things you need to take into account when translating your website:-
The text on your website should be translated. This includes both the content and the images. 

You need to make sure that the translation is accurate and error-free. 

The website's title, meta description, and keywords should be properly translated.
Expand Your Potential Market
A multilingual website can expand your potential market by providing a more comprehensive and accurate service to your current and potential customers. Not only will this help you to reach a larger audience, but it will also give you the opportunity to learn more about different cultures and to find new customers who may be interested in your products. 
Multilingual websites can also help you to increase the sales of your products and services by providing translated versions of your content. This can make it easier for customers to understand and purchase your products or services. In addition, a multilingual website can also help you to improve your SEO rankings by making your site available in multiple languages. This will make it easier for people to find your website and for you to rank higher in search engine results pages (SERPs).
Boost website's searchability in various markets
Multilingual websites can help boost websites' searchability in various markets by providing localized content for users in different countries. This localized content can include information on products and services, blog posts, or other materials that are specific to the local market. By providing localized content, a multilingual website can help to improve the overall user experience on the website. This will likely result in increased traffic to the website, which can help to boost its marketing efforts.
To maximize the website's searchability, it is important to follow a few guidelines:-
Translate the website's content using professional translators who are experienced in the relevant language and region.

Make sure all translated content is updated regularly, and that it is accurate and up to date.

Use keyword-rich titles and descriptions for translated pages, and include links to the original English pages where possible.
Beat the Competition
A multilingual website can help a business to stand out from the crowd as 95% of the businesses do not have a multilingual website. A multilingual website offers a wider range of choices for potential customers. This means that potential customers can find the product they are looking for in any language, which makes it easier for them to make a purchase. 
Furthermore, a multilingual website can help to promote a business in multiple languages. This is because it can generate more traffic to a business website from international markets. In addition, a multilingual website can also help to build customer loyalty because it offers a greater choice of products and services. All these benefits of having a multilingual website not only help you beat the competition but also help in staying ahead of the competition.
Client Satisfaction
A multilingual website provides the client with the ability to communicate with their company in their preferred language. This can be helpful for customers who are looking for a quick and easy solution to a problem, or for those who are unable to speak or understand the English language.
Providing information in multiple languages can help the business reach a wider audience. This could include customer testimonials, product descriptions, and information about services as it can help attract new customers from overseas. By offering services and products in multiple languages, businesses can reach a global customer base.
Conclusion
A multilingual website helps you to expand your business by targeting multiple countries. If you want to increase the number of clients from one country, then it is advisable to use a multilingual website. It also helps improve your brand image in other countries, while increasing the chances of selling more products. With so many benefits, it's no wonder that more and more businesses are adopting this strategy today.
When you can build your dream website for your business, then why wait? Contact Us Today to start building your dream with us.
OVER
600 Small, Medium

and

Large

Enterprise business clients have chosen us from

35 COUNTRIES
Federico Bilches

www.latmeco.com

I want to thank all Alakmalak team for take my project and help me to improve my website! Thank you for your responsibility and seriousness at the time to do corrections and improvements on my website and for always be in touch with me. Highly recommended! Great team! Great company! I'm very thankful Alakmalak!

A few kinds words to say about Alakmalak programming and design. Working with these guys is always such a great relief. You know you are getting your stuff done right and usually always in a timely fashion. I'm a middle man for the most part And my clients are always happy with the end result.