Get a Free Quote
You will receive quote within 24 Hrs
10 Outstanding benefits of Shopify for Ecommerce Development
As compared to brick and mortar stores, online stores are one of the best ways by which vendors can exhibit their products and services. The next thing that comes to mind is the choice of an e-commerce platform for the online store. It is one of the best eCommerce platforms for online Business. This contains a huge number of apps (over 4,000) more than any other e-commerce platform that I've come across. You must go for Shopify, which has numerous advantages.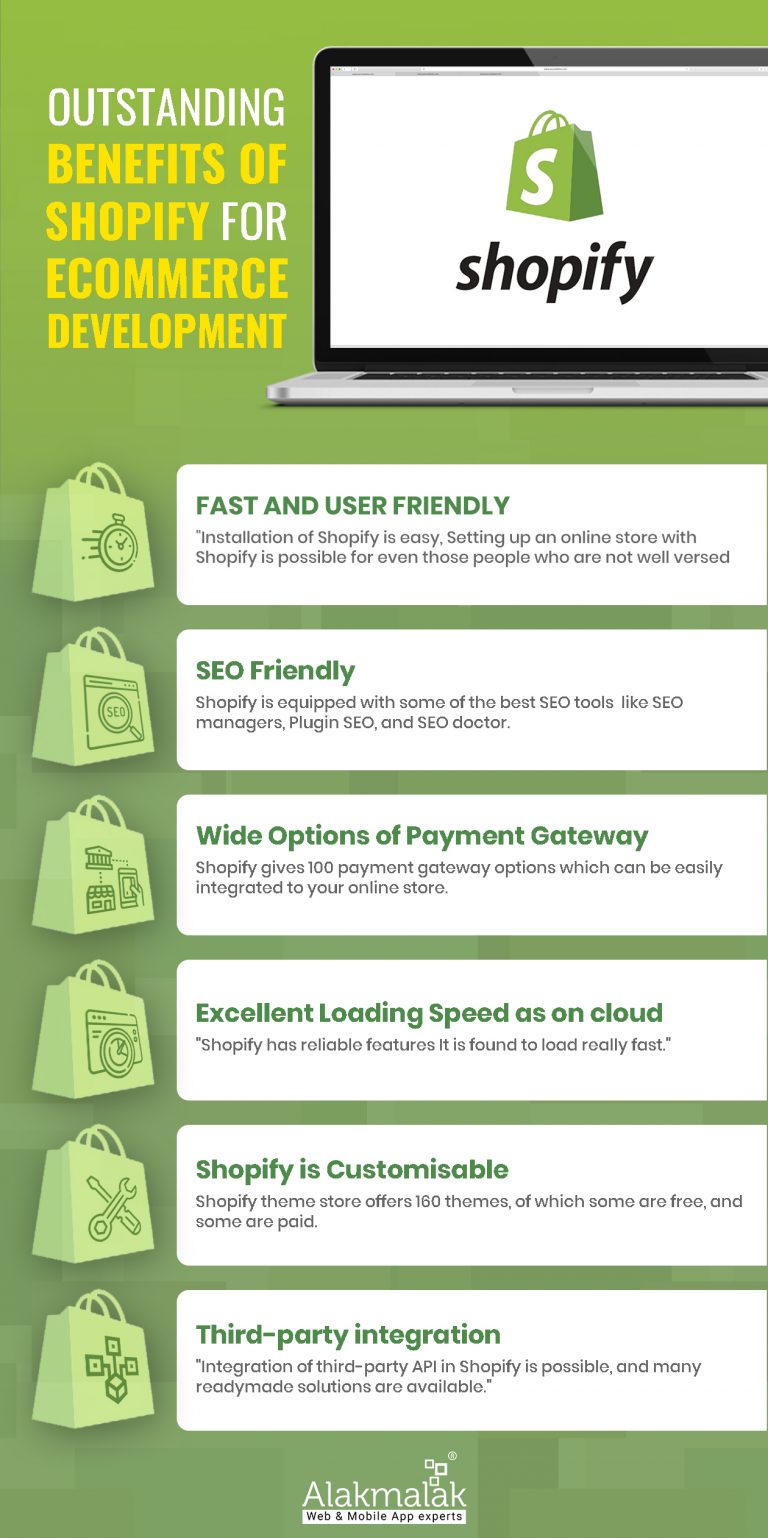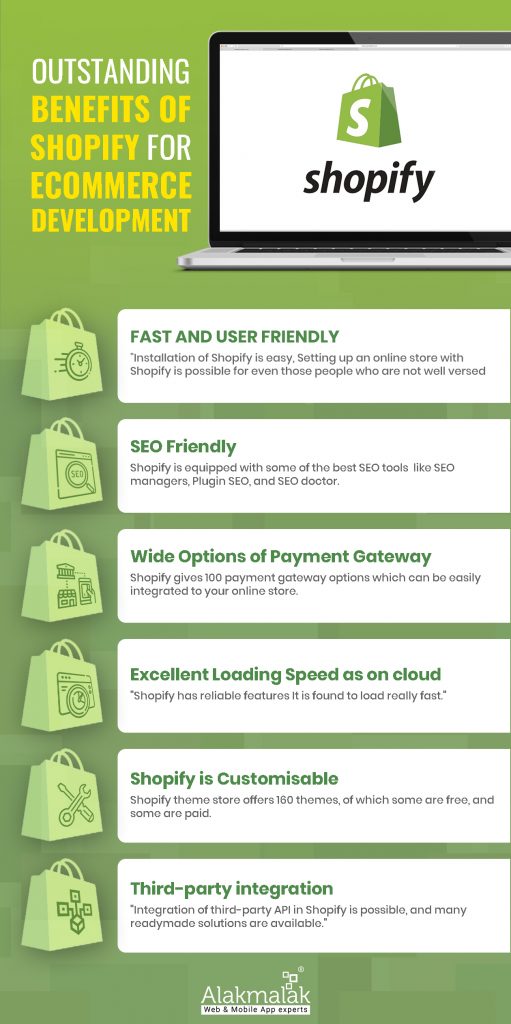 Here are some of the key features of Shopify for eCommerce development :
Shopify is fast and user friendly:
Installation of Shopify is easy, and the admin interface is also very easy to use. Setting up an online store with Shopify is possible for even those people who are not well versed in web development. All that one needs to do is register with Shopify and then do the customization as per requirement.
Mobile Compatibility is an important benefit of Shopify:
Shopify is a mobile-friendly platform with all the E-commerce functionality. We all know that most users use their mobile not just to surf an online store but also to make purchases online. When you make use of Shopify, you have nothing to worry about as it is compatible with mobile devices.
With Web2.0, you can create mobile responsive websites. The themes of this platform are mobile-friendly. Shopify also makes sure that the codes are updated depending on the market requirements. One can manage the online store with ease with the free mobile apps.
Shopify is SEO Friendly:
It is not enough to just have an attractive and appealing online store. Your target audiences must be able to find you online with ease. Shopify has built-in SEO Functionality with some of the best SEO tools like SEO managers, Plugin SEO, and SEO doctor. It has great SEO Features.
Along with SEO tools, Shopify provides some essential marketing tools, such as discount codes, custom gift cards, social network integration, targeted email marketing, store statistics & a coupon engine. Online Shopping can be done very effectively with Shopify.
Wide Options of Payment Gateway with Shopify:
It is very important that your online shopping store has a secure and reliable payment gateway. With Shopify, you get 100 payment gateway options. You can easily integrate these payment gateways into your online store. It gives the business owner an easy way of payment. However, if you use a third-party payment gateway, Shopify charges you a transaction fee of between 0.5% and 2.0%, depending on your plan.
Excellent Loading Speed as on cloud:
Shopify has reliable features, and it provides reliable infrastructure. It is found to load really fast. In fact, the e-commerce store is known to load in just a few seconds. This is because it is hosted globally, and it has optimized software and hardware packages. Due to this, it has a better customer shopping experience.
Shopify is Customisable to a high extend:
Along with Shopify App stores, it has a Shopify theme store that offers 160 themes, of which some are free, and some are paid. These themes are compatible with mobile devices, and they can also be customized by editing the code.
Security and Reliability of Shopify are outstanding:
In the case of e-commerce platforms, there is a lot of sensitive information of clients that need to be handled properly. Therefore, security and reliability are very important in the case of e-commerce platforms. Shopify offers the best security, and it is one of the most reliable e-commerce platforms.
Third-party integration – many readymade solutions available:
Integration of third-party API in Shopify is possible, and many readymade solutions are available. By adding these third-party apps to your Shopify eCommerce store, you get further customizations to meet your eCommerce business needs.
Appealing and Attractive Interface:
The templates offered by Shopify are visually appealing, and the developers can use them to create user-friendly and attractive e-commerce stores.
No tech worries with Shopify:
You do not need technical expertise with Shopify. You can install it with ease, and it also takes care of aspects like software updates, spikes in traffic, etc. No mobile App, Development company or Marketing Agency is mandatory for Shopify.
Conclusion:
As you can see, Shopify has many amazing features and benefits. It is one of the best interfaces that you can use to build your e-commerce website.
e-commerce web design in India
E-Commerce Website Development
Shopify development
OVER
600 Small, Medium

and

Large

Enterprise business clients have chosen us from

35 COUNTRIES
Federico Bilches

www.latmeco.com

I want to thank all Alakmalak team for take my project and help me to improve my website! Thank you for your responsibility and seriousness at the time to do corrections and improvements on my website and for always be in touch with me. Highly recommended! Great team! Great company! I'm very thankful Alakmalak!

A few kinds words to say about Alakmalak programming and design. Working with these guys is always such a great relief. You know you are getting your stuff done right and usually always in a timely fashion. I'm a middle man for the most part And my clients are always happy with the end result.